More pretending to care from Greg Jericho over the weekend:
It probably should be no surprise that last night's royal wedding became part of the political debate this week. But the criticism by government members highlighted yet again the Liberal party's policy of pretending to care about something while simultaneously doing everything to work against it.

…And of course, economic policy is not excused from the pretence of care or accompanying lack of policy.

The latest wage growth figures showed yet again that wages have not risen in real terms in the past year. This is a problem for the government because, while the Liberal party has long been a champion of keeping wages growth down in the name of "competitiveness", its budget is very much in favour of it.

…Right now the only wages policy is company tax cuts in the hope that increased investment will improve productivity, which will then (eventually) flow through into stronger wage growth.

…But in the meantime, the Liberal party has actively sought to reduce workers' collective bargaining power through increased intervention in union activity, cheered the removal of penalty rates, and strenuously argued against any government intervention that might see a greater increase in the minimum wage.
All true. The joke, as we know, is that Jericho is even more guilty. How? He is all in favour of wages theft:
I must admit, to my ongoing shame I once wrote an article where I noted favourably some fairly simplistic research that suggested most of the employment from 2011 to 2014 was from migrants.

Sometimes numbers can beguile because they seem to provide a straightforward solution – if employment for example has increased by 400,000 over three years and in that time 380,000 migrants have been employed, it seems obvious that most of the jobs must be going to migrants.

And before you know it you are proffering arguments that would have you arm in arm with any number of racists slowly walking past with a grudge to bear and a desire to blame anyone else.

Similarly spurious is the argument that we should first improve infrastructure before then increasing our migrant intake. What you find is those arguing this path never reach a point of thinking it is time to allow greater migration – even if things are good, they never wish to increase migration because they inherently view it as a negative that will clog up roads, reduce wages, increase crime …

Immigration – because there are many desperate to hate – must be treated with extreme care by politicians and journalists, and certainly with more care than Abbott seems capable. The inherently racist parties will seek to use any discussion and any seeming evidence of the negative impact of migrants as fuel to burn their fires of hate.
The Guardian itself underlined the lunacy of this position at the weekend:
Toni Buckley says being a victim of wage theft in the hospitality industry "more times than I care to remember" prompted her to take legal action in the small claims division of Melbourne magistrate's court against her former cafe employer.

A 58-year-old widow with a mortgage, she had been working in the hospitality industry for 20 years when her most recent employer told her and her eight co-workers, with five days' notice, that they would be unemployed.

"I contacted the Fair Work Ombudsman but was told they really couldn't do anything as they only act as mediation between the two parties," Buckley tells Guardian Australia.

"The employer refused to pay redundancy or pay in-lieu-of-notice and had not paid the compulsory superannuation contributions."

She took the cafe owners to court and a settlement was reached, but she is not allowed to speak about the business negatively as a condition of that settlement and so the cafe cannot be named.

"The exploitation within the industry is rampant and something needs to be done," Buckley says. "I encourage anybody who is in this position to persevere with their claim."

A lecturer in work and organisational studies at the University of Sydney business school, Dr Stephen Clibborn, says the Fair Work Ombudsman does not have the funding or the power to deal with the tens of thousands of hospitality workers such as Buckley whose wages and superannuation are stolen by their bosses each year.

"Unfortunately the ombudsman has never been adequately resourced to fulfil that job on its own and it has been going backwards in its funding," Clibborn says.

"The revenue the ombudsman receives from government is considerably less now than five years ago. Part of addressing growing wage theft is having a strong and well-funded labour enforcement agency."

But not everyone has the time or knowledge to navigate the court system either, he said, especially migrant workers with language barriers or backpackers who might only be in the country for a few months.

Laura Meek, who came to Australia as a backpacker from Scotland in 2015, tells Guardian Australia she has worked at more than a dozen hospitality businesses in Australia. Only one paid her properly. "I have been legally entitled to superannuation payments, a minimum wage, payslips, legal break allowances and penalty rates," she says.
As protests erupt in migrant dominated sectors, also at Jericho'spaper:
A food delivery rider has told a Sydney protest his wages have dropped significantly over the two-and-a-half years he has been riding for one of the major delivery companies in Australia.

Wednesday's protest was held before riders and the Transport Workers Union appeared at the Fair Work Commission's annual review of award wages.

"When I started two-and-a-half years ago, the standard contract was $14 an hour and $5 dollars a delivery," rider Matt told reporters. "Those are now looked at as the golden old days. I now know riders that are doing $7 a delivery and zero dollars an hour – these guys are making $14, $7 or zero dollars an hour."
Not to mention Domainfax:
Tulia Roqara hoped to make enough money picking tomatoes at a farm outside Shepparton to be able set up a pastry shop back in Vanuatu.

Instead, after five months of gruelling work, Ms Roqara will return home next week to her two young sons with next to nothing.

She was one of a group of about 50 workers from Vanuatu paid as little as $8 an hour under what is meant to be Australia's most stringent temporary migrant worker scheme.
And again today from franchise inquiry:
The inquiry has set up secret hearings alongside the public hearings as franchisees are concerned about franchisors tracking and stalking them.

Senator O'Neill says the number of confidential submissions is "extraordinarily high" and "reveals a culture of oppression and cover up that appears quite widespread in the franchising industry".

Former Foodco franchisee Faheem Mirza has made a submission to the inquiry detailing how he lost everything operating two Muffin Break stores in Rhodes and Burwood in New South Wales.

Mr Mirza says he is aware of more than 20 Foodco franchisees who have made submissions, although the majority of them are confidential because of fear of repercussions.

Mr Mirza says Foodco's business model is fake, its labour costs "a mathematical impossibility" and that Foodco expects all franchisees work for free.
Not if your real business is selling visas!
This comes at the end of a VERY long list evidence that's been piling higher for years about Australia's mass immigration program destroying labour market standards. For five years MB has reported on entire business lines, firms and sectors across Australia whose business models include turning their labour bill into a profit centre via visa fraud: in fast food, convenience stores, agriculture, building, accounting, IT, engineering, education, transport, the gig economy, agriculture and no doubt it is even more widespread
The scam is rife in both skilled and unskilled streams. Since the 7-Eleven migrant worker scandal broke in 2015, there has been a regular flow of stories emerging about the systemic abuse of Australia's various migrant worker programs and visa system.
The issue culminated in 2016 when the Senate Education and Employment References Committee released a scathing report entitled A National Disgrace: The Exploitation of Temporary Work Visa Holders, which documented systemic abuses of Australia's temporary visa system for foreign workers.
Mid last year, ABC's 7.30 Report ran a disturbing expose on the modern day slavery occurring across Australia.
Meanwhile, Fair Work Ombudsman (FWO), Natalie James, told Fairfax in August last year that people on visas continue to be exploited at an alarming rate, particularly those with limited English-language skills. It was also revealed that foreign workers are involved in more than three-quarters of legal cases initiated by the FWO against unscrupulous employers.
Then The ABC reported that Australia's horticulture industry is at the centre of yet another migrant slave scandal, according to an Australian Parliamentary Inquiry into the issue.
The same Parliamentary Inquiry was told by an undercover Malaysian journalist that foreign workers in Victoria were "brainwashed" and trapped in debt to keep them on farms.
A recent UNSW Sydney and UTS survey painted the most damning picture of all, reporting that wages theft is endemic among international students, backpackers and other temporary migrants.
A few weeks ago, Fair Work warned that most of Western Sydney had become a virtual special economic zone in which two-thirds of businesses were underpaying workers, with the worst offenders being high-migrant areas.
Dr Bob Birrell from the Australian Population Research Institute, whose latest report is based on 2016 Census data, revealed that most recently arrived skilled migrants (i.e. arrived between 2011 and 2016) cannot find professional jobs, with only 24% of skilled migrants from Non-English-Speaking-Countries (who comprise 84% of the total skilled migrant intake) employed as professionals as of 2016, compared with 50% of skilled migrants from Main English-Speaking-Countries and 58% of the same aged Australian-born graduates:These results accord with a recent survey from the Bankwest Curtin Economics Centre, which found that 53% of skilled migrants in Western Australia said they are working in lower skilled jobs than before they arrived, with underemployment also rife.
The Australian Bureau of Statistics (ABS) latest Characteristics of Recent Migrants report, revealed that migrants have generally worse labour market outcomes than the Australian born population, with recent migrants and temporary residents having an unemployment rate of 7.4% versus 5.4% for the Australian born population, and lower labour force participation (69.8%) than the Australian born population (70.2%).
ABC Radio recently highlighted the absurdity of Australia's 'skilled' migration program in which skilled migrants have grown increasingly frustrated at not being able to gain work in Australia despite leaving their homelands to fill so-called 'skills shortages'. As a result, they are now demanding that taxpayers provide government-sponsored internships to help skilled migrants gain local experience, and a chance to work in their chosen field.
Then there's today's new research discussed at the ABC documenting the complete corruption of the temporary visas system.
These are only the highlights. I could go and on. We've lost count of the individual cases of fraud which pile up every single day across the media.
It is easily explained by one chart: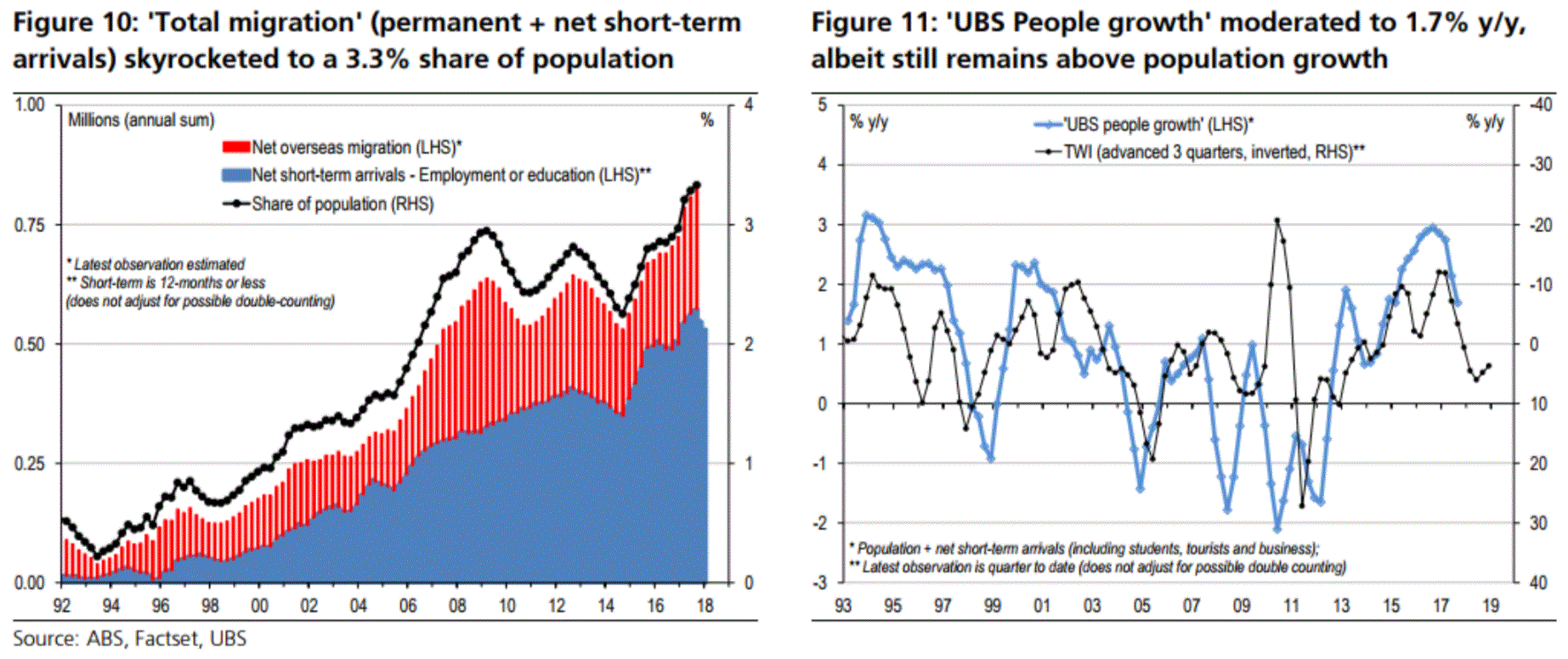 Post-mining boom, authorities unleashed a flood of foreign workers into the oversupplied labour market. We are thus brimming with excess capacity. Drowning in it. Foreign workers are happy to get paid less, endure lower conditions and work more unsociable hours. Employers are only too happy to oblige. Training is forgotten. Apprenticeships have crashed. Wages are falling. And there is much more of it ahead.
There is no governing, regulating or policing this tsunami of people. It's not systemic corruption, it has become the system itself, as we import emerging market conditions into the Australian labour market it drives a proliferation of ever more 'cheap labour' businesses.
Every neighborhood in the country is now chock full of brothels, massages, cafes, fast food, pedicure and beauty, hair, car washes, petrol, bakeries, $2 shops, convenience stores, transport: built, staffed and cleaned by the underpaid. Even the professions are overrun as unscrupulous industry bodies and training institutes clip the ticket on a deluge of foreign entrants in engineering, IT, accounting, medicine and more.
Every niche or crevice in the services economy is disrupted and glutted by exploited labour. The scam is so huge that it has lowered wages and inflation plus interest rates, driving up house prices and allowing us to over-consume these very same services. It's become a structural adjustment.
We've royally, massively, hugely jumped the shark on cheap migrant labour and Greg Jericho needs to either leave whatever rock he is hiding under or bow out of the debate.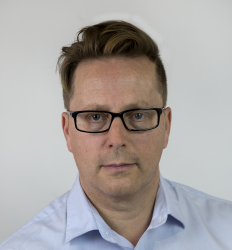 Latest posts by David Llewellyn-Smith
(see all)