Back in October, we reported how secret NSW Government documents had been released revealing that the Parramatta Light Rail Project – the centrepiece of the Government's plans to cement Parramatta as Sydney's second central business district, as well as facilitate the building thousands of apartments around Sydney Olympic Park – had experienced a massive cost blowout "to more than $3.5 billion – $2.5 billion above what has been budgeted" and the benefits are unlikely to meet the costs.
We also noted how the NSW Government had tried to suppress the release of documents relating to the controversial $2.1 billion CBD and eastern suburbs light rail project, whose costs had also blown-out by over $500 million due to an incomplete business case, and was thoroughly rubbished in a damning NSW Auditor-General assessment. It was also revealed at the time that because of Sydney's manic immigration-fuelled population growth, the light rail project will have 1,000 more people wanting to use it than its capacity when it finally opens in 2019.
Now, Sydney's light rail farce has intensified, with the Spanish subcontractor building the eastern suburbs light rail project – Acciona – demanding an extra $1.2 billion from the NSW Government, with construction likely to be delays. From The ABC:
Workers for subcontractor Acciona have been on a go-slow, with the project already running behind schedule by months.

The court action for $1.2 billion threatens to delay completion of Ms Berejiklian's pet project even more, to the frustration of many residents and businesses.

Transport Minister Andrew Constance has called the subcontractor's claims "ridiculous", saying he is an angry customer and they need to "get on with it"…

But the Opposition said the 24-kilometre line from the CBD to the eastern suburbs could now become the world's most costly light rail project.

"It started at $1.6 billion, now it's up to $3 billion perhaps," Opposition Leader Luke Foley said.

"If the Government had done its homework there would be no dispute."

Deputy NSW Labor Leader and Opposition spokesman for planning and infrastructure Michael Daley said this was the worst project he has seen in his 20 years of public life.

"Every time the contractor digs a hole there is something underneath the ground that they weren't told about," he said.

"That's because Gladys rushed this project … it should have taken two years to plan.

Mr Daley said the contractors were not to blame, and "this has been a cock-up" by the Government…

Spanish firm Acciona claims the State Government made misrepresentations about the utilities in the lead-up to the signing of the contracts.

In a letter of demand to the Government in February, Acciona proposed mediation and threatened legal action for loss and damage plus interest.

"Our client also maintains it is entitled to interest on the sum of $101 million, bringing the total sum sought by our client to $1,206 billion," the leader said…

Labor are calling for businesses to be compensated for the loss of patronage due to ongoing construction.

"They can't be patient anymore, they're going under," Mr Foley said.

"Enough is enough, the Government has to seriously compensate these poor businesses owners who are being clobbered by this unravelling farce."
With the Australian Government running a high immigration program, and Sydney's population projected to balloon by 87,000 people per year (1.74 million in total) over the next 20 years – equivalent to 4.5 Canberra's – the state government will need to invest heavily in infrastructure or risk crippling congestion.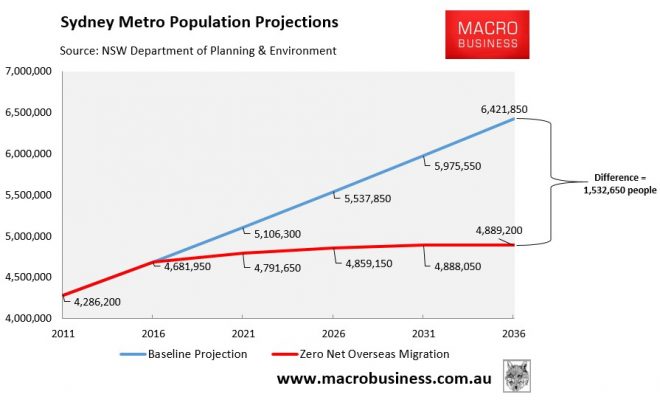 The problem is that these projects are unlikely to provide net benefits for taxpayers and instead represent a subsidy to high-rise property developers located along the line.
The other problem is that large cities like Sydney and Melbourne have reached such a size that they are exhibiting diseconomies of scale, which occurs when the cost of providing an extra unit of infrastructure increases as the city grows.
Basically, because Sydney and Melbourne are already built-up, there is little room to retro-fit new infrastructure without expensive additions like land buy-backs, tunnelling, or hideous disruptions to existing infrastructure. The Sydney light-rail that has gutted its CBD for years is a sterling example.
Hence, running a population ponzi economy becomes increasingly costly for existing residents. The huge infrastructure costs also forces unpopular asset sales, increased debt borrowings and austerity.
The most obvious solution is to significantly dial back immigration and forestall the need for the costly new infrastructure projects in the first place.
Another is to implement a broad-based land tax so the taxpayer effectively picks-up some of the value uplift (if any) bestowed to high-rise developers located along the rail line.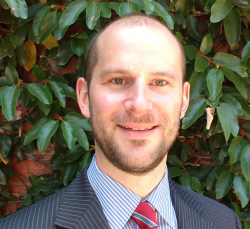 Latest posts by Unconventional Economist
(see all)