After spending a decade worrying about the rise of Japan, economists (and population boosters) in Australia have frequently labelled Japan an 'economic basket case' due to its ageing (and falling)population and its slow growth in headline GDP.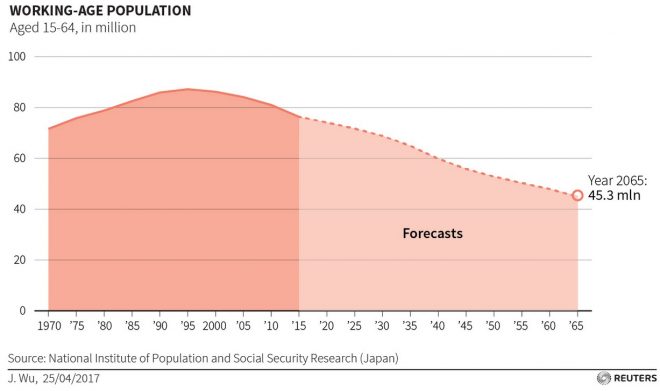 I have frequently challenged this argument, citing Japan's enviously low unemployment rate, which is less than half that of Australia's: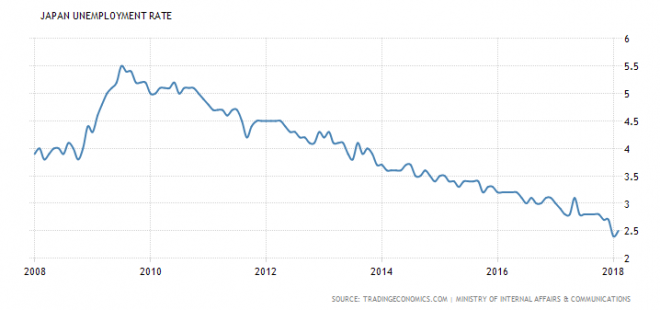 Japan's respectable growth in GDP per capita: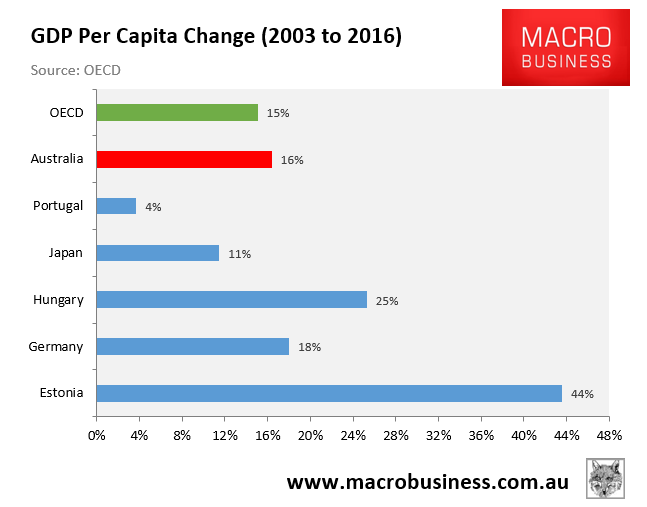 Japan's world-class trains, roads, tunnels, bridges and internet – all of which has raised the living standards (and productivity) of the incumbent population.
Japan's enviable external position, which has seen it become the world's largest creditor nation thanks to the persistent current account surpluses accumulated over decades arising largely from its strong manufacturing exports, and has seen it ranked among the most innovative in the world by global patent filings: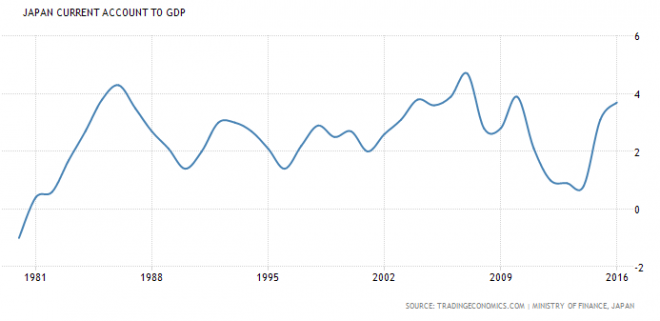 As well as the fact that Japan is a well functioning society with few beggars and homeless people, and the longest life expectancy in the world.
Sure, while Japan's government debt is high, the bulk of this debt is contained inside Japan, financed by Japanese investors, banks, pension funds, and the central bank, rather than via borrowings from the rest of the world. Japan's household debt (57% of GDP) is also very low compared against Australia's (121% of GDP).
In short, while Australia has imported large swathes of migrants to juice consumption and headline growth, crush-loading infrastructure and housing in the process, Japan has allowed itself to age gracefully, improving productivity and living standards.
Yesterday, FT Alphaville published an interesting article entitled "Japan's economic miracle", providing weight to my arguments:
There's long been a strange disconnect between the state of Japan as a rich country already living in the future, and the description of its economic malaise, with decades of lost growth and absent inflation.

For instance, here's the FT's David Pilling on problems with the way gross domestic product is calculated: as a correspondent in Japan, I wondered why people seemed so well off when nominal GDP had not budged for 20 years. Deflation and low population growth were part of the answer. That meant real per capita income was higher than the nominal number suggested. But the quality of services and technology also made a difference to living standards. To GDP, an elegant Mitsukoshi department store was the same as a Walmart, and a clapped-out British commuter train did just as well as a Japanese Shinkansen travelling at 200mph and arriving with a punctuality measured in fractions of a second…

It turns out, however, that Japan has been doing even better than we thought. Here's Dhaval Joshi of BCA:

Since the late 1990s, the growth in Japan's real GDP per head has outperformed every other major economy. And unlike other major economies, income inequality in Japan has not increased, remaining amongst the lowest in the developed world.

The chart tells the story. Where the data begins always matters, but Japan has been accelerating away since 2012:

Japan is still seen as precarious by some – government deficits and amounts of monetary stimulus have ballooned as the state has offset the long period of the private sector cutting debt after the credit boom…

Two decades of rising living standards, comparative income equality and a purely functional banking system. Perhaps it's time we started to talk about Japan's economic miracle.
We also shouldn't forget that economists at MIT last year found that there is absolutely no relationship between population ageing and economic decline. To the contrary, population aging seems to have been associated with improvements in GDP per capita, thanks to increased automation:
If anything, countries experiencing more rapid aging have grown more in recent decades… we show that since the early 1990s or 2000s, the periods commonly viewed as the beginning of the adverse effects of aging in much of the advanced world, there is no negative association between aging and lower GDP per capita… on the contrary, the relationship is significantly positive in many specifications.
I'm not for a minute suggesting that Japan's economy is perfect. But it has found a way to create growth as it ages without the huge disruptive externalities of high immigration.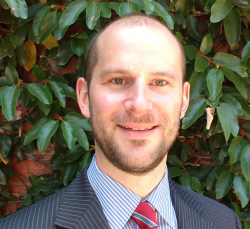 Latest posts by Unconventional Economist
(see all)