Last night DXY copped it: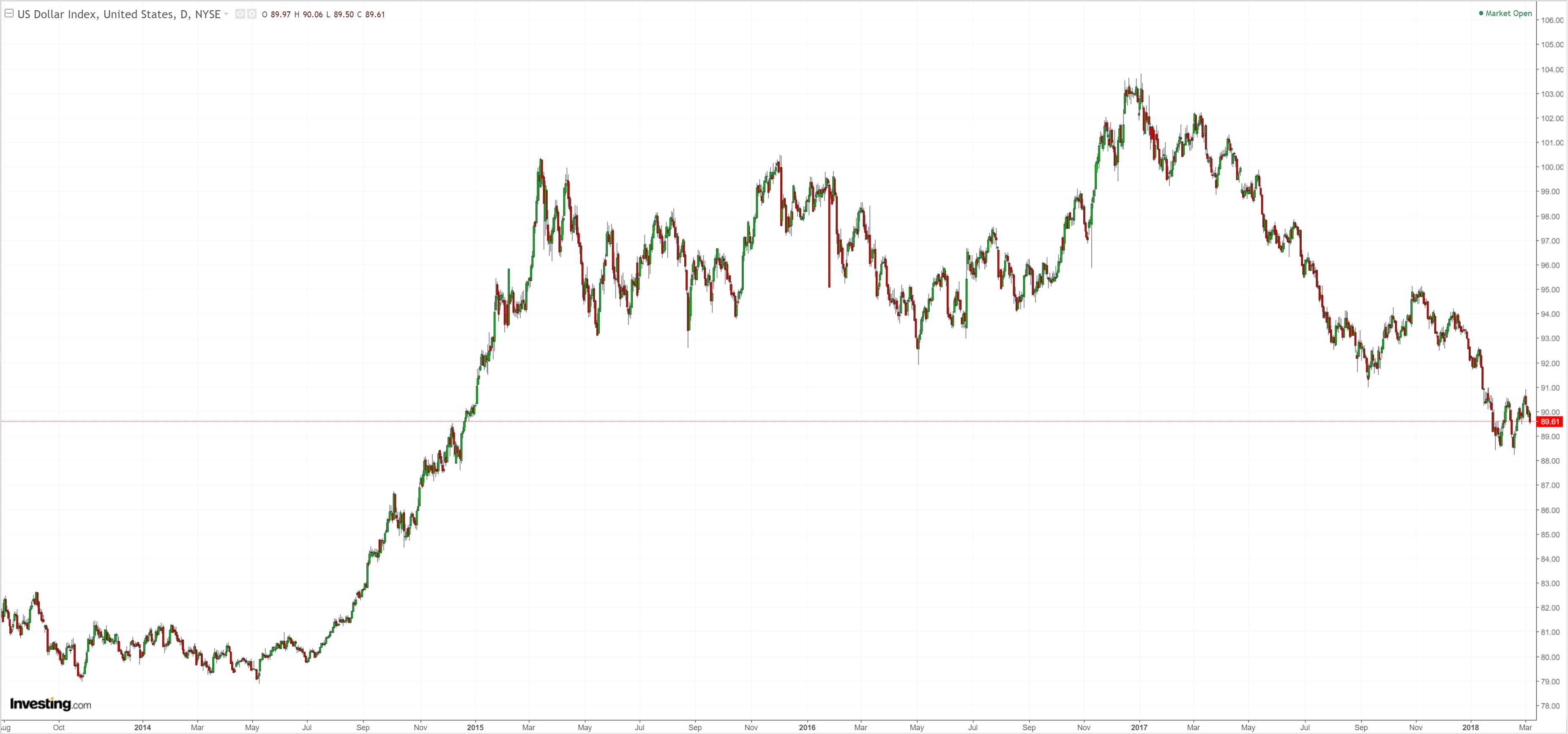 AUD was strong against all DMs, in part owing to the North Korean thaw: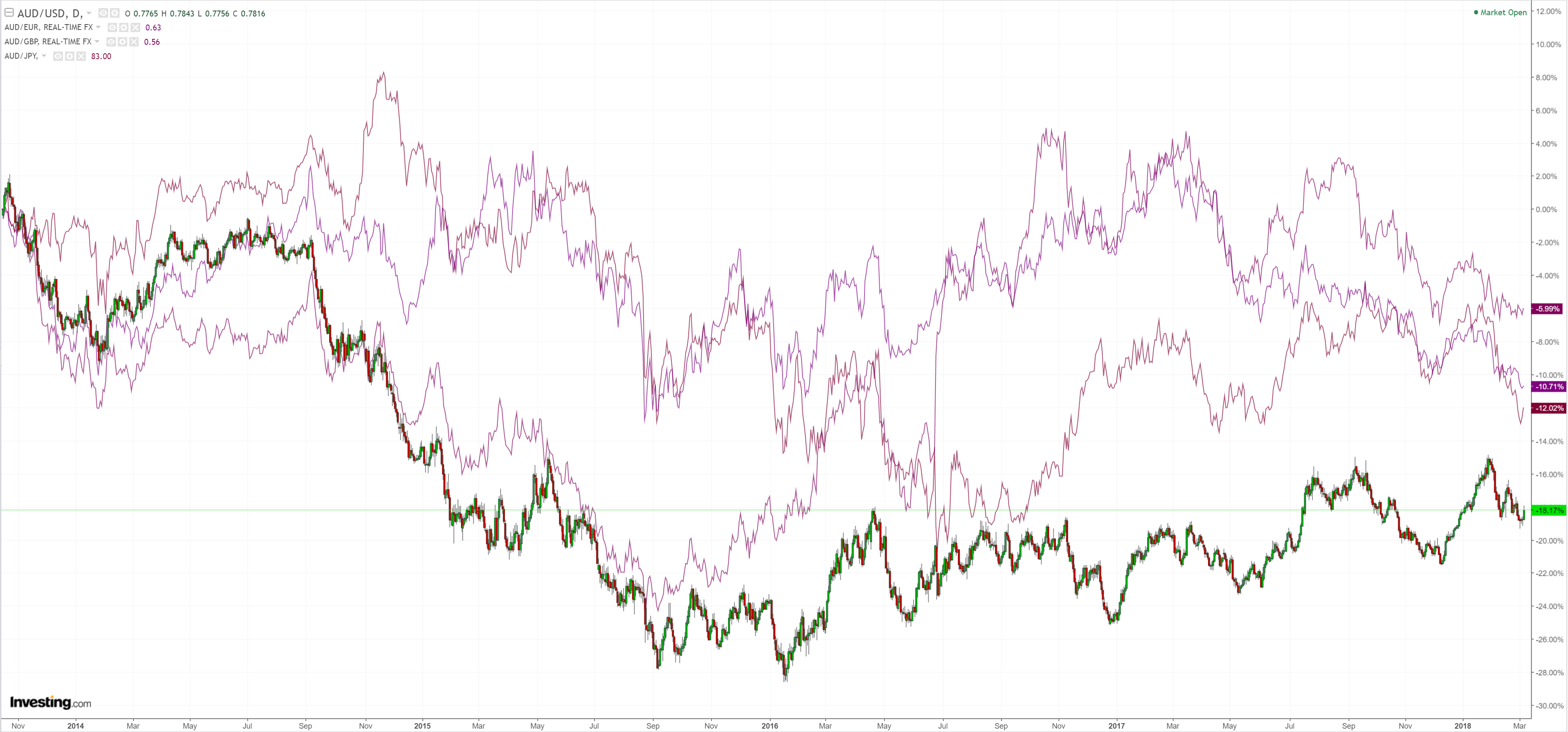 It was mixed against EMs: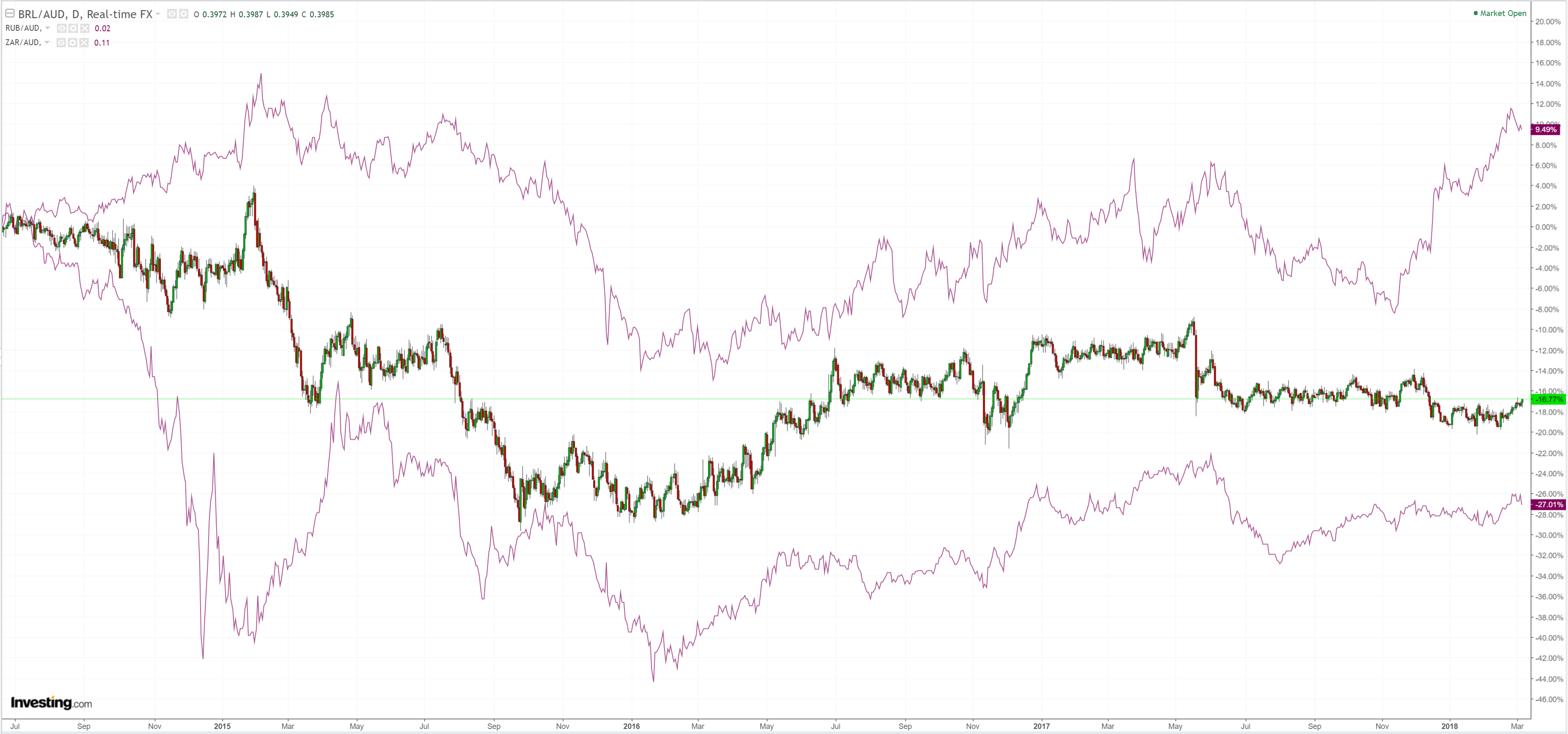 Gold jumped: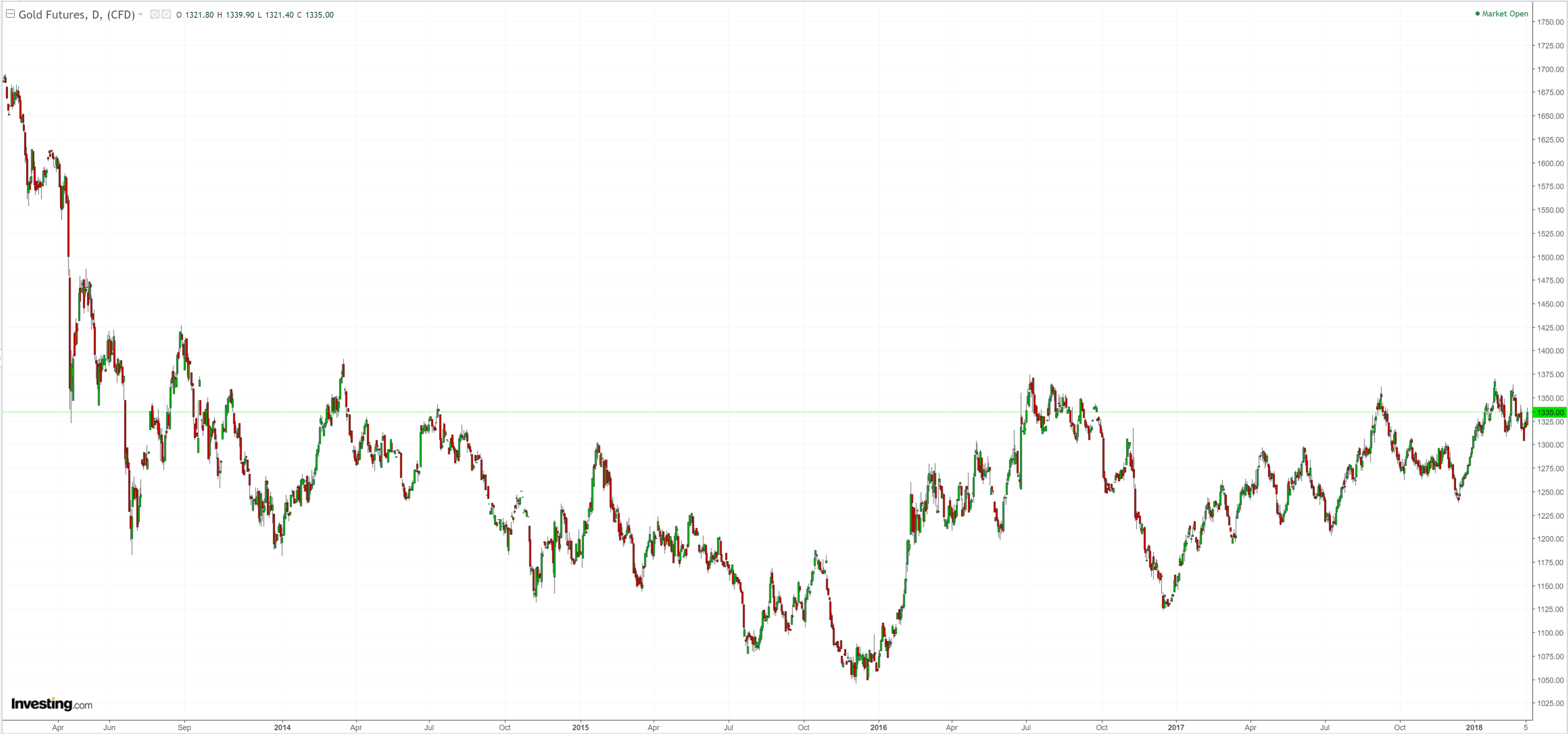 Brent was stable: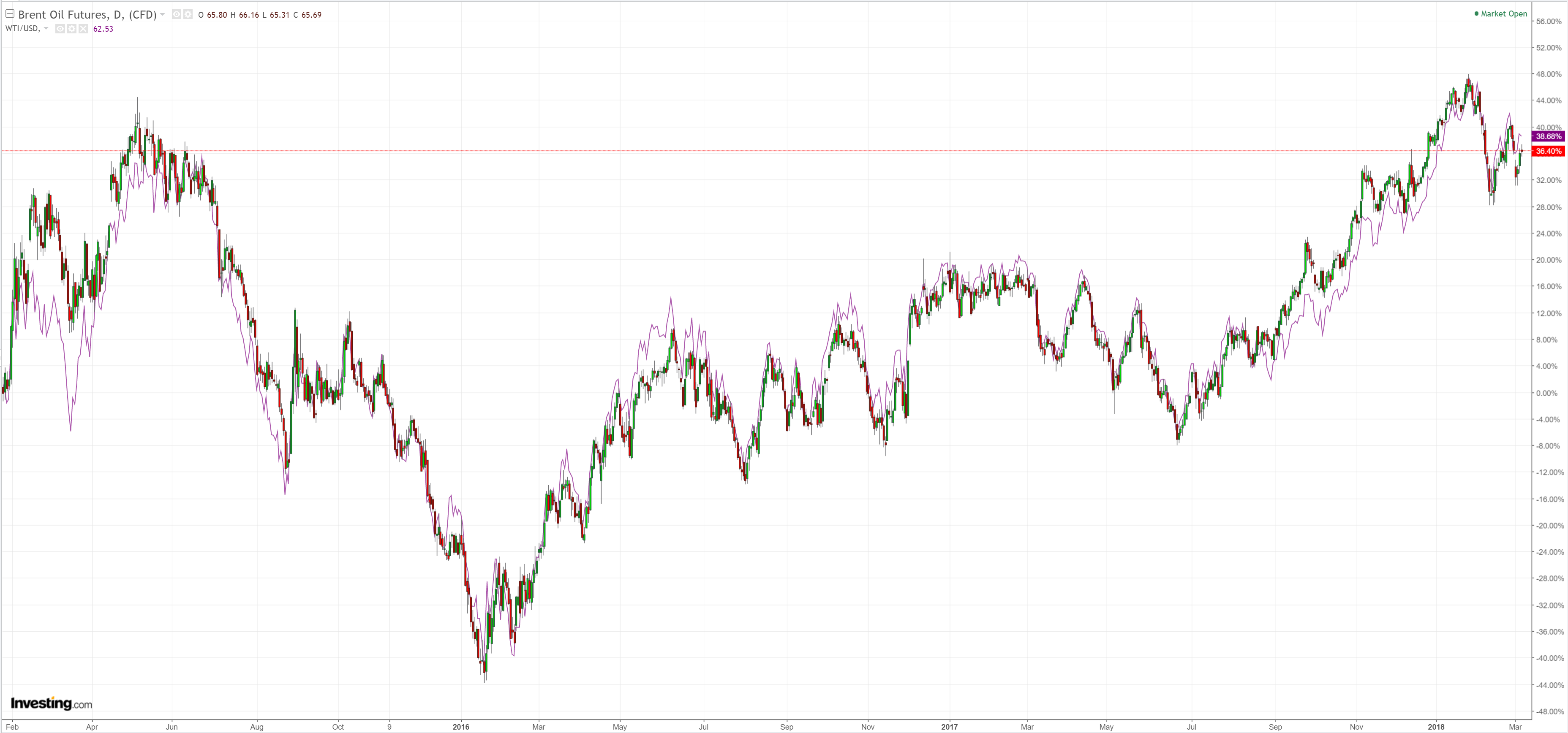 Base metals firmed: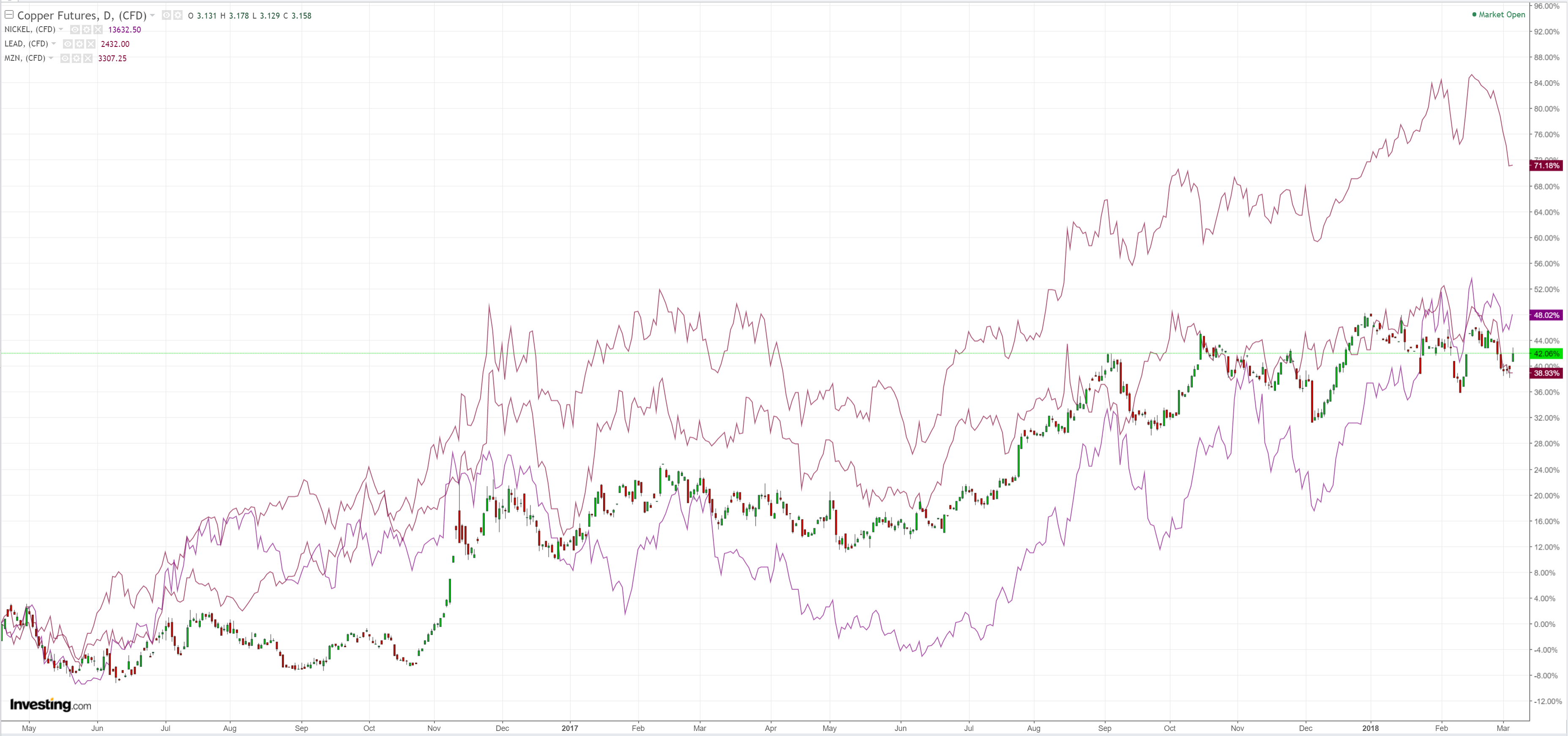 Big miners lifted: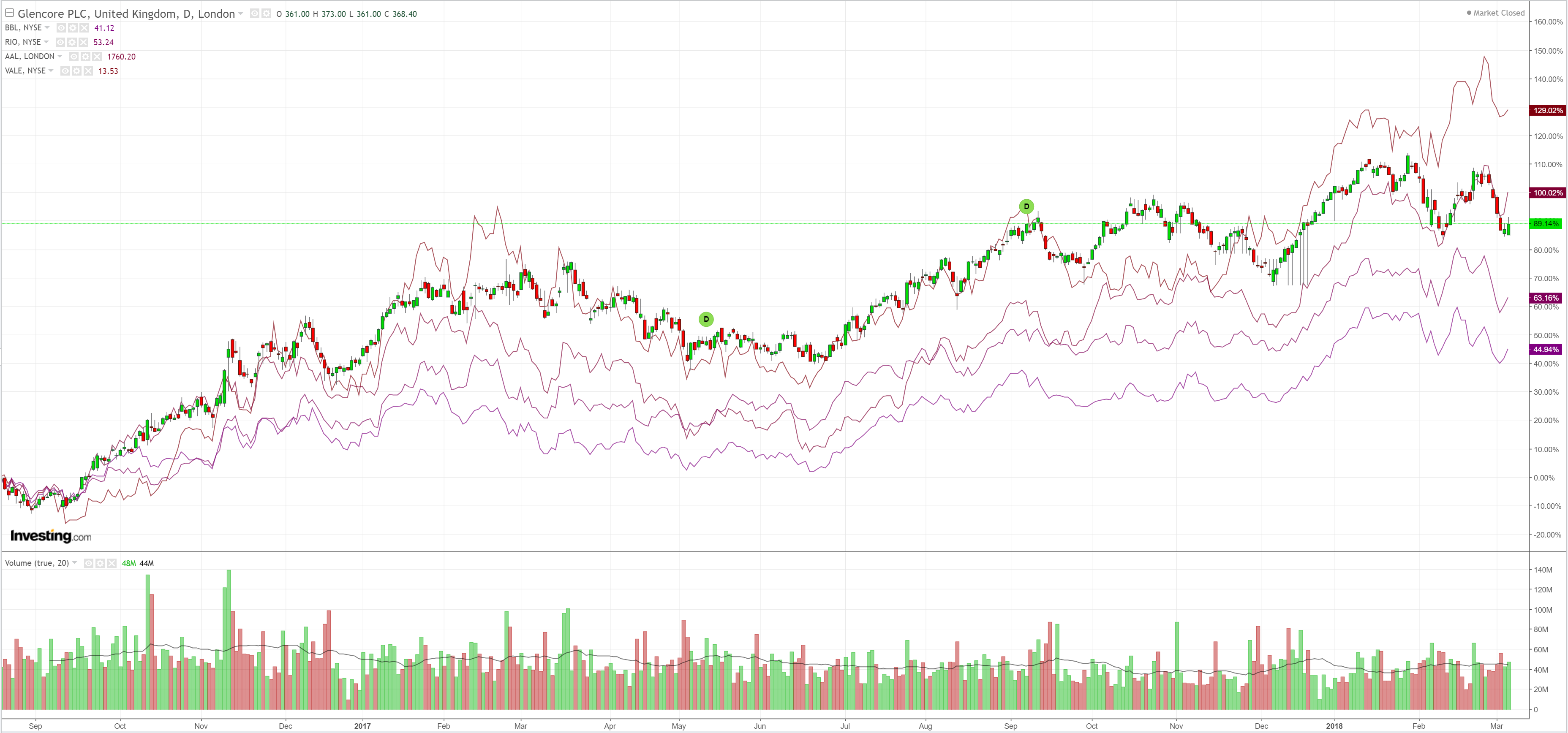 EM stocks too: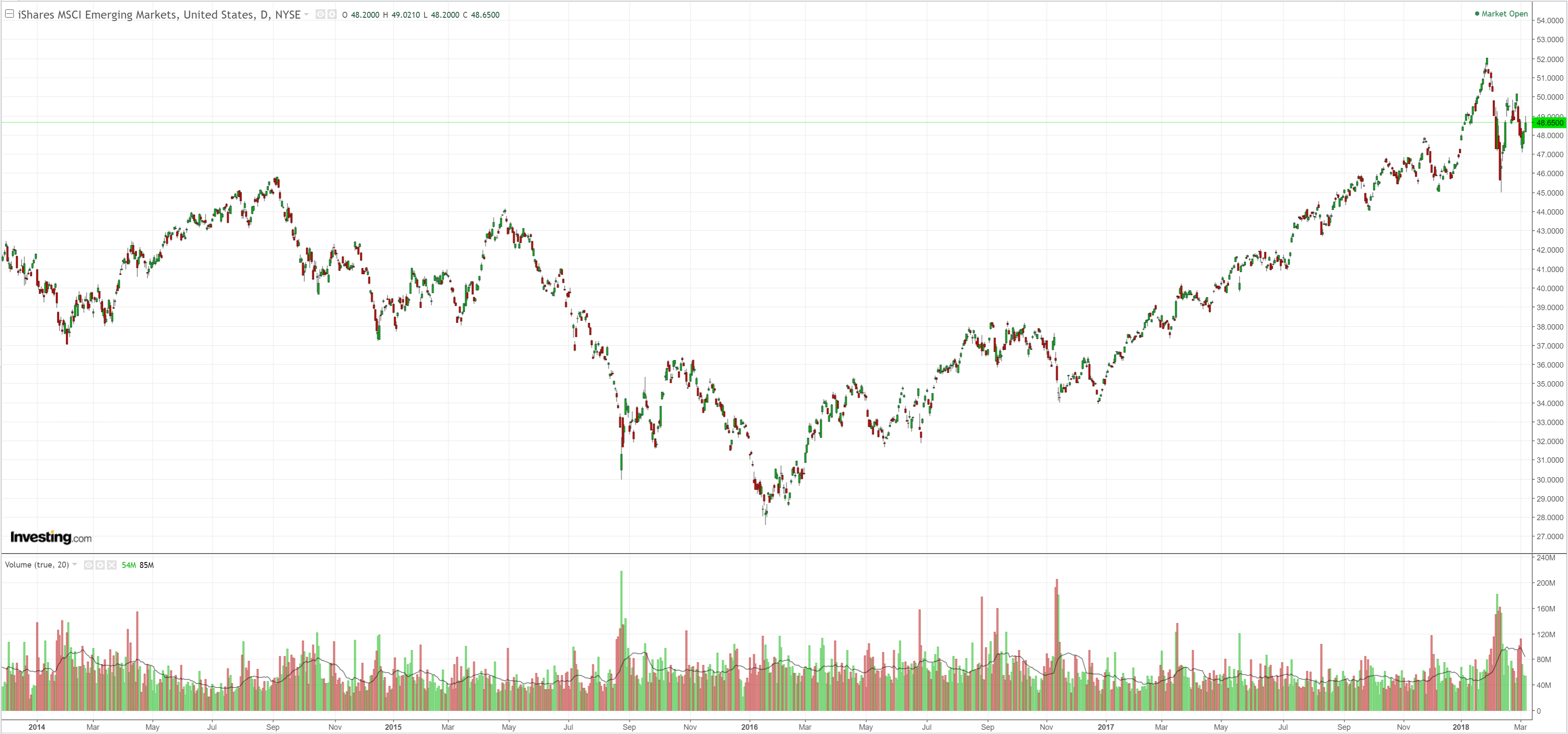 And junk: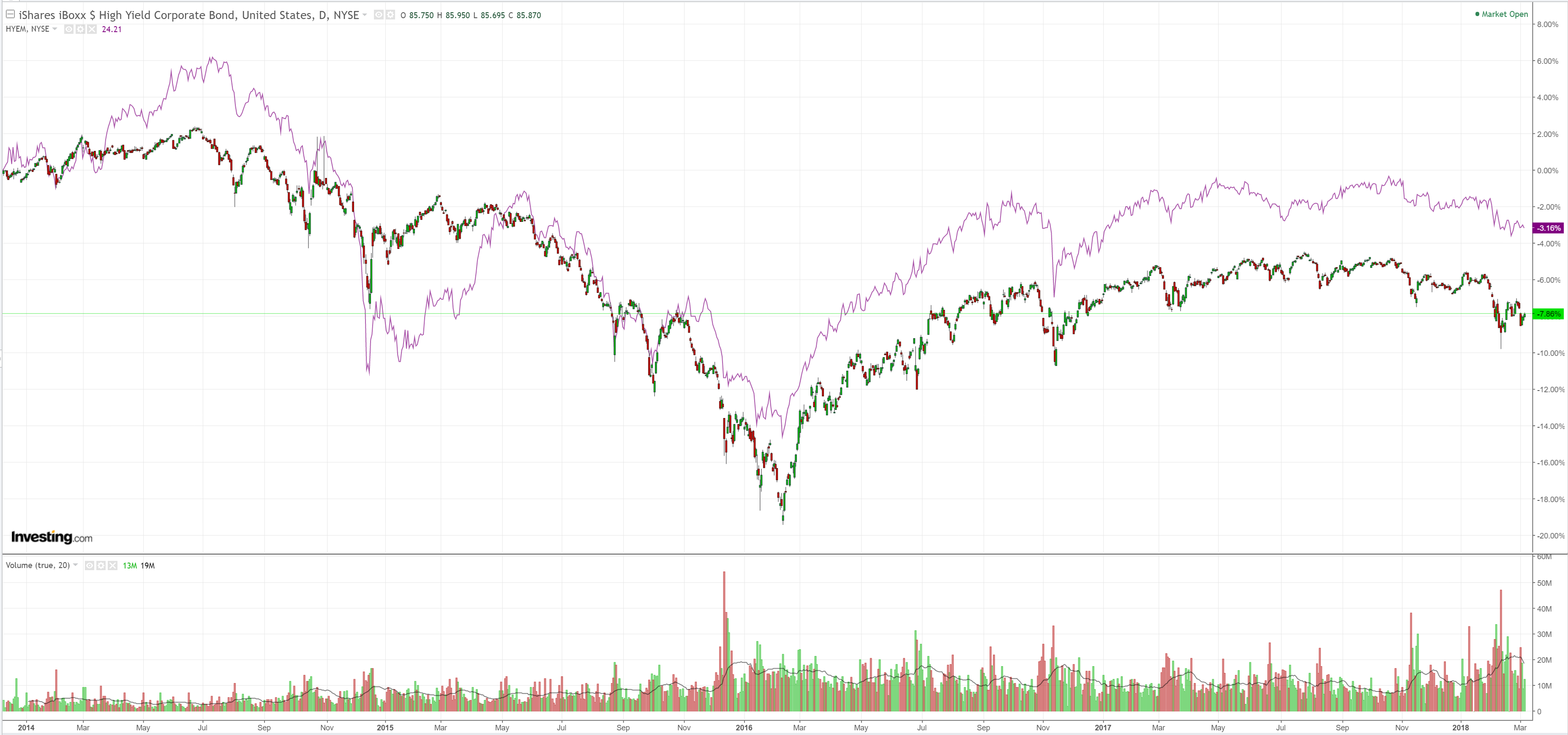 Treasuries sold: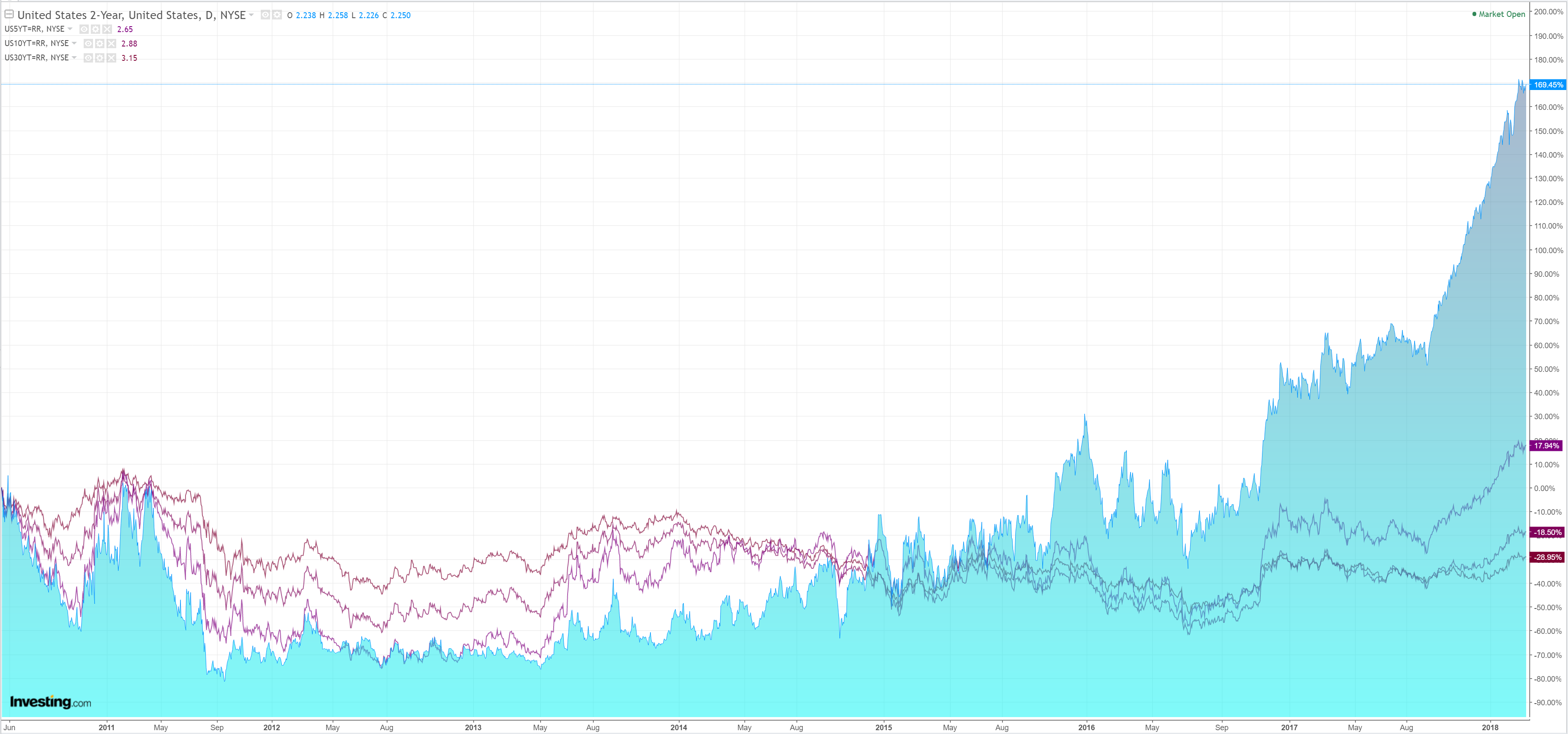 And bunds: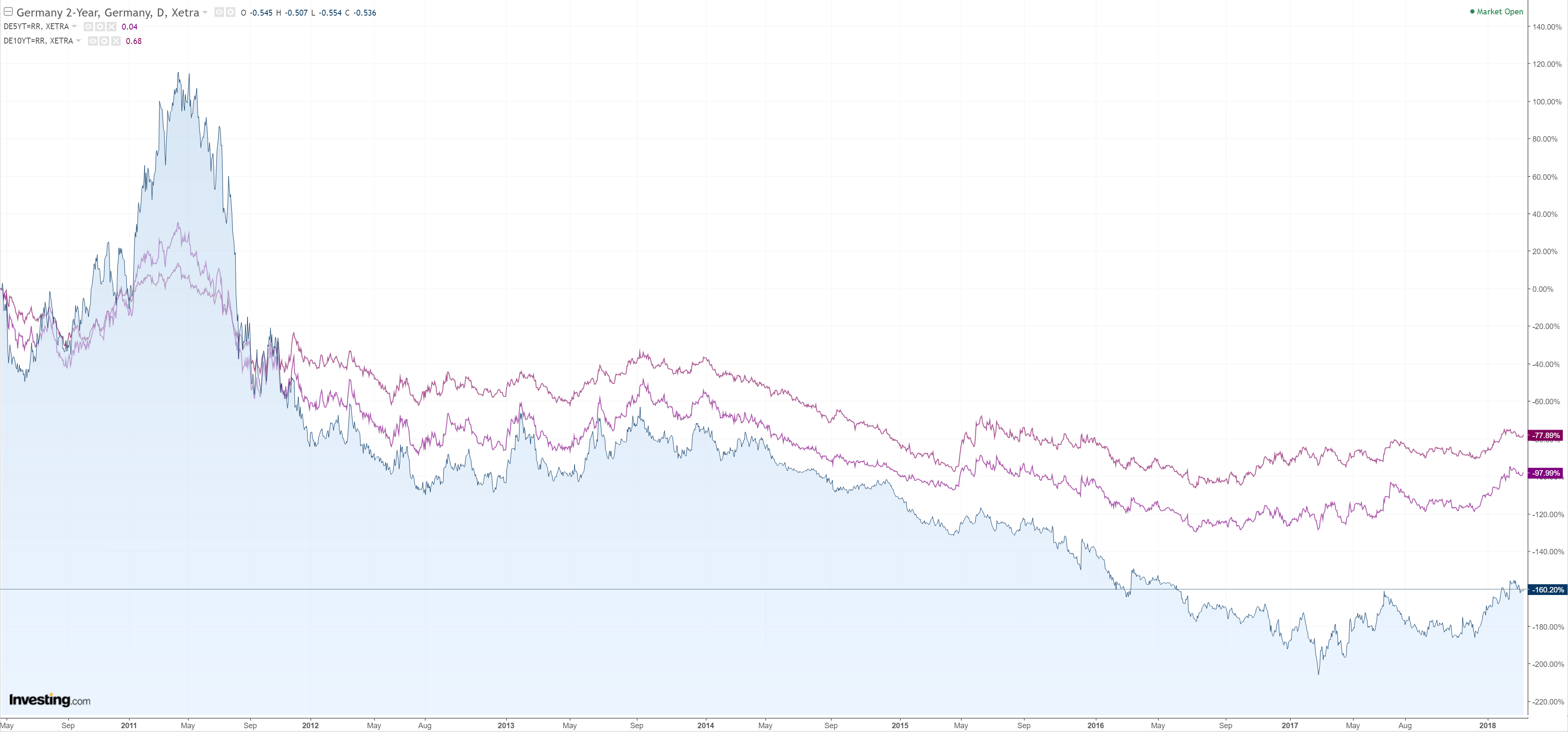 Stocks firmed: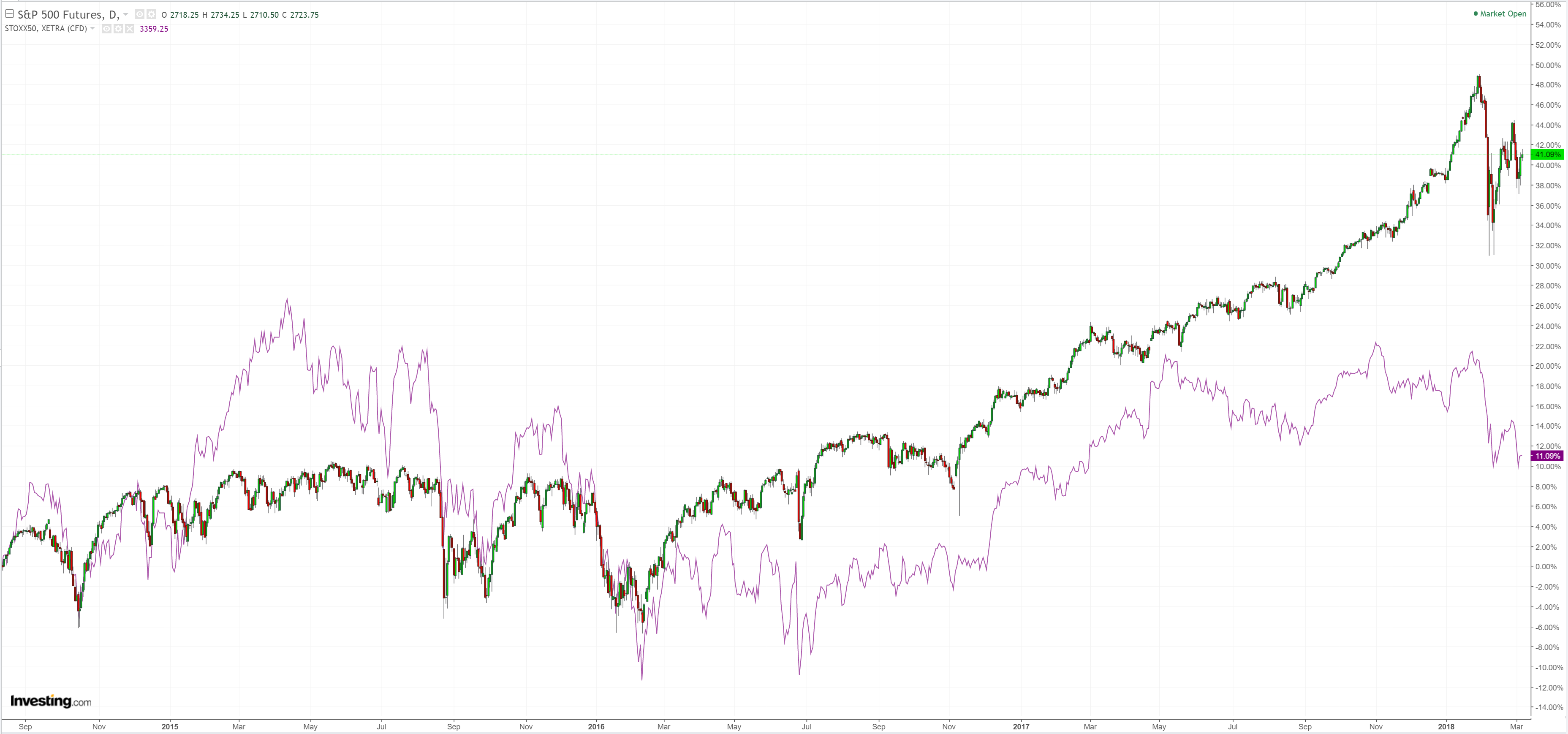 It's all about Europe today and none of it is good. Italy has swung firmly from the EUR, from Mario Monti at WaPo:
Foreign observers should avoid two misperceptions. First, the high tally for the populists does not mean that half of Italy has been seduced by the far right. Given Italy's past, this should be a concern for Italians and foreigners alike. Although there are signs of growing sympathy for the right in some quarters, it would be unjustified to classify all Five Star Movement supporters as far-right or even right-wing. Also, neither CasaPound nor Forza Nuova, two overtly far-right movements, reached even one 1 percent of the vote.

The second misperception would be that the populists' huge success has no reasonable basis. Unfortunately, this is definitely not the case. Italy's economy has improved only very modestly and slowly after the 2011-2012 financial crisis, when the overarching priorities were to prevent the default of the state and to avoid ending up like Greece. That objective was achieved, but policy priorities in subsequent years were not sufficiently focused on stimulating growth and employment, particularly for young people. Greater efforts should have been deployed to fight tax evasion and corruption and to cut the privileges and rents enjoyed by the myriad of organized interests that amount to a straightjacket for young people, leading many youth to expatriate and others to give up hope.

So, a largely justified discontent, especially in the south, has erupted in an unprecedented political shake-up. It is now crucial that this trigger long-needed policy action rather than unproductive fights against the wrong targets. The populists have two main targets: the Italian establishment and the EU. They need to pick their fights well. It would be advisable to put in place a coordinated set of bold reforms to eliminate at least some of the most archaic features of the Italian establishment, both in the economy and in the public sphere. Many reform-minded, non-populist citizens would indeed welcome such initiatives and perhaps cooperate toward finally implementing them.

Dealing with the EU requires a high capacity for selecting the right issues and the appropriate strategies. It is high time, for example, that the EU recognize more explicitly that genuine and productive public investments are needed in most countries. Thus, the rules on fiscal discipline should be modified accordingly. At the same time, it would be unrealistic and actually harmful for today's and tomorrow's Italians to try and get rid of any form of EU budgetary rules. Equally, it would make sense that Italy, in the forthcoming negotiations on the future EU budget, insist that structural funds be conditional upon compliance of agreed principles of solidarity, in particular regarding immigrants and refugees.
Scope also assesses the new Merkel Government:
Grand coalition to support EU reforms…

The benign economic backdrop in Europe and the favourable election calendar with less national elections ahead should facilitate EU reform momentum. Moreover, as Scope argued previously, the speed, breadth and depth of further euro-area integration is likely to be greater under a renewed grand coalition than under any other feasible coalition arrangement. Indeed, the coalition deal with the SPD calls for close cooperation with France to strengthen the euro area, increasing funds for economic stabilisation, social convergence and structural reform in the euro area as well as enhancing EU finances with a stated preparedness to pay more into the EU budget. In addition, the coalition agreement calls for the European Stability Mechanism to be transformed into a European Monetary Fund under parliamentary control, anchored in EU law. Hence, the direction of European reforms is clear and positive. However, the breadth and depth of these reforms might be constrained to a greater-than-previously-expected degree by divisions within the grand coalition parties.

…but divisions within parties risk diverting policy attention In Scope's opinion, this iteration of the grand coalition is different:

➢ Previous Merkel-led administrations have eroded the SPD's identity, and Scope views the flip-flopping of the party's leadership to eventually endorse and form Merkel's fourth administration as being driven by the SPD's legacy as the main party of the moderate left, rather than an actual desire to participate in government. Scope notes that despite only receiving 20.5% of the votes (154 of the 709 seats), the SPD extracted strong concessions from the CDU/CSU on policies as well as ministerial posts, securing the finance ministry without giving up the foreign ministry or labour and social affairs ministry. In Scope's opinion, the fact that the party's base remains disheartened, as captured by the lukewarm reception to the announcement of the vote to enter the grand coalition on Sunday, represents a potential stability risk for this coalition. The SPD will need to secure quick policy wins, heightening tensions with the CSU/CDU3 .

➢ At the same time, Merkel's choice of ministers reflects her need to pacify her own MPs, many of whom feel too much ground, on both substance and ministerial posts, particularly the Ministry of Finance, was conceded to the SPD. This feeling is further aggravated as the CSU/CDU faces the threat of being outflanked by the far-right Alternative für Deutschland (AfD), which is now the major opposition party in the Bundestag.

As a result, Scope believes Merkel IV will be the most fragile administration she has led with uncertain consequences for Europe. The upcoming EU Council on March 22-23, as well as the next one scheduled for June, will provide key signposts of the degree to which this administration is willing and able to invest the political capital to bring about meaningful European-level reform.
One can see something of a convergence between a more sympathetic German regime and Italexit renegades but the gaps remain vast.
Finally, into this pressure cooker comes the ECB, via BofAML:
Although some months away, 2019 will be the first time in four years that European markets will have to manage without the helping hand of ECB asset buying. And Chart 8 highlights the immediate challenge for markets in this new era. The total amount of fixed-income redemptions in Europe (sovereigns +IG credit + HY credit) will jump by 20% next year to €1.1tr. Private investors will likely have to swallow a lot more bonds next year.


QE has driven such a powerful reach for yield over the last few years – whether it be from high-grade into high-yield, from senior bonds into subordinated debt, or from eligible assets into non-eligible ones – that levels of spread compression have been pulled to incredibly low levels. And when the riskier appear riskless, capital allocation decision cannot function properly.

Take for instance the LBO cycle – something that dominated corporate headlines between 2005 and 2006. Fast forward to today, and as Chart 10 overleaf shows, big public to private deals seem to be back again in Europe, given huge private equity cash balances. And the outlook for private equity activity in Europe looks promising given no  change in Europe's tax treatment of debt, unlike in the US.

And ironically, the company that kick-started the European LBO cycle in 2005 – namely TDC – is the company that is again kick-starting the LBO cycle this time around.

Last July, 9% of Stoxx 600 companies were zombies. In our view, a combination of easy monetary policy and bank  regulatory forbearance had allowed these issuers to "live another day", when in normal times they would have defaulted.

Chart 12 shows the 6m change in the Fed's balance sheet versus US high-yield energy defaults. Interestingly, as the rate of growth in the Fed's balance sheet slowed to zero in March 2015, US high-yield energy defaults began to rise. The growth of US high yield energy debt had been tremendous between 2012 and 2014 – with the market almost doubling in size – as the shale phenomenon took off. Overlending in the sector thus became problematic.

And while other risk-off factors materialized in 2015 to pressure US energy defaults – such as China weakness and a falling oil price – we find it nonetheless revealing that when the Fed stopped QE, leveraged capital structures in the US credit market began to suffer. "Misallocation of capital" had come home to roost…

An interesting relationship unfolds, in our view, with similar conclusions to the US example above. We find a reasonable link between the rate of growth of the ECB's balance sheet over time and the growth rate of European zombies.

…In a year where ECB balance sheet growth will likely be over, the chart below implies that the liquidity support for zombie companies will fall away. And other things being equal – just as was the case in late 2011/early 2012 – the number of "zombies" will decline through the process of higher default rates in Europe.

And so we're left with a paradox…that in 2019, just as the ECB endorse the strengthening of the Eurozone recovery by stopping QE, Europe may experience a "flash" jump in default rates, as "zombies" disappear. "Misallocation of capital" may again come home to roost…
Add that European peripheral government are also zombies and ECB tapering becomes a disaster in the making.
There's a troubled switch in Europe towards greater fiscal flexibility but its politics remains as fractious as ever, so much so that it remains odds-on that it will stall the ECB's monetary withdrawal.
Yet markets keep buying Europe at the expense of the US. Go figure!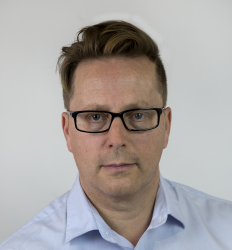 Latest posts by David Llewellyn-Smith
(see all)