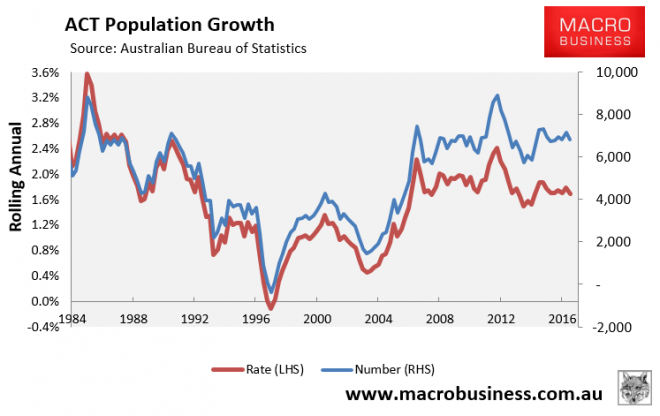 The ACT Government has joined its NSW/VIC peers and cashed-in on the population ponzi, using its monopoly on land sales to halve the Territory's Budget deficit. From The Canberra Times:
Population growth and the territory government's aggressive land sales agenda has boosted the ACT's coffers by $82 million this financial year, helping halve the 2017-18 budget deficit to $41 million.

The territory government's mid-year budget review, due to be released publicly on Tuesday, has shown a $45 million increase in Commonwealth GST revenue this year, thanks to updated 2016 Census quantifying population growth at about 7000 extra ACT residents.

But the government's bottom line was also boosted by an extra $20.7 million in dividends and income tax equivalent payments linked to land sales in the Jacka 2 subdivision, Kingston and the Hume industrial estate.

Across the board, the boost to territory coffers has brought down the $83.4 million deficit this year, as estimated in last year's budget, to $41.5 million, with the latest estimates predicting an $11 million surplus in 2018-19, compared to the $9.7 million predicted last year.

The review also suggests the government's land sales agenda – often criticised as prioritising revenue over housing affordability – will not be slowing down any time soon.

It estimates a further $26.2 million in land sales related revenue for 2018-19, before falling to $9.4 million in 2019-20 and up again to $80.4 million in 2020-21…
It's like a perpetual motion machine, isn't it? Just bring in more people, sell land to them at inflated prices and collect more GST revenue from the federal government. Sweet as.
Of course, if you don't reinvest in infrastructure to keep pace with the population growth, then residents' living standards are eroded as roads, schools and hospitals become crush-loaded. We have already witnessed this in Gungahlin in Canberra's north (read here).
Moreover, what happens when the ACT Government runs out of land to sell?