Last month, ABC news published a report on the rapid unplanned population growth in Canberra's Gungahlin region, to the city's north, which is destroying livability:
Gungahlin is one of Australia's fastest-growing regions, but a leading planning expert says a "disastrous" lack of suitable infrastructure has left the burgeoning town centre feeling the squeeze.

ANU professor Patrick Troy has studied urban planning for 50 years, and does not hold back with his thoughts on Canberra's northernmost town centre.

"I try not to think of Gungahlin, because I think it's a disaster," he said.

"There's a disconnect between the planning and the actual development.

"The original planning for Gungahlin was on the assumption that there'd be as many jobs in Gungahlin as were people wanting to work".

…while housing in the region has boomed, Professor Troy said the need for Gungahlin residents to commute out of the centre for work had not been accounted for with proper infrastructure.

"People living in Gungahlin who still want a job have to travel out of there to find a place to get work, and that's the tragedy," he said…
Now, the local Gungahlin community is up in arms amid the proliferation of high-rise apartments. From RiotACT:
A proposal for yet another high-rise development in the western part of the Gungahlin Town Centre has exasperated the local Community Council, which says planning loopholes has already led to an intimidating skyline and an excessive number of apartments in the area.

The two-tower 18-storey AirTower mixed-use proposal from developer Empire Global on the corner of Gundaroo Drive and Gozzard Street will stand 58 metres tall, more than double the 23 metre height limit in the planning rules and contain 296 one to four-bedroom apartments.

…the proposal has been scaled back by about a third from its initial 26 storeys to 18 to 12 storeys, with a tapered, step-down design towards the adjacent one-storey homes.

However, the Gungahlin Community Council President Peter Elford said that even in its revised form it was still too big for the site.

…the building would overshadow and overlook the YMCA, Yerrabi Ponds, and Lavender Lane Early Learning Centres, as well as nearby residential areas.

…the skyline that had risen up in the western Town Centre was very intrusive, and particularly intimidating at ground level.

The council is also concerned about increased traffic impacts and infrastructure to support the rapidly growing population in the area.
The term "cry me a river" immediately came to mind when I think about these articles. While the Gungahlin region has indeed recorded strong population growth over the past five years (i.e. 23,839 people or a 50% increase):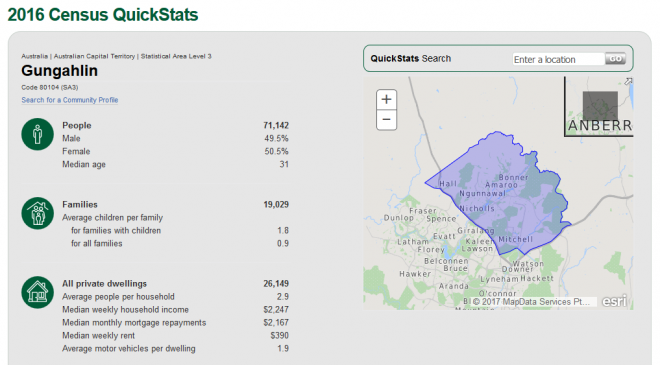 This pales in comparison with the hyper-growth experienced in Australia's major capitals, many of whom started with far worse infrastructure positions than Gungahlin: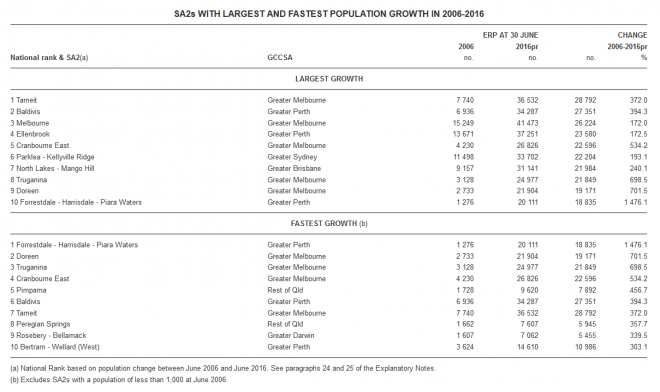 Nor does Canberra's overall population boom compare against Melbourne's and Sydney's: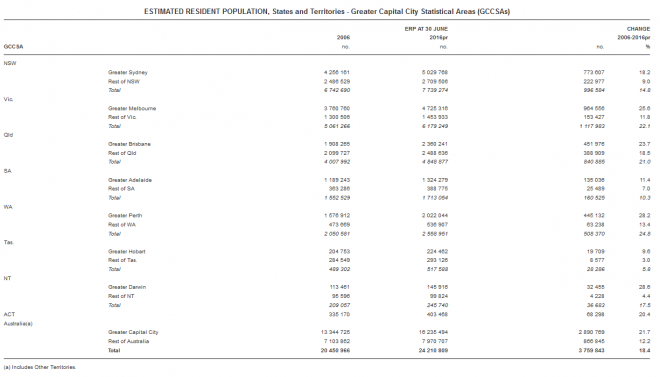 While Canberra's population expanded by 20.4%  in the decade to 2016, this was actually below the national capital city average (21.7%), well below Melbourne's (25.6%) and only a little above Sydney's (18.2%).
However, given that Melbourne and Sydney started from much higher population bases, much worse starting infrastructure deficits, and both experienced more than 10-times the actual population growth of Canberra, it's hard to feel sorry for the Gungahlin residents who are merely getting a small taste of the population crush that has long sucked the livability out of both Sydney and Melbourne.
The one positive to come out of Canberrans experiencing some of the pains of rapid population growth is that they might actually start questioning the federal government's mass immigration 'Big Australia' program and begin to argue for Australia's permanent migrant intake to be slashed to sensible and sustainable levels: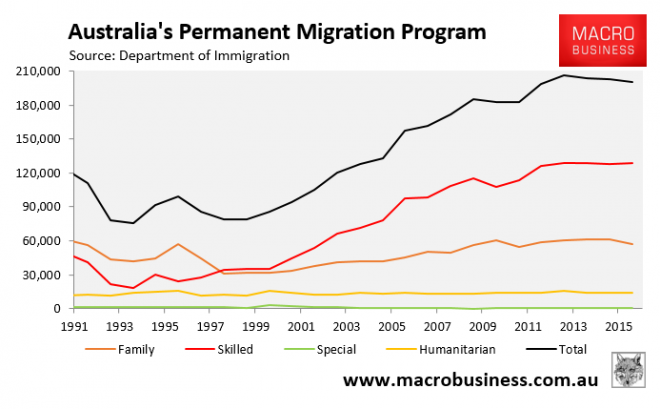 But until then, talk to the hand. Because you won't get any sympathy from long suffering residents of Sydney and Melbourne, who have suffered through the Lib/Lab/Greens' unplanned crush-loading for more than a decade.