Back in September, Immigration Minister, Peter Dutton, launched another attack on 'boat people' while conveniently ignoring the hundreds of thousands of immigrants let into Australia each year by plane.
Then in October, following the Australian Population Research Institute's latest survey showing three-quarters of Australians do not believe that the country needs more people, Dutton tried to argue that the Turnbull Government had cut the migrant intake:
"In the Labor years the number peaked at about 305,900 in one year which was an enormous number, we've got that number down now below 190,000 and as I say, we're happy to reassess."

He said new migrants were drawn to the big population centres where pressure on housing and infrastructure was most often felt, however, "In some regional towns they're crying out for people because they can't get workers in the meatworks or areas of primary production, tourism, restaurants and so on. So we need to get that balance right."
Yesterday, Dutton made similar claims when quizzed about NSW Liberal Senator Jim Molan's call for legal immigration to be cut to save infrastructure. From The Guardian:
Peter Dutton has said Australia must reduce its intake of migrants "where we believe it's in our national interest".

The home affairs minister told 2GB Radio on Thursday the Coalition had already "considerably" reduced the number of people entering Australia – by 100,000 on the levels when Labor was in government – and was not tied to the current level of migration…

Dutton said it was a "perfectly legitimate argument" that Australia's cities were "overcrowded" including "gridlocked traffic in the mornings" and use of services like hospitals.

"We have to try and encourage people out into regions, we have to reduce the numbers where we believe it's in our national interest," he said. "It's come back considerably and if we have to bring it back further, if that's what required and that's what's in our country's best interests … that is what we will do"…

"But we do have problems where people are concentrating in and around Sydney, in and around other capital cities, including Melbourne. We need to try and disperse people out."
While it is good to see Dutton acknowledge the crush-loading caused in Sydney and Melbourne by the federal government's mass immigration program, he is lying when he claims that the Coalition had already "considerably" reduced the number of people entering Australia by 100,000.
While it is true that net overseas migration (NOM) – which includes both permanent and temporary long-term residents – peaked under Labor (at 315,700), it was still running 245,500 as at the year to June 2017: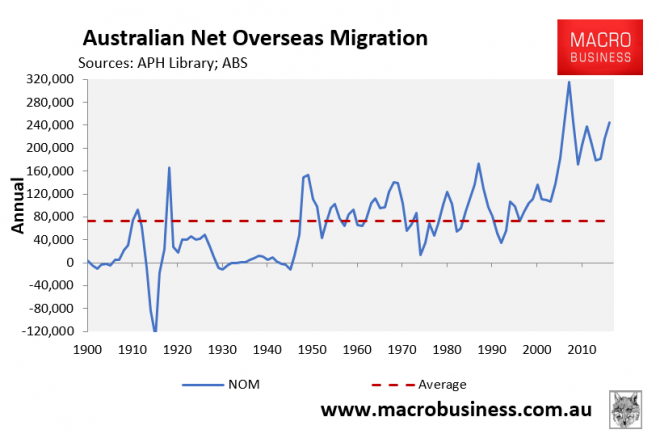 Most importantly, Dutton has deliberately failed to mention that Australia's permanent migrant intake has never been higher than under this Coalition Government, set at nearly 210,000 a year currently: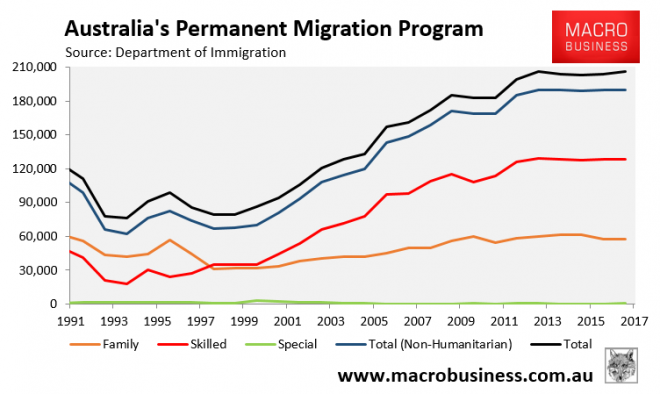 It is this permanent migrant intake that sets Australia's future population trajectory (as well as population pressures in the major cities), since long-term temporary migrants (included in NOM) are by definition temporary and must ultimately leave Australia. The permanent migrant intake is also unaffected by Dutton's proposed citizenship laws.
As noted in MB's submission to the Migration Program review:
Australia's permanent skilled migrant intake is significantly higher today (128,550) than it was at the peak of the mining boom in 2011 (113,850). Why? Unlike then, labour shortages are "limited", wages growth is running near the lowest level on record, and labour underutilisation is high. What is the economic rationale for running the highest permanent migrant intake on record when economic conditions do not warrant it?…

Currently, there is no coherent plan other than to inundate the major cities with extra people each and every year to stoke overall economic growth (but not growth per person), to support big business (e.g. the property industry and retailers), and to prevent Australia from going into recession (despite growth per person stagnating).

Meanwhile, individual living standards are being eroded through rising congestion costs, declining housing affordability, paying more for infrastructure (e.g. toll roads, water and energy), environmental degradation, and overall reduced amenity…
The reality is that the Turnbull Government's own turbo-charged immigration settings have Australia on a trajectory towards at least 40 million people mid-century, with Melbourne and Sydney headed to at least 8 million people.
Australia needs a frank and honest national conversation about population policy, which focuses on whether or not large-scale immigration is benefiting the living standards of the incumbent population. Not the dishonest 'smoke and mirrors' approach employed by Dutton, which deliberately conflates the immigration intake with refugees, obfuscates the immigration data, privatises the gains from mass immigration for the Coalition's big business backers, and socialises the costs on everyone else (including the state governments).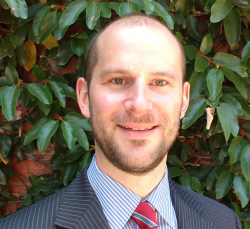 Latest posts by Unconventional Economist
(see all)