Let's take a walk down memory lane.
It's June 2015, and Treasurer Joe Hockey is furious that a wealthy neighbour of his in Hunters Hill Sydney had sold his heritage listed home to a Chinese buyer, even referring the matter to the Foreign Investment Review Board. Here's Hockey speaking on 3AW Radio:
"I referred one of my own neighbours and found out they had got approval on pretty spurious grounds"…

"They bought a property on the basis that … they were going to add to the housing stock by building a granny flat out the back or something, and I thought that's ridiculous"…
In August 2015, Joe Hockey stood in front of the Canberra press gallery vowing to crackdown on illegal sales of established homes to non-resident buyers, as well as promising to tighten the penalty regime:
Australia's foreign investment policy for residential real estate is designed to increase our housing stock, but those who break the rules and purchase established property illegally are doing so to the detriment of all Australians. Unlike the previous Government, which didn't take action, we are determined to enforce the rules and where appropriate make them even tighter. I will be introducing legislation into the Parliament in the next two weeks that will ensure the reporting requirements, enforcement and penalty regimes for foreign investors who break the laws are stricter and more significant. These new penalties are designed to ensure that no-one should be able to profit from breaking the rules. To you for questions…

I will be announcing significant penalties for those that are in breach of the rules, for example in relation to non-residents who hold existing real estate they will face a maximum criminal penalty of $127,000 or three years imprisonment. In relation to civil penalties, which I think will be the most significant and the newest part of the penalty regime, the penalty will be that they will lose the capital gain made on the property, 25 per cent of the purchase price or 25 per cent of the market value of the property. So that, of course, is a very significant penalty that does not exist under the current regime. It is also important to note that under the new regime, third parties such as real estate agents, financial advisers and so on may be prosecuted as well for assisting in the purchase of existing residential real estate or the unlawful activity of someone involved.
In December 2015, the new regulatory regime was born whereby illegal buyers of established homes, as well as third party facilitators (like real estate agents), suddenly faced large penalties (see below tables).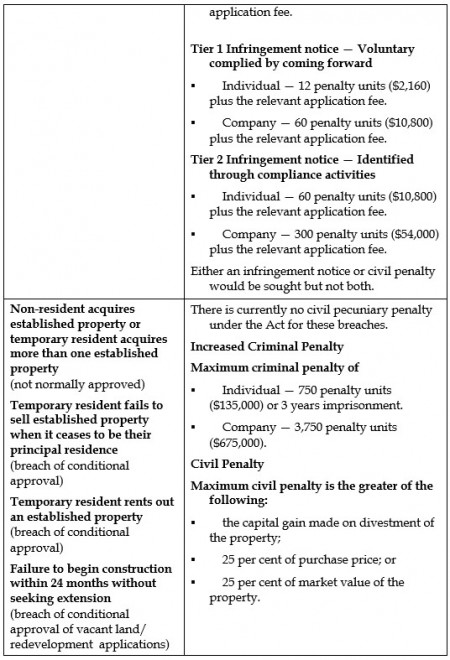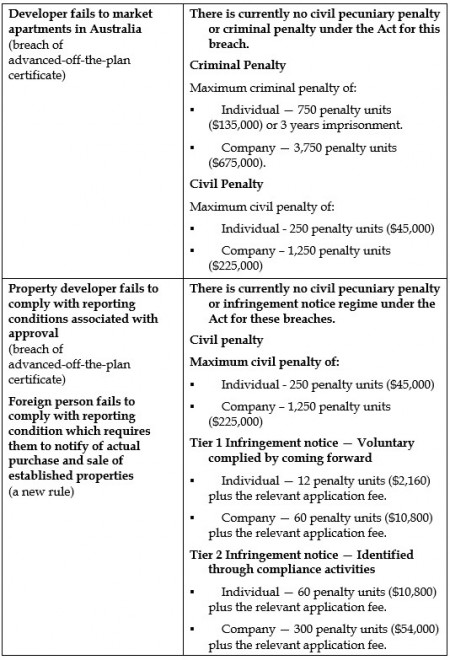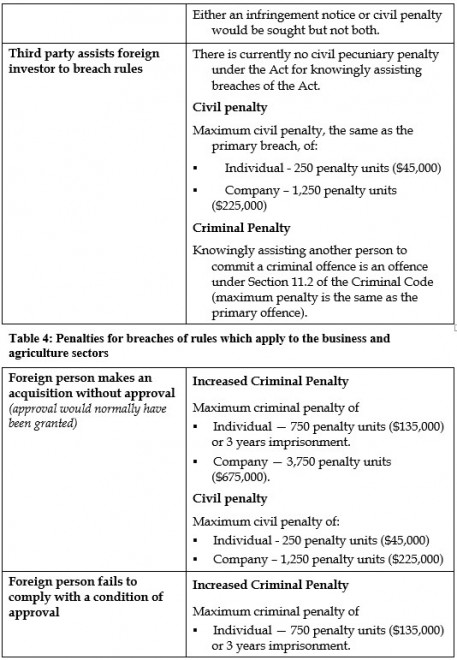 Joe Hockey was dumped as Treasurer in September 2013, and it seems his time away in Washington as US Ambassador has erased his memory of the rules surrounding foreign purchases of established real estate. Because Hockey is now seeking to sell his established $8 million Hunters Hill mansion to a non-resident Chinese buyer. From Realestate.com.au:
JOE Hockey is trying to flog a Hunters Hill mansion to Chinese buyers in an ironic twist for the federal treasurer who crusaded against foreigners entering our housing market.

The Australian ambassador to the US once even referred a neighbour to the Foreign Investment Review Board.

Mr Hockey and his investment banker wife Melissa Babbage have listed the $8 million "Te Roma" federation house on the Chinese website myfun, which showcases prestige Australian listings in Mandarin.

The ¥40 million offering provides contact details in China to take buyer queries on the historic 1905 home before a March 1 deadline.

Questions put to Mr Hockey's office at the Washington embassy went unanswered yesterday…

Mr Hockey's Sydney listing agent Brad Pillinger… hoped Chinese New Year tourism celebrations may bring offshore interest.
This is definitely a transaction that the ATO should monitor very closely. The question is, will it enforce the rules and prosecute both the buyer and listing agent in the event that the property does sell? Or will it continue to turn a blind eye?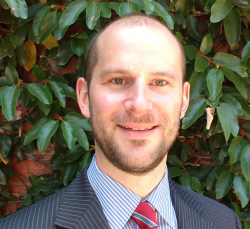 Latest posts by Leith van Onselen
(see all)