Via Reuters:
South Korea's Korea Gas Corp has entered court-administered arbitration with Australian joint venture North West Shelf Gas seeking to settle a dispute over a liquefied natural gas (LNG) contract that expired in 2016.

A spokesman for the state-run Korean firm, known as KOGAS, confirmed an arbitration process was under way but declined to give details. Woodside Petroleum, operator of the North West Shelf venture, was not immediately available for comment.

The case, to be heard in a specialist arbitration court, will be closely watched by the booming global liquefied natural gas (LNG) industry. KOGAS is the world's second-biggest single buyer of LNG, and Australia has ambitions to overtake Qatar as the world's biggest exporter of the fuel.

The arbitration relates to a difference over price of a mid-term supply contract, a person familiar with the matter told Reuters. The person declined to be named due to the sensitivity of the matter.

Saul Kavonic of energy consultancy Wood Mackenzie said it was "the first time in Asia" that an LNG buyer has resorted to taking an LNG price review negotiation to arbitration.

"Producers will be watching how the likes of the Chinese national oil companies, JERA (of Japan) and KOGAS choose to navigate upcoming price review opportunities, with large project value at stake," Kavonic said.

Two sources with direct knowledge of the matter said a London arbitration court was hearing the case.

South Korea imports most of its LNG via KOGAS, the country's sole LNG wholesaler. The firm brings in more than 30 million tonnes per year of the fuel, mainly from Qatar and Australia.

Most of Asia's LNG is supplied via long-term contracts under which buyers receive monthly cargoes. If they cancel supplies, payment is still due under so-called "take-or-pay" clauses.

Additionally, "destination clauses" prevent buyers from selling LNG to third parties.

To protect buyers and sellers from sharp price swings, the LNG under most long-term contracts is linked to oil, which caps by how much the price for LNG can rise or fall.

But with Asian spot LNG prices LNG-AS down by half from a peak of more than $20 per million British thermal units (mmBtu) in early 2014, buyers have become restless and started demanding concessions.
There are two points to make here. The first is that despite wholesale palava to contrary, the LNG glut remains massive and growing, hence the strong-arming from KOGAS: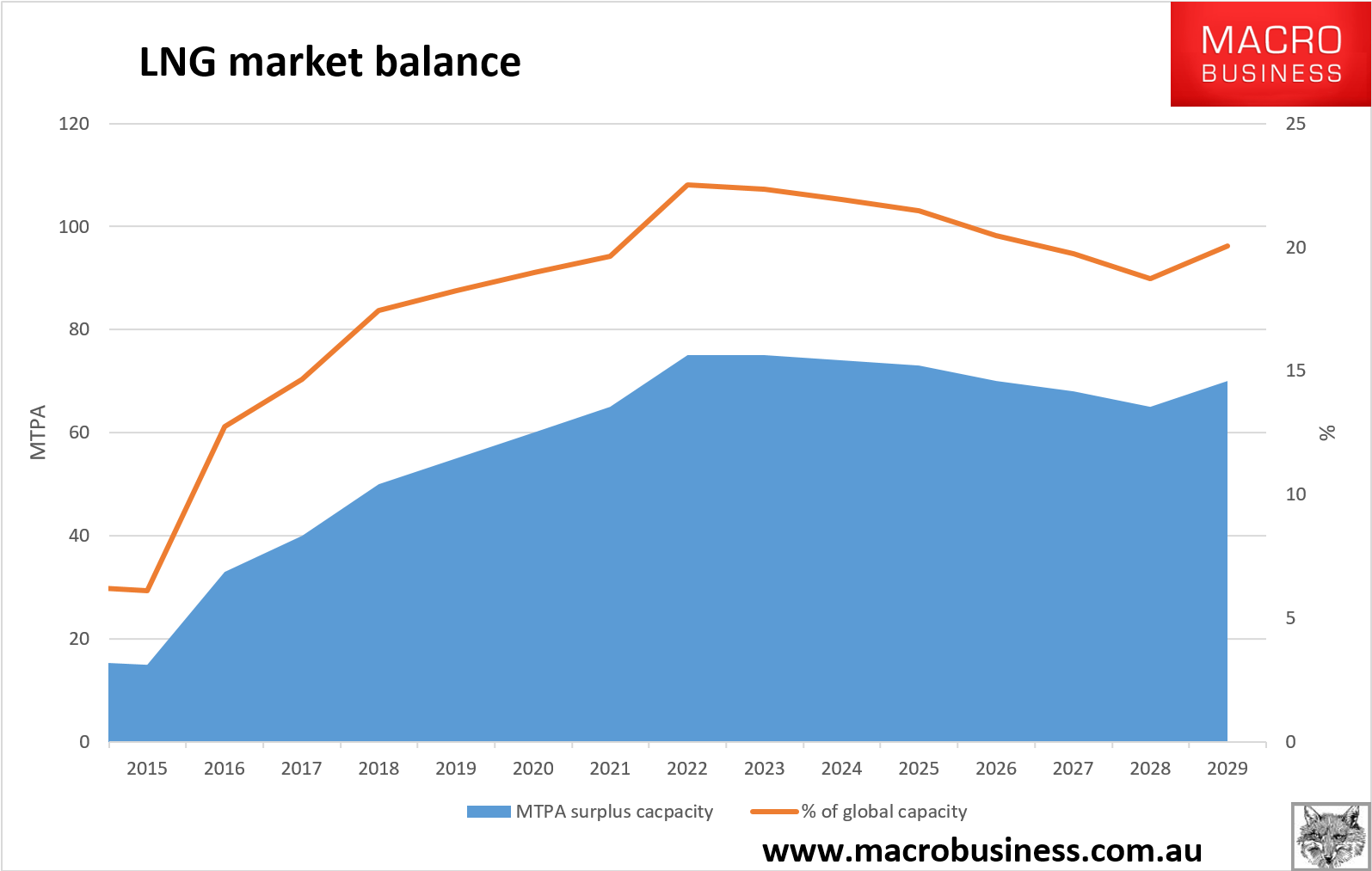 Second, it is most unfortunate but as Australians we must back KOGAS in this fight. Why? Because if it wins it will hit Asian LNG contract prices in the longer term as oil-linked contracts, as well as destination clauses erode. That will lower the regional gas price.
That, in turn, will drop Australia's east coast gas prices which are delivering an huge energy shock to the economy such that gas exports are simply shifting wealth from everyone else to the gas cartel, delivering a fall in living standards to most Australians.
Sure, the producers will experience pain but that's as it should be. It was they that mis-allocated hundreds of billions into white elephant LNG projects that export at huge losses. Everyone else in Australia should not have to pick up their tab via the cartel gouge of local markets.