Bitcoin mania has similar parallels with the epic silver bubble of the 1970s:

Silver went through a huge bubble, moving from $6 to nearly $50USD per ounce in just over a year due to the Hunt brother's cornering of the market. At the peak they owned one third of the world's supply.
Sound familiar?
The Winklevoss twins (of ex-Facebook infamy) are the first billionaires from the Bitcoin bubble. While they may not have the same effect as the Hunt's on silver, the parallels are similar.
At the end of last year, Bitcoin had fallen to just over $12,600USD and has recovered somewhat to almost $15,000, not after having a steep fall last week due to some exchange sheninagans: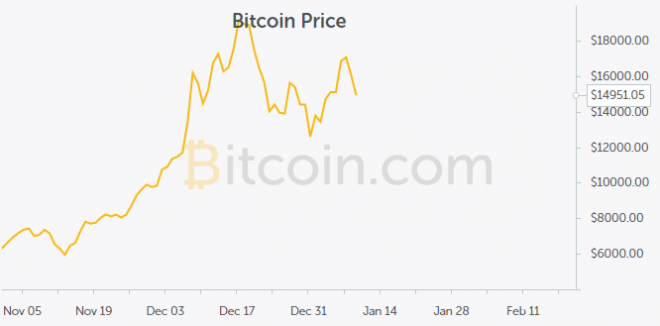 Again, another echo of the silver bubble, where it was due to the regulatory authorities and exchanges that stepped in and changed the rules regarding leverage that ended the Hunts' gamble.
Almost every major central bank has been forthright against Bitcoin and many regulatory authorities are pushing back against the cryptocurrency. Furthermore the ridiculous amount of electricity used for mining is getting out of control.
From Bloomberg:
The global power needed to create cryptocurrencies this year could rival the entire electricity consumption of Argentina and be a growth driver for renewable energy producers from the U.S. to China.

Miners of bitcoin and other cryptocurrencies could require up to 140 terawatt-hours of electricity in 2018, about 0.6 percent of the global total, Morgan Stanley analysts led by Nicholas Ashworth wrote in a note Wednesday. That's more than expected power demand from electric vehicles in 2025.

"If cryptocurrencies continue to appreciate we expect global mining power consumption to increase," Ashworth wrote in the note.

Miners will probably concentrate in low-cost power regions, including China and the U.S. Midwest and Pacific Northwest. Miners earn bitcoin-denominated rewards for performing the complex calculations needed to confirm transactions in the cryptocurrency.
Even Warren Buffett sees the danger and is on the bear side. From ZH:
Warren Buffett doubled down on his criticism of bitcoin Wednesday during an interview with CNBC, where he said he's almost certain the cryptocurrency craze "will end badly" and that the current runup in value will be fleeting.

"In terms of cryptocurrencies, generally, I can say with almost certainty that they will come to a bad ending," said Buffett, the chairman and CEO of Berkshire Hathaway.

"When it happens or how or anything else I don't know, but I know this: If I could buy a five year put on every one of the cryptocurrencies, I'd be glad to do it but I would never short a dime's worth."
There may not be a silver lining here in speculating in the first stage of the rise of the cryptocurrencies.
Latest posts by Chris Becker
(see all)