Everything is at record or multi year highs it seems; US stocks, Japanese stocks and even the ASX200.
Usually at these peaks, the howls from the bears would start to be heard in equal measure with the ebullient crowd of bulls, as the latter group look around nervously for more buyers.
But not this time, with legendary bear Jeremy Grantham actually on their side.
From Bloomberg:
 "As a historian of the great equity bubbles, I also recognize that we are currently showing signs of entering the blow-off or melt-up phase of this very long bull market," Grantham, the chief investment strategist for GMO in Boston, wrote in a 

letter

 to investors Wednesday.

Grantham, 79, is best known for his accurate prediction in 2000 that U.S. stocks would lose ground for the next decade. In today's letter, he called the current market one of the highest-priced in history.

Grantham cited the recent acceleration of U.S. equity prices, a concentration of leadership in stocks and growing media coverage of events such as bitcoin's surge and Amazon.com Inc.'s success as signs that the final phase of a bubble could be coming in the next six months to two years.

He warned investors to keep an eye on what is showing on television in restaurants. "When most have talking heads yammering about Amazon, Tencent and bitcoin and not Patriot replays — just as late 1999 featured the latest in Pets.com — we are probably down to the last few months," he wrote. "Good luck. We'll all need some."

Boston-based GMO managed $74 billion as of Sept. 30.
Is this a blow-off phase or do stocks remain in a solid bull market? Looking at basic fundamentals first, price/earnings ratios are hovering at record highs, almost hitting the 20 mark around the world, with Australian shares a little more modest at above 15: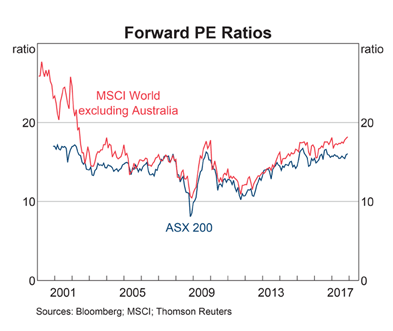 A basic glance at a semi-log relatively long-term chart shows the US S&P500 is indeed melting up higher: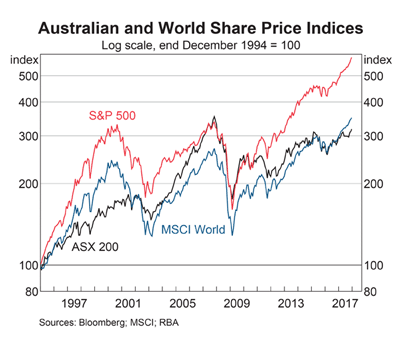 A closer technical look using the weekly chart shows an acceleration after breaking through key resistance at 2100 points and following the US presidential election cycle, which has almost always been a harbinger for a follow through stock rally: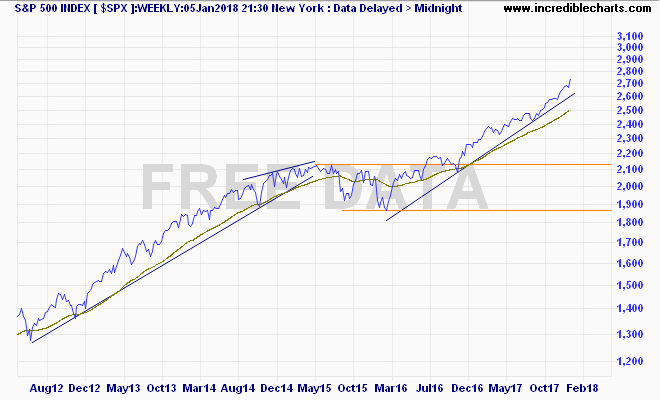 Price in recent weeks has seen an acceleration on the back of the Republican tax cut bill, a euphoria that is likely to last into most of 2018. The same cohort that will benefit from the tax bill own the majority of the stock market: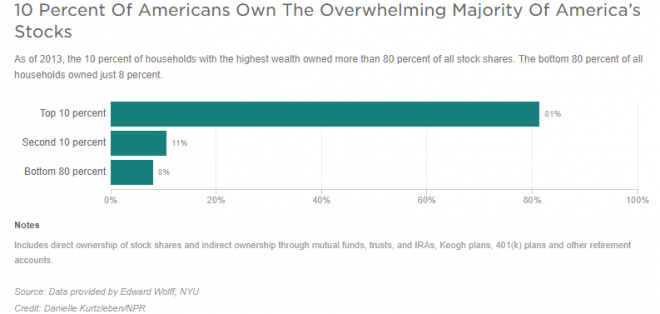 Its unclear when this rally will end, perhaps as the S&P500 cruises through the 3000 point technical level, and buying the dip has worked for so long that protecting profit and/or staying away may prove too hard a choice for most investors.
This fear of missing out and the continued good economic news that puts aside any naysayer could turn this blow-off into a bubble.
Latest posts by Chris Becker
(see all)