More crypto shenanigans, from Bloomberg:
Bitcoin mining, the computing process that makes transactions with the cryptocurrency possible, is about to become more expensive for some after China ordered mining facilities to close.

ViaBTC Technology Ltd., which runs the fourth-biggest bitcoin mining collective, is raising maintenance fees for some of its clients Friday to 50 percent from 6 percent, according to a statement posted on its website today.

"Some of our long-term hosting partners are facing a crisis of farm closure as mining resources in mainland China become more scarce, leading to rocketing costs of our cloud mining operation," the statement said. "To guarantee the long run of cloud mining, ViaBTC has no choice but have to readjust our maintenance fees."

Chinese officials have reportedly asked local governments to guide miners toward an "orderly" exit from the business, and ViaBTC has moved operations to Iceland and America as a result. The move from Chinese regulators will change the bitcoin mining landscape as operations based in the country are starting to shift elsewhere. The relative profitability of the operations may hinge on how electricity costs compare to those in China, where rates are subsidized.
And more:
One of the biggest cryptocurrency exchanges has been down for hours and its clients are starting to freak out.

 Kraken went offline at 9 p.m. Pacific Time on Wednesday for maintenance that was initially scheduled to last two hours, plus an additional two to three hours for withdrawals, according to an 

announcement

 on the San Francisco-based company's website.

"We are still working to resolve the issues that we have identified and our team is working around the clock to ensure a smooth upgrade," according to a status update on Kraken's website posted seven hours ago. "This means it may still take several hours before we can relaunch the site."

In previous updates, Kraken mentioned it's working on "unexpected and delicate issues" and assured clients their funds were secure, adding that "Yes, this is our new record for downtime since we launched in 2013. No, we're not proud of it."

Kraken is one of the exchanges that the CME Group Inc. is using to price the bitcoin futures it introduced last month.

Lack of communication from fledgling companies, delays in withdrawals and transfers, high fees, and the creeping fear of a malicious attack are some of the issues largely retail investors face, and discourage many more from jumping in.
Price is nearing the NYE low: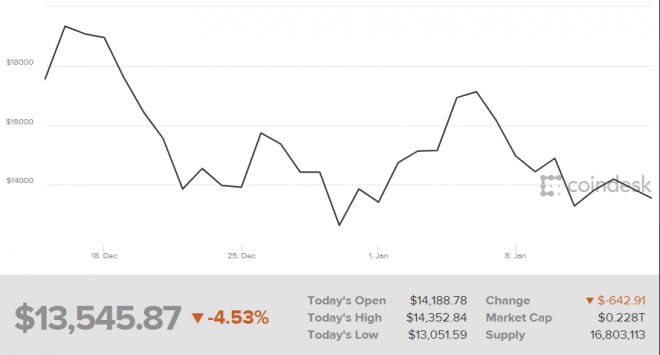 The question that hasn't been answered is if all other risk assets are making new highs, why aren't the cryptocurrencies coming along for the ride?
Latest posts by Chris Becker
(see all)