Bill Gross says so:
The 10-year U.S. Treasury yield climbed to the highest level in more than nine months, leading Bill Gross at Janus Henderson Group to declare a bond bear market just ahead of a deluge of sovereign debt sales.

The benchmark U.S. yield rose as much as six basis points to 2.54 percent, a level last seen in March, and the Treasury curve steepened the most in three weeks, as a looming glut of bond supply from the U.S., the U.K., Japan and Germany coincided with a surprise cut in purchases of long-dated Japanese government bonds by the Bank of Japan.
Yesterday the Bank of Japan surprised with a taper in its huge bond purchase program which sent the Yen higher but more importantly sent a signal out to the world's biggest risk market that changes are afoot.
There are several developments apart from the technical levels that Bill Gross rightly points to. First, China is struggling with its own bond rout following its first sovereign dollar-denominated bond offering in October last year, 10-year yields spiked to a three year high, amid rising concerns about the Middle Kingdom's huge debt levels.
Next, the US is planning a massive sale of bonds this week alongside further sales in the UK and Germany, but there has not been as much demand in recent years, particularly from the usual foreign purchasers:
"We're seeing a lot of overseas buyers who would come in every time we'd have a move close to these levels who aren't coming in anymore," said Michael Franzese, New York-based head of fixed-income trading at MCAP LLC, a broker-dealer. "That's kind of scaring me a little bit. One eye is constantly on the exit button."

U.S. issuance is expected to rise in 2018 on the back of the budget deficit and recently passed tax legislation. Meanwhile, support for lower yields may wane as the Federal Reserve reduces its balance sheet and other central banks contemplate exit strategies.
As for Australian bonds, the technical picture does not yet suggest a breakout, although yields on the 10 year have moved sharply higher since early December, they are not back at last years highs: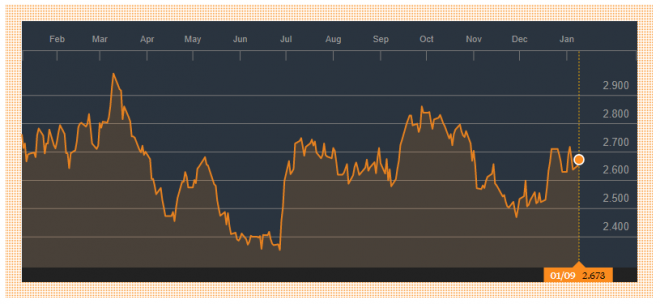 The differential with US bonds however is closing: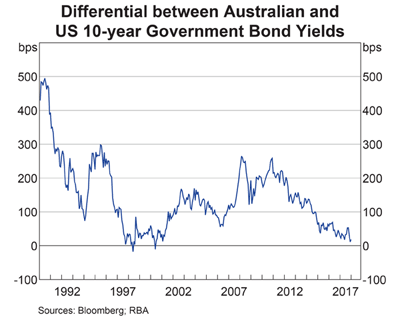 The next critical event on the economic calendar for bond traders and investors alike to watch is the December CPI print from the United States, which if hotter than expected could be the catalyst point for a broader selloff of bonds and a move into higher yielding assets.
Latest posts by Chris Becker
(see all)