Last night, the following question was asked on ABC's Q&A, which garnered the above pathetic response from Prime Minister Malcolm Turnbull:
POPULATION GROWTH

BILL EDGE asked:Could you explain why you are allowing approximately 200,000 people to immigrate to this country every year & are there any plans to limit this intake or will it go on ad infinitem? What is the purpose of this massive intake which is well above other countries per capita?

MALCOLM TURNBULL

Thank you for the question. Our immigration program is overwhelmingly skills-based. So, it is driven by the demands in our economy. So, you know, as you have more demand for people with the skills that we need in our economy, then you will get more immigration. If you have less economic…slower economic growth, you'll get less immigration. We've taken steps, as you know, to abolish the rorts in the 457 visa class, the temporary migration visa class.

And so we're very focused on making sure that we don't bring in skills from overseas unless there really is a skills shortage in Australia. But the answer to the question is that the people that come to Australia, overwhelmingly, are in response to demands from the economy. Obviously, they're also people who get married overseas and come in. There are family reunion categories as well. And, of course, the humanitarian program. But overwhelmingly the immigration program is focused on…is driven by our economy.

And, I have to say, is admired around the world. I'm not sure how popular Donald Trump is in this audience tonight, but he has been heard to speak very positively about our skills-based migration program, as indeed have many other countries' leaders.

VIRGINIA TRIOLI
Let's go to our next question now. It comes from Yaser Naseri.
As you can see, there was no genuine discussion on the underlying purpose of Australia's mass immigration program or the deleterious impacts in Australia's cities (including Turnbull's home of Sydney). Nor was there any follow-up from host Virginia Trioli. All we got was some fluff that Australia's immigration program is 'skills-based' and driven by the economy's needs, rather than by deliberate government policy.
The claim by Turnbull that "we don't bring in skills from overseas unless there really is a skills shortage in Australia" is easily debunked by examining the immigration flows, which are heavily weighted towards professionals like accountants and engineers: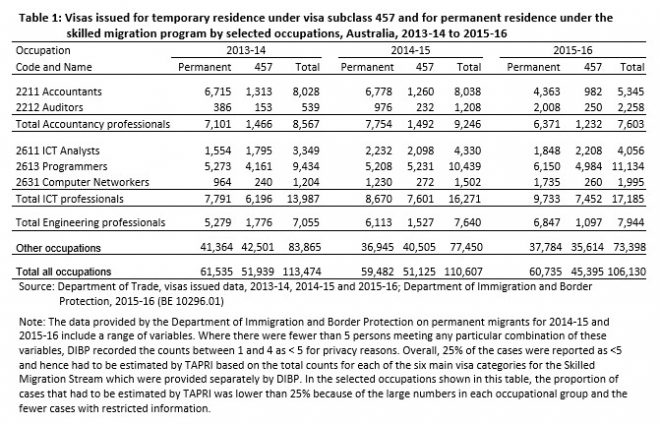 Which are all way oversupplied, according to the Department of Employment's 2016-17 Skills Shortages report: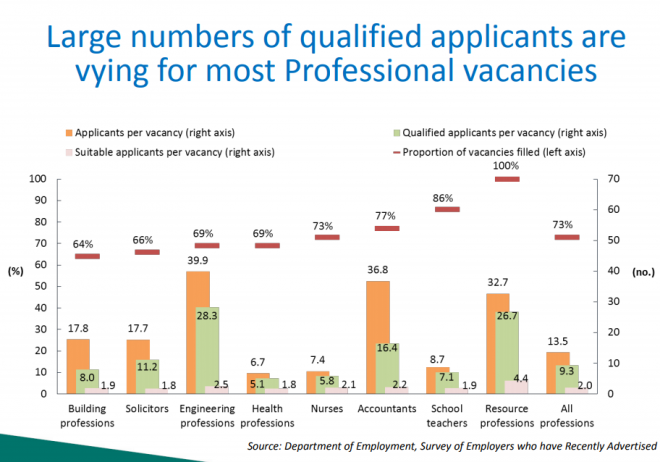 More generally, the 2016-17 Skills Shortages report also showed that Australian skills shortages "continue to be limited in 2016-17", and that there are a high number of applicants per job: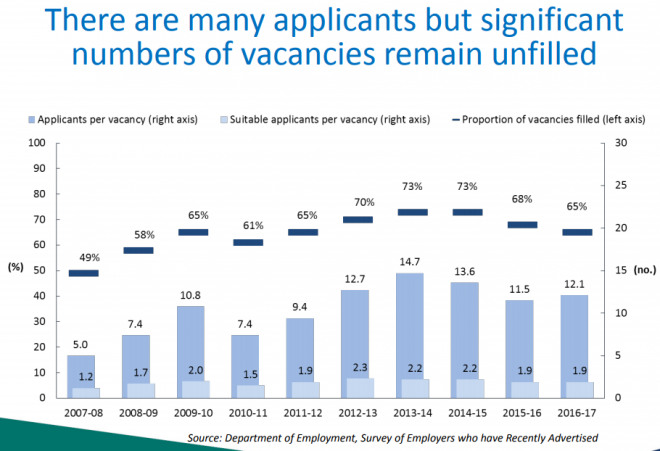 Which begs the question: why is Australia persisting with the largest skilled migrant intake in the nation's history if it was based on economic need?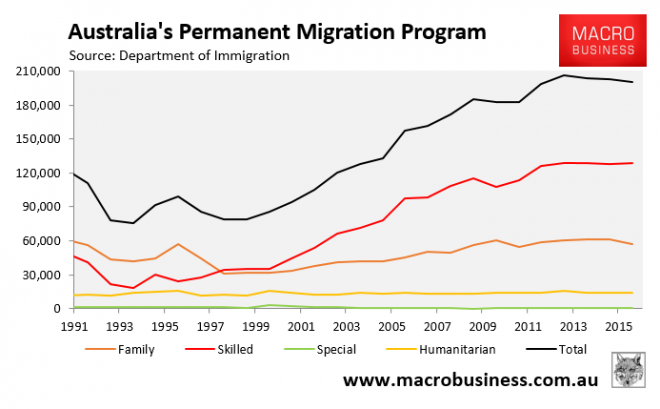 Curiously, the number of skilled permanent migrants, and indeed the overall number of permanent migrants, was higher in 2016 than it was during the height of the mining boom when skills shortages were common. Why?
The Productivity Commission's (PC) recent Migrant Intake Australia report also explicitly stated that around half of Australia's so-called 'skilled' migrants aren't actually skilled:
…within the skill stream, about half of the visas granted were for 'secondary applicants' — partners (who may or may not be skilled) and dependent children… Therefore, while the skill stream has increased relative to the family stream, family immigrants from the skill and family stream still make up about 70 per cent of the Migration Programme (figure 2.8)…

Primary applicants tend to have a better fiscal outcome than secondary applicants — the current system does not consider the age or skills of secondary applicants as part of the criteria for granting permanent skill visas…

There are strong grounds to give much greater weight to a primary applicant if the associated adult secondary applicant has skills or other desirable characteristics likely to improve their own labour market prospects. At the very least, for the sake of transparency and future policy development, Australian Government publications should report primary and secondary skill stream immigrants separately and provide more detailed information about the skills and other traits of adult secondary applicants.
Turnbull's claim that Australia's 130,000 strong 'skilled' migrant program is alleviating critical skills shortages has also been shot to pieces by a recent major survey from the Bankwest Curtin Economics Centre, which found that 53% of skilled migrants in Western Australia said they are working in lower skilled jobs than before they arrived, with underemployment also rife.
Research conducted in 2013 by Bob Birrell and Ernest Healy similarly found that while 69.3% of Australian graduates aged 25-34 had managerial or professional work in 2011 and only 9.5% were not employed, only 30.9% of non-English-speaking-background [NESB] migrants who were graduates of the same age, who had arrived between 2006 and 2011, had managerial or professional work. And a full 31.1% were not employed. Most of this group of graduate arrivals (79%) were of NESB background: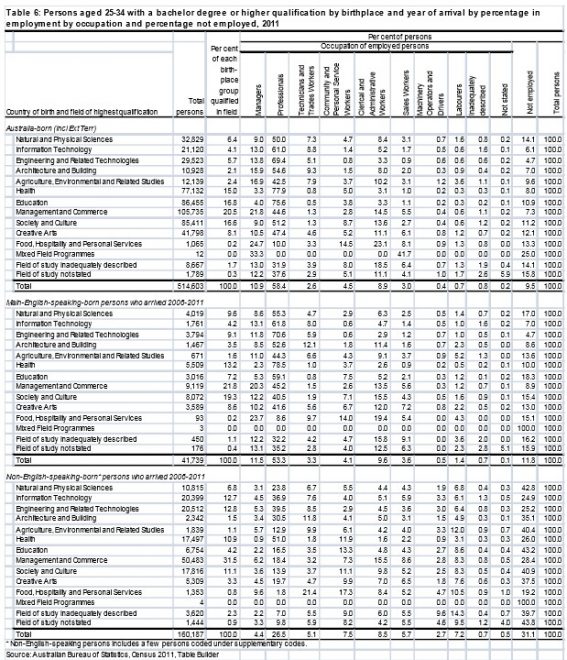 Moreover, the Australian Bureau of Statistics' latest Characteristics of Recent Migrants report, released in June, revealed that migrants have generally worse labour market outcomes than the Australian born population, with recent migrants and temporary residents having an unemployment rate of 7.4% versus 5.4% for the Australian born population, and lower labour force participation (69.8%) than the Australian born population (70.2%):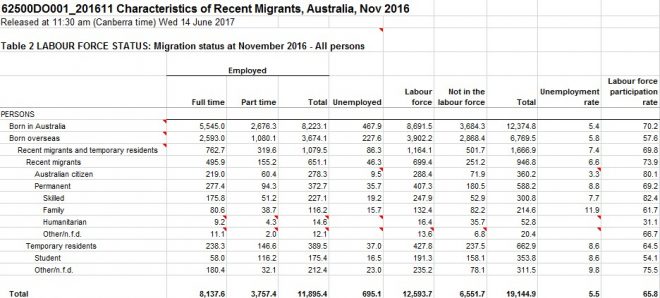 In short, the claim that Australia's 200,000 strong migration program is about alleviating skills shortages is a bald faced lie. It is all about providing an endless stream of consumers for the 'growth lobby' of bankers, the property industry, and the retail sector, while ordinary residents' living standards are crush-loaded and their slice of the growing economic pie is reduced: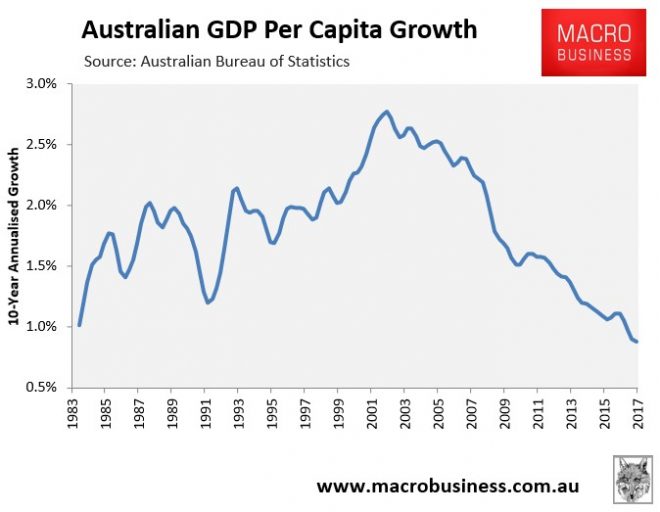 For readers new to this topic, make sure that you check out MB's primer on Australia's population ponzi: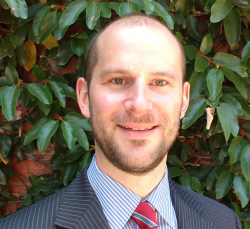 Latest posts by Unconventional Economist
(see all)