Yesterday I reported how Sydney's crippling immigration-fuelled population growth had pushed the rail network to breaking point, with one early morning incident causing mayhem well into the evening across the metropolitan train system.
Today, Sydney Trains boss, Howard Collins, admitted that soaring passenger demand means the train system is stretched beyond limits. From The SMH:
Sydney Trains boss Howard Collins admits more services on the city's rail network makes it harder to recover after a major incident but says reverting to the old timetable would leave commuters standing outside large stations due to surging demand…

Mr Collins said he would not hide from the fact that the increase in train services meant it took longer for the network to recover from major incidents.

… he said the extra services put on as part of the new timetable were "desperately needed" to cater for skyrocketing demand…

But the veteran of London's railway system said reverting to the old timetable, and fewer trains, would leave people standing outside the main stations by early next year because the rail network would be unable to meet the demand.

"If you do nothing and just stick to the old timetable, you will not be providing enough trains for customers," he said…

Labor leader Luke Foley seized on it to call for the government to explain what steps would be taken to ensure the "chaotic meltdown" on Monday did not become a pattern on an increasingly stretched network…

"How is it that an incident at 6.30 in the morning grinds traffic to a halt at 6.30 in the evening at the major city railway stations?"…
The underlying cause of this meltdown is hiding in plain sight: the federal government's mass immigration program, which is flooding Sydney with tens-of-thousands of extra residents each and every year: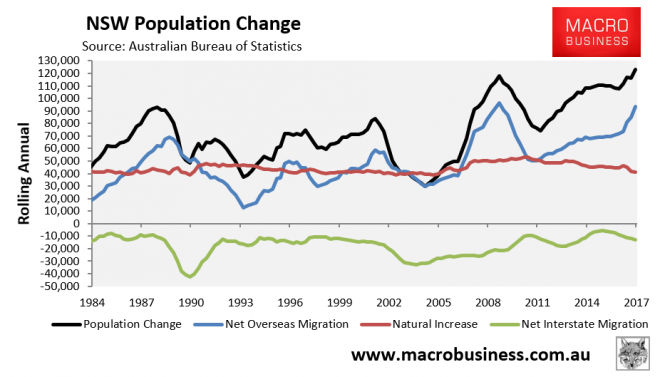 It is this mass immigration program that has driven Sydney's population up by 774,000 over the past decade (or 1,500 people a week), which has massively crush-loaded the city's infrastructure (e.g. trains, roads, hospitals, schools, etc).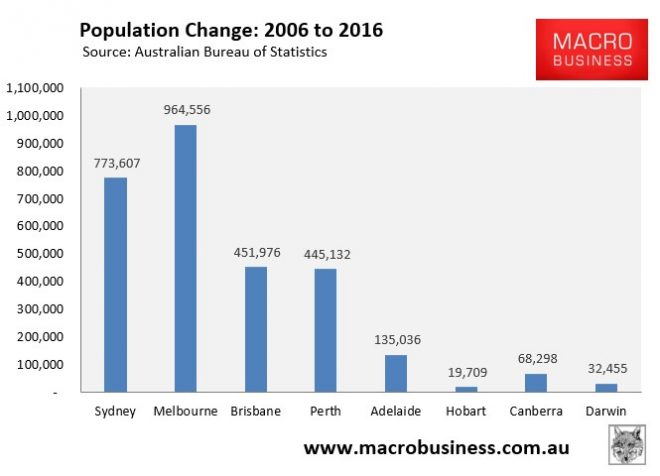 And the situation is set to deteriorate massively over the next two decades, with the State Government projecting that Sydney's population will expand even more rapidly – growing by 87,000 people a year (1,670 people a week) – adding an addition 1.74 million people (equivalent to a Perth), 1.53 million of which will come from net overseas migration: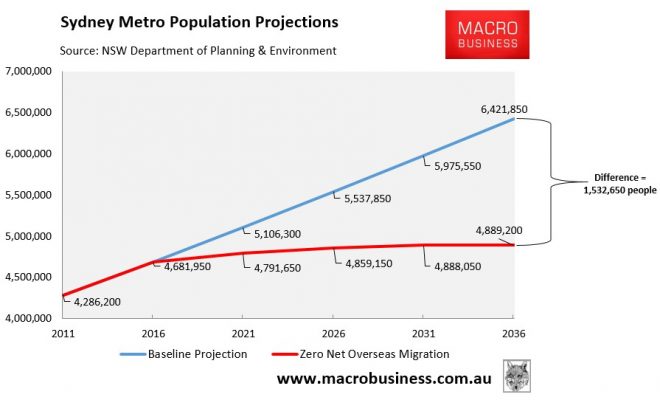 If Sydney's rail system is already stretched to breaking point, how will it possible cope with another 1.74million people in just 20 years?
Clearly, the best way to alleviate Sydney's infrastructure (and housing) woes is for the State Government to tap its federal counterpart on the shoulder and demand they slash Australia's skilled migration program.
Because under current mass immigration settings, incumbent residents of Sydney are facing massive cuts to their living standards along with hideously expensive infrastructure bills as they try in vain to keep up.