The Australian dollar is within millimeters of breaking to new correction lows: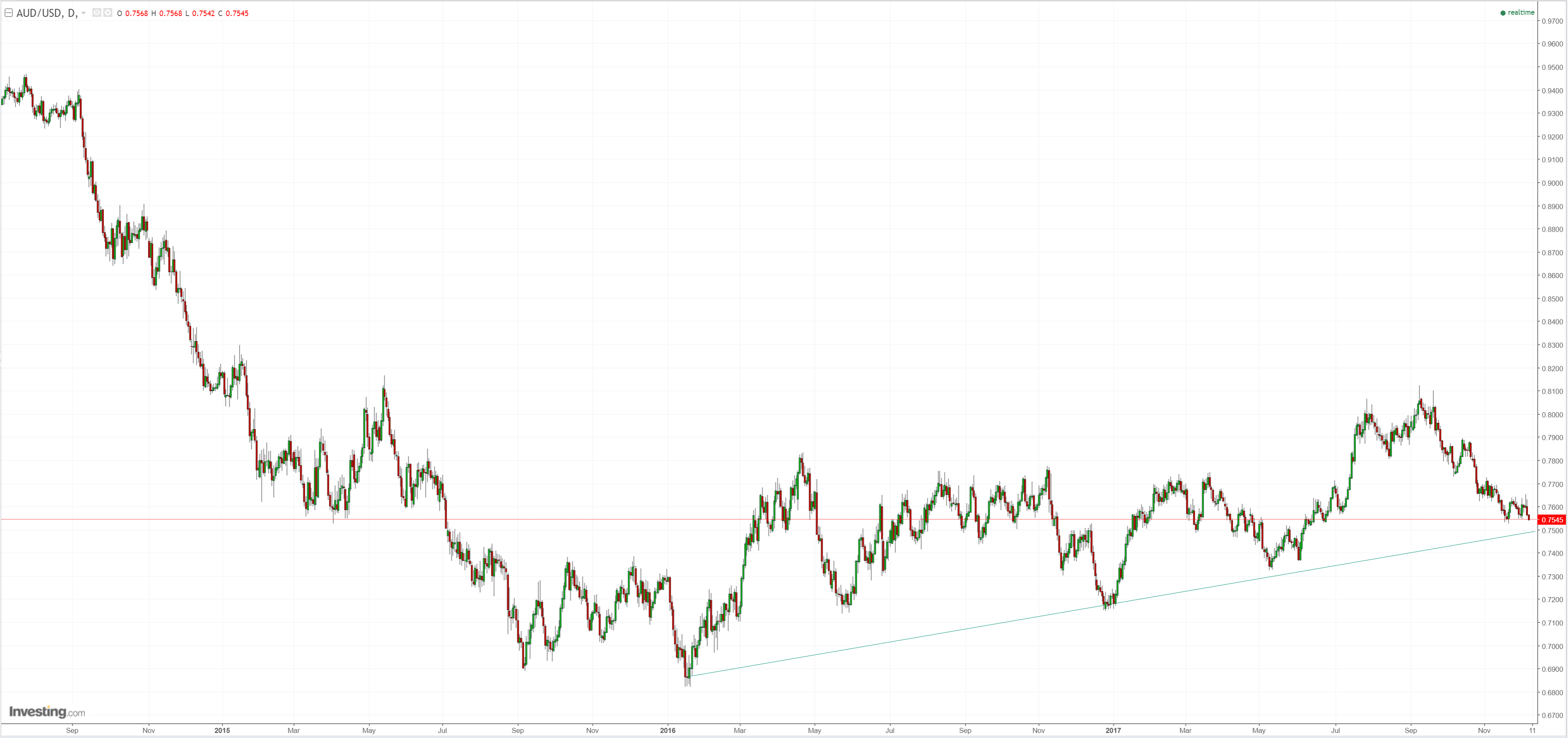 If it goes, and can break 75 cents convincingly as well then the post-2015 uptrend line will rupture, piling on the heat.
Credit Suisse sums up the new weakness:
From a GDP perspective, the sharp decline in the trade balance dwarfs the bounce in retail sales in October. In aggregate, the economy has not gotten off to a good start for 4Q.

The deterioration in the trade balance implies nominal tightening for the economy. Recall that the trade balance plus the size of the fiscal deficit must by definition equal private sector saving. A lower trade balance, combined with diminishing fiscal deficits implies that private sector saving must be falling, imparting a tightening of financial conditions upon corporates and firms. Historically, this sort of change in financial conditions can cause over- and under-shoots in the profile of GDP growth relative to models based on private sector credit creation alone.

The deterioration in the trade balance supports our view that the AUD/USD needs to weaken further. If the government is not dis-saving more, and failing to print money, while the household sector is over-indebted, the only way to generate more private sector saving is for the trade balance to rise. In turn, this requires a materially weaker AUD/USD.
Yes, it does.
———————————————————————–
David Llewellyn-Smith is chief strategist at the MB Fund which is currently long local bonds and international equities that offer superior growth and benefit from a falling AUD so he is definitely talking his book. 
Here's the recent fund performance:
The returns above include fees and trading costs on a $500,000 portfolio. Note that individual client performance will vary based on the amount invested, ethical overlays and the date of purchase. The benchmark returns do not include fees. October monthly returns are currently at 4.9% for international and 4.2% for local shares. 
If the themes in this post and the fund interest you then register below and we'll be in touch:
The information on this blog contains general information and does not take into account your personal objectives, financial situation or needs. Past performance is not an indication of future performance. The MB Fund is a partnership with Nucleus Wealth Management, a Corporate Authorised Representative of Integrity Private Wealth Pty Ltd, AFSL 436298.