Via Domainfax:
Who wants to be a millionaire? Forget the game show and the song titles – the average Australian household now has more than a million dollars in net wealth. The trouble is we are becoming increasingly cash poor.

While the value of our homes has risen to the point where the average household can boast millionaire status – on paper at least – Deloitte Access Economists has found 37 per cent of households are concerned about their ability to pay their bills and household costs. It expects this number to increase to 40 per cent within two years.

The major culprit has been the combination of slow wages growth and increases in the cost of living, including utilities, health costs and even groceries if taken on a 10-year view.

Deloitte quotes research showing 7.2 per cent of households are feeling mortgage stress – not because interest rates are high, but because they have taken out larger mortgages to pay for residential property. And 11.5 per cent of households are experiencing rental stress.

Having combined the macro research on households with micro research commissioned by supermarket discounter Aldi, a new report points to changes in the patterns of expenditure by increasingly cash-strapped consumers.

The conventional wisdom that grocery spending is largely immune from the economic cycle – because it falls into the basket of necessity rather than discretionary spending – has been thrown into doubt.

The report found that if day-to-day living expenses increased, one in three Australian households would fund this by cutting back on groceries either by switching to (cheaper) private-label brands or buying fewer groceries.

After luxury or discretionary spending on holidays and clothes, the survey showed consumers were more likely to cut back on groceries than any other spending category.

Those under less financial pressure prefer to cut back on discretionary spending while those with more financial pressure tend to switch to cheaper grocery items including private label.'
Of course, if things are really tight you can elect death, via the Herald Sun:
ELDERLY Australians and other vulnerable households too scared to switch on airconditioners or fans in heatwaves because of electricity costs are endangering their lives.

Other families are sacrificing buying groceries or school books so they can afford to keep cool, particularly those with babies, research reveals.

Three-quarters of health and community service workers surveyed for an RMIT University study said financial stress because of airconditioning use was common.

The crisis caused by rising power bills has prompted calls for dedicated free "heat refuges" in public spaces and extended library hours during sweltering conditions.

Authorities are also being urged to clearly excuse the elderly and unwell from public alerts that try to conserve electricity use in extreme heat to avoid shortages and blackouts.

Lead researcher Dr Larissa Nicholls, from RMIT's Centre for Urban Research, said the frail, elderly, and those suffering chronic health conditions made worse by extreme heat were at greatest danger from rationing airconditioning.
Retail sales are at GFC lows: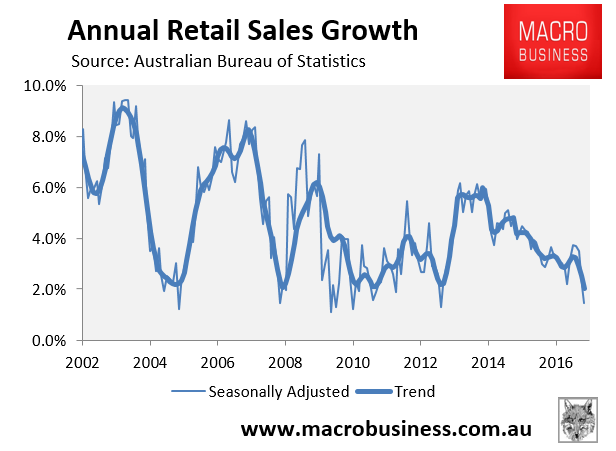 So far it discretionary spending that has taken the brunt of it but essentials are weak as well: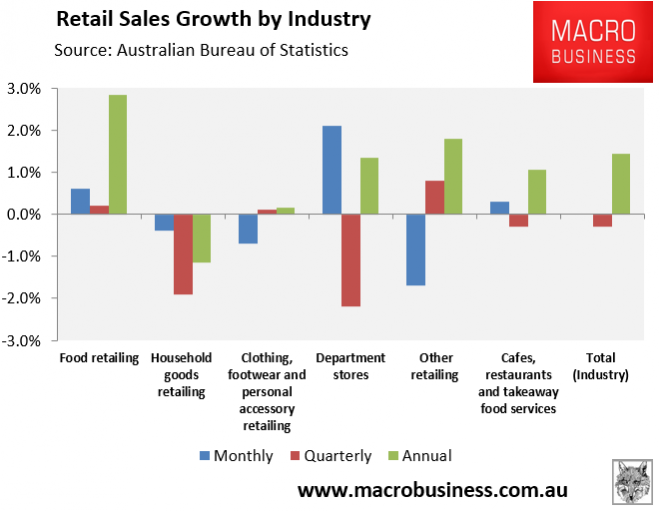 We are the architects of our own demise thanks to years of inept policy that has favoured asset prices over income. And, more recently, unleashing a God-forsaken gas cartel upon households.
Suck it up! There's nobody in charge to fix it.