7 News ran an excellent segment (above) on the growing backlash over Sydney's rapid population growth. The segment touches on some of the major issues, including over-development (e.g. the proliferation of high-rise apartments), and pins the blame squarely on the federal government's 200,000 strong mass immigration program.
As usual, representatives from the pro-growth, pro-development lobby make an appearance, desperately trying to sway the conversation in their favour.
Here's Chris Johnson from the Urban Taskforce Australia:
"We must start moving into a more urban city with greater densities like London, like New York, like most of the big cities when you get to that level".
And here's fake demographer, Mark McCrindle, arguing that growth is unstoppable:
"We can't stop the growth. Sydney is the gateway to Australia. We are growing through national migration. We are growing through natural increase".
"Growing through national migration… growing through natural increase". Really? Because the ABS' population data states otherwise, clearly showing that net overseas migration is the overwhelming driver of NSW's (Sydney's) population increase: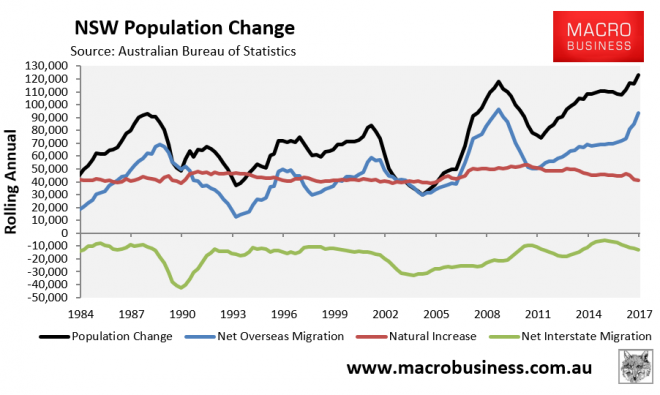 In fact, according to the NSW Government's own population projections, Sydney's projected population increase over the next 20-years (i.e. 1.74 million people at 87,000 people per year) will be driven almost entirely by net overseas migration (i.e. 1.53 million or 77,000 people a year):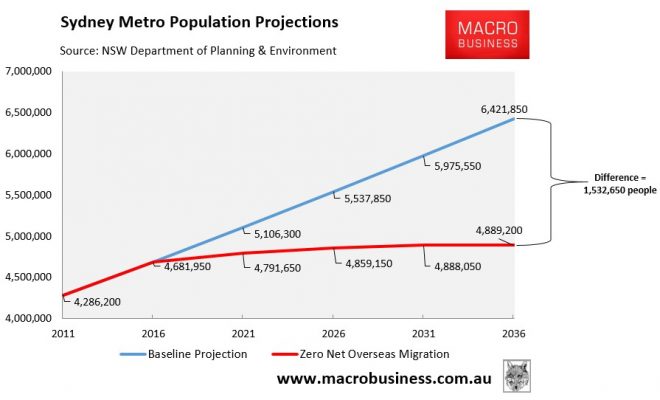 What these growth lobby spruikers fail to acknowledge is that it is a direct policy choice how big and crowded Australia, and by extension Sydney, becomes.
If the federal government maintains our current mass immigration 'Big Australia' settings, then Australia's population would hit more than 40 million mid-century, and Sydney's population would hit some 8 million. But if the federal government slashes the intake back to the historical average of 70,000 people a year – as advocated by Dick Smith, Sustainable Australia, and MB – then Australia's population would hit around 32 million people mid-century, with Sydney's population hitting between 6 million and 6.5 million people.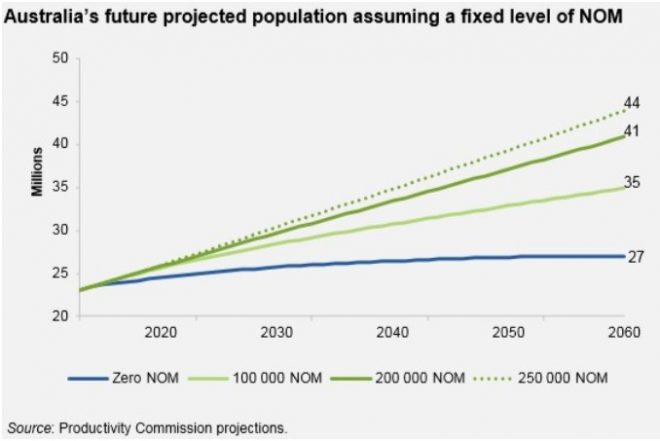 Sydneysiders have spoken. They don't want the city turning into a crowded, expensive, high-rise hellhole. It's about time our politicians recognised this reality and represented their wishes by slashing Australia's permanent migrant intake back to sensible and sustainable levels.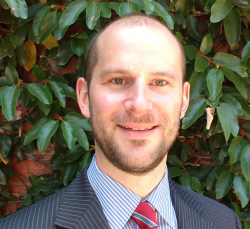 Latest posts by Unconventional Economist
(see all)