Although older Australians have captured an increasing share of Australia's wealth:
Largely because they have increased their home ownership rates over the past 55 years at the same time as home values have skyrocketed: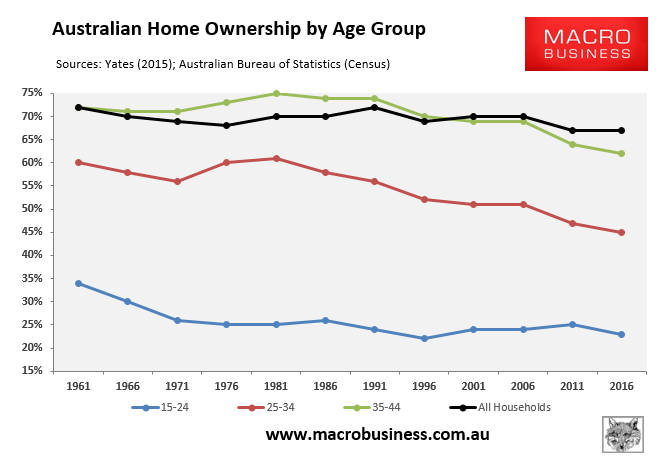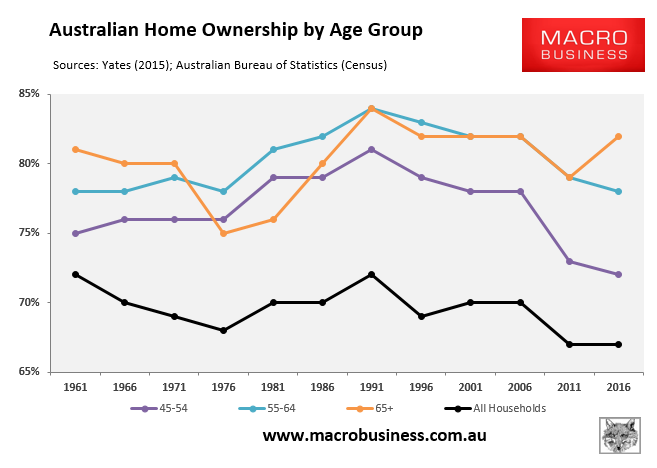 The situation is nowhere near as rosy for Australia's renting pensioners, who are doing it tough according to a new report from Mission Australia. This report shows that nearly 22,000 people aged over 55 sought homelessness services between 2015 and 2016, up 15% from the previous year:
At the time of the 2011 census, nearly 15,000 people, or one-seventh of all those experiencing homelessness, were over the age of 55. Further, 21,600 people aged over 55 were seeking specialist homelessness services (SHS) in 2015–16. This was an increase of 15% from the previous financial year and a greater proportional increase than that of the general population seeking assistance. The majority of those people over 55 years seeking assistance were from single person households. Financial difficulties, domestic and family violence and housing crisis were among the top 3 reasons for seeking homelessness related assistance for people aged over 55 years of age…

As evidenced by the recent census data, the ageing population in Australia is rapidly increasing, and rising housing costs coupled with the limited availability of social and affordable housing, places further strain on older people on low incomes. It is crucial that all levels of government adopt immediate measures to prevent and address homelessness amongst the ageing population.

There is a clear and immediate need to increase the availability of supported accommodation models including residential aged care facilities that cater for the complex needs of older people who have experienced homelessness or are at risk of homelessness. It is also imperative that governments act to increase the social and affordable housing stock across the country and dedicate a proportion of new stock to older people.

A review of retirement incomes is also required to ensure that older people can meet the cost of living. A particular focus is needed on social security payments for older people who do not own their own home and single older people, including the growing numbers of older women at risk of homelessness.
These findings argue for broad reforms to both the housing and the Aged Pension systems.
On the housing side of the equation, there is a clear need for greater public investment in social and community housing, as well as reforms to taxation arrangements to boost affordable housing via targeting negative gearing at new builds (similar to Labor's policy). We also need rules that give greater security of tenure to renters, like those that exist across much of Europe.
Regarding the Aged Pension, it should be reformed to provide less taxpayer assistance to wealthy home owners and more assistance to renters, via:
Including one's principal place of residence in the assets test for the Aged Pension at some point in the future (e.g. 1 July 2020), thus allowing current retirees and prospective retirees adequate time to make arrangements.
Once implemented, raising the overall assets test for the Aged Pension, and the base rate as well.
Extending the existing state sponsored reverse mortgage scheme, the Pension Loans Scheme, to all people of retirement age so that asset (house) rich retirees can continue to receive a regular income stream in exchange for a HELP-style liability that is recoverable from the person's estate upon death, or upon sale of the person's home (whichever comes first).
Under this plan, house-rich pensioners could continue to receive a regular income stream as they do now under the Aged Pension, but with less longer-term drain on the Budget and on younger taxpayers. At the same time, the circa 20% of renting pensioners would receive greater financial assistance – both via and expansion of the assets test and an increase in the base rate (see here for a detailed examination of this issue).