By Gareth Aird, senior economist at CBA
Key points:
Australia's education and tourism exports have continued to rise substantially over the past year.
The monthly travel services trade surplus (which comprises business, education-related and other personal travel) pushed through $1 billion for the first time in September 2017.
We expect education and tourism exports to continue to lift over 2017/18.
A first quarterly services trade surplus since 2007 looks probable in Q4 2017.
Overview:
The turnaround in Australia's trade balance over the past year has been quite profound.  After a run of solid trade deficits between April 2014 and October 2016, a lift in commodity prices, notably iron ore and coal, has helped deliver a welcome improvement in the monthly balance of goods and services (chart 1). The shift in the trade balance has seen the current account shrink over two years from 5.6% of GDP in Q2 2015 to 2.1% in Q2 2017.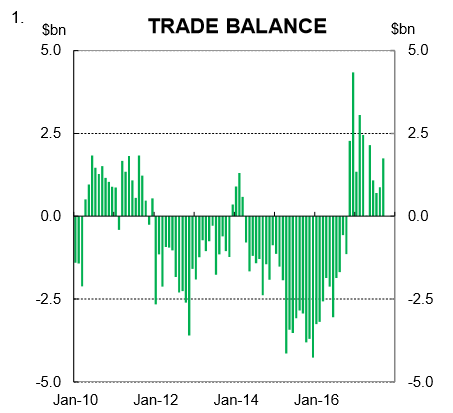 However, the improvement in the trade balance is not just a commodity story.  Education and tourism exports have been growing at a solid rate, significantly outpacing import growth.  As a result, the travel services monthly trade balance (which is essentially money foreigners have spent in Australia in some capacity less money Australian's have spent offshore) has steadily increased (chart 2).  In September, the travel services trade balance pushed through $1 billion for the first time.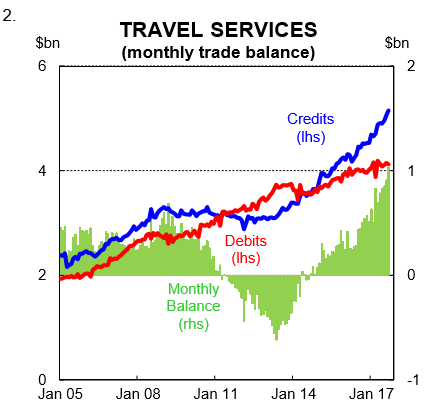 In this note we look at recent trends in Australia's services exports.  Our focus is on travel services and the significant lift in tourism and education exports.
Services sector exports and the importance of travel services
The Australian tradables services sector broadly comprises three groups: travel services (which are mainly tourism and education-related), transport and business services.  The latest national accounts indicate that services exports were worth around 20% of total exports in Q2 2017.  In the year to Q2 2017, services exports totalled $73.5bn (equivalent to 4.2% of GDP).
Services sector exports come largely from Australia's two biggest states, NSW and Victoria.  This is in contrast to hard commodity exports which primarily come from the resource-rich states of WA and QLD.
Data on services exports is published by the ABS both monthly and quarterly (in the International Trade in Goods and Services and Balance of Payments releases respectively).   But the level of detail differs between the two publications.  In the monthly trade data there is no split between education and tourism exports.  As a result, we focus from here on the quarterly data.  But we note that the continued improvement in the monthly trade services balance suggest that education and tourism exports rose solidly in Q3 2017.
Travel Services
Travel services exports (as measured by the ABS) are an estimate of the spending by foreigners on goods and services while they are in Australia.  The three main components of travel services are education and tourism (i.e. personal travel) and business travel.  Travel services make up the bulk of services sector exports.  And they have been the primary driver of the improvement in services sector net exports (charts 3 & 4).   We cover the education and tourism export components below.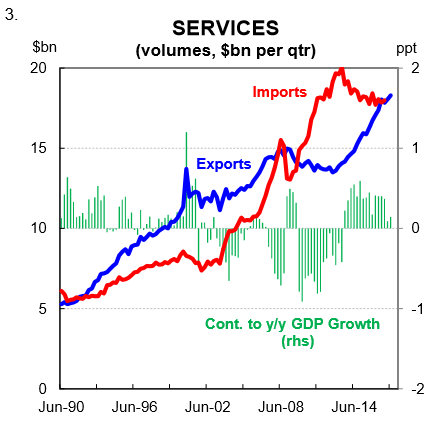 (i) Tourism
Tourism services exports essentially capture the income that the Australian economy generates directly from overseas holidaymakers visiting and consuming in Australia.  It includes the income that the economy receives from both the sale of goods and services to overseas holidaymakers in Australia.
Over the past year there has been a solid rise in tourism exports (chart 5).  The total money spent in Australia from overseas residents having a holiday in Australia rose by 8.8% (or $1.5bn) in 2016/17.  Tourists from Asia, and in particular China, have been behind the significant lift (chart 6).  In the year to August the number of short-term arrivals from China to Australia had risen to 1.33m (compared with 1.19m over the corresponding period a year earlier).  And the benefit to the economy is significant because tourists from China spend, on average, more than tourists from any other nation when they holiday in Australia.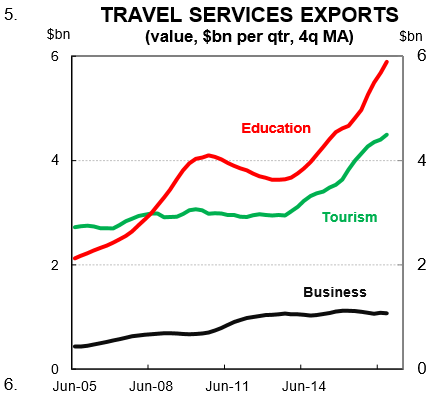 The lift in holidaymakers from China to Australia is a structural story.  We believe current trends will be maintained which means that 1.6 million Chinese residents are likely to visit Australia in 2018.  It is worth noting that Australia is not the only country that is benefiting from the lift in Chinese household income and resultant increase in international travel.  The US, Europe, Japan, Korea and Thailand tourism markets have also seen a significant lift in holidaymakers from China.
The direct impact from a lift in tourism exports is measured in the ABS Balance of Payments.  But there are also second round impacts.  Employment multipliers for sectors exposed to tourism like retail (10.17) and accommodation (7.86) tend to be higher than most industries (CBA puts the average FTE employment multiplier at 6.35).
(ii) Education
Education exports measure the total expenditure of overseas students who are studying in Australia (i.e. not simply tuition fees).  There has been strong growth in the number of overseas students studying in Australia and this has generated a solid lift in the value of education-related services exports.  In the year to Q2 2017, education exports were worth 33% of total services exports. This makes education Australia's third largest export after iron ore and coal.
There are significantly more students from China studying in Australia than any other nation (chart 7).  As a result, education exports to China are larger than to any other country (chart 8).  In 2016, Chinese students accounted for 30% of the expenditure of students studying in Australia – a record high share.  This was substantially more than the next largest group (students from India, representing 12% of total expenditure by students).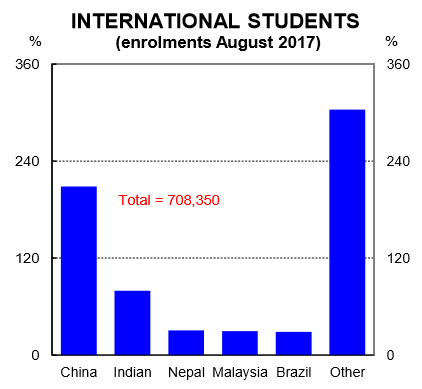 Around two-fifths of international students are enrolled in higher education (largely universities). A quarter are enrolled in vocational education and training and a quarter are enrolled in English Language Intensive Courses for Overseas Students (ELICOS).
Business Services
The business component of tradables services is the second largest. It consists primarily of consulting, financial and technical services firms.  There has been a fall in business services exports over the past year.  In the year to Q2 2017 they were down by 3.2%.  We suspect that the firmer AUD over the past year has weighed on business services exports.
Outlook
In the very near term, the continued lift in the more timely travel services monthly trade balance means that we expect to see a further solid lift in tourism and education exports when the Q3 Balance of Payments print on 5 December.  Beyond that, the recent trends in travel services exports point to a first quarterly services sector trade surplus in Q4 2017.
The solid growth is services sector exports is commendable and expected to continue.  But perspective is always important.  Any big swings in commodity prices will remain the dominant driver of the trade balance, the terms-of-trade and the AUD.