The May Budget included the below measure aimed at encouraging seniors to downsize from their large homes to free-up housing for Australian families: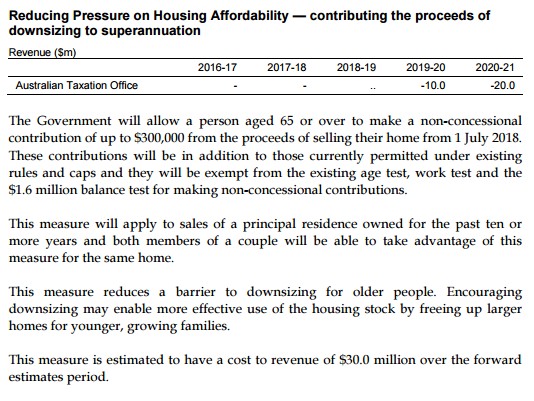 Now, The AFR has run an article on the financial pitfalls involved with seniors downsizing:
Australia's property market could get an unexpected volume boost from the middle of next year when the federal government's new home downsizing program, announced in the last budget, is due to come into effect.

That's assuming the legislation passes and that a sizeable number of Australians take up the option of selling their principal place of residence to buy a smaller home, with a view to injecting more money into their superannuation…

On the surface, the policy could be regarded as a win-win for retirees and those seeking out a home. However, before heading down the pathway to downsizing your home, it's very important to tally up both the raw costs and the potential risks…

As well as the substantial costs associated with selling and buying a property, home downsizing will likely result in many individuals or couples losing part or all of their existing or future Age Pension entitlements…

While it may seem a sensible strategy to inject more funds into superannuation to capture the benefits of tax-free income in pension phase, the end result could be financially disastrous.

Consider that the family home is exempt from the assets test used for calculating pension entitlements, while all other assets outside of the home including superannuation are taken into account. Average superannuation balances at retirement already put many Australians close to or over the pension assets test thresholds…

…it's probable that many will exceed the asset limits by selling a home and depositing additional funds into their super account, even after the costs of purchasing another residence. As such, any tax savings on superannuation income earned in pension phase may be completely offset by the loss of pension entitlements and the costs of downsizing.
While providing financial incentives for seniors to downsize sounds good in theory, it is unlikely to be all that effective. As noted by the Grattan Institute recently:
Research shows most seniors are emotionally attached to their home and neighbourhood and don't want to downsize.

When people do downsize, financial incentives are generally not the big things on their minds. And so most of the budget's financial incentives will go to those who were going to downsize anyway…

More seniors would benefit from a proposal to exempt them from stamp duty when purchasing a smaller home. And many would benefit from a Property Council proposal to quarantine some portion of the proceeds from the pension assets test for up to a decade.

The trouble with all these proposals is that they would hit the budget – because everyone who downsized would get the benefits – but they would not encourage many more seniors to downsize…

When older Australians do downsize, their decision is dominated by non-financial considerations, such as a preference for a different style of house and living, a concern that it is getting too hard to maintain the house and garden, or the loss of a partner.

These emotional factors typically dwarf financial considerations. According to surveys, no more than 15% of downsizers are motivated by financial gain. Stamp duty costs were a barrier for only about 5% of those thinking of downsizing. Only 1% of seniors listed the impact on their pension as their main reason for not downsizing.
There are also equity concerns with providing financial incentives for seniors to downsize. For example, why should a wealthy senior couple living in an expensive suburban home (which they purchased cheaply decades before) pay no stamp duty when they downside, while at the same time a young family upsizing from an apartment is required to pay stamp duty?
A better and fairer option is to abolish stamp duties for everybody and replace these with a broad-based land tax.
Scott Morrison's housing affordability speech last year pinned the blame for Australia's housing affordability woes on supply not keeping-up with demand. But part of this problem relates to the mis-match between supply and demand created as older empty nesters occupy most of Australia's family friendly homes, whereas younger growing families are forced to live in ill-suited units and apartments.
Abolishing stamp duties in favour of a broad-based land tax would obviously remove the penalties currently attached to relocating while incentivising households to move to more appropriate houses or employment. In turn, there are likely to be benefits to congestion and commuting times as the housing stock is utilised more efficiently.
There are also likely to be significant efficiency benefits.
The Australian Treasury has already shown that stamp duties on real estate are one of the least efficient taxes going around whereas land taxes are the most efficient source of tax available, actually creating positive welfare gains to the domestic population since non-resident home owners are also taxed (see below chart).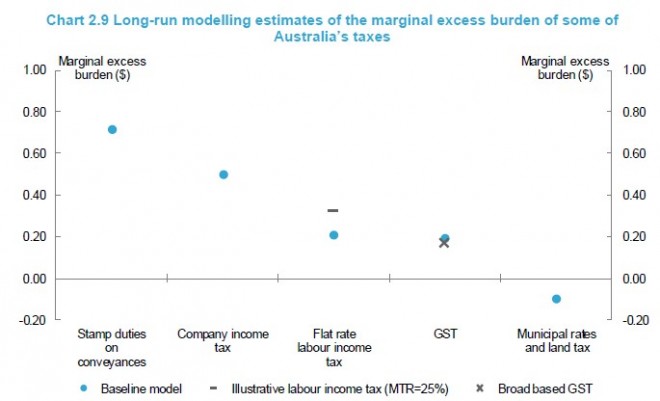 The Henry Tax review came to similar findings. As has the Productivity Commission (here and here). Even the property lobby has backed the exchange of stamp duty for land tax.
Moreover, given that there is a productivity pay-off in switching-out the taxes – some of which would flow to federal government coffers via the broader tax system – it makes sense for the federal government to provide incentive payments to the states to facilitate reform.
In order to facilitate the transition, the government could give home buyers a credit for the stamp duty paid, and then deduct the theoretical land tax that would have applied since the home was purchased.
For example, if someone purchased a home in October 2011 and paid $30,000 in stamp duty, and their annual land tax bill would have been $3,000 per year had the new regime been in effect, then their credit would be $12,000, which can be applied against future year's bills.
Another option, also championed by the Grattan Institute (as well as MB), is to include the value of the family home above some threshold, say $500,000, in the Age Pension assets test. This would encourage more seniors to downsize, as well as make pension arrangements fairer, and contribute up to $7 billion a year to the Federal Budget.
Asset-rich but cash poor retirees could continue to receive a full pension by borrowing against the value of the home until it is sold, with the federal government only recovering the cost from the proceeds of the sale. If well designed, this scheme would have almost no effect on retirees – instead it would mainly reduce inheritances.
Put simply, the Government's downsizing initiative is merely window dressing and will have minimal impact. If the goal is to encourage better utilisation of the housing stock, then policy will need to make tougher policy choices along the lines outlined above.