Economists from the New Zealand Institute of Economic Research (NZIER) are urging the inclusion of a nominal GDP growth target in the Government's upcoming review of the Reserve Bank Act. From Interest.co.nz:
At the moment the sole goal of monetary policy is to target inflation. The Government's likely to want to broaden that to include employment as well.

However, in a new 'Insight' paper NZIER principal economist Christina Leung and economist Dion Gamperle argue that the addition of an employment target has the potential to result in conflicting signals about which way the official cash rate (OCR) should go.

"We think alternative targets should also be considered in the review, such as nominal GDP growth."

The two economists note that targeting nominal income growth is sometimes advocated as a monetary policy regime but no central bank explicitly uses nominal GDP as a primary target…

Nominal GDP targeting would overcome the drawbacks of monetary policy being loosened in response to positive supply shocks, which reduce inflation but boost growth…
Senator Nick Xenophon outlined a similar case in Australia last year, urging the RBA to abandon its 2%-3% inflation target in favour of a 5% nominal GDP growth target.
So should the Reserve Banks of Australia and New Zealand adopt a nominal GDP target?
While a nominal GDP target of 4%-5% looks like a reasonable goal that is not too hot nor too cold: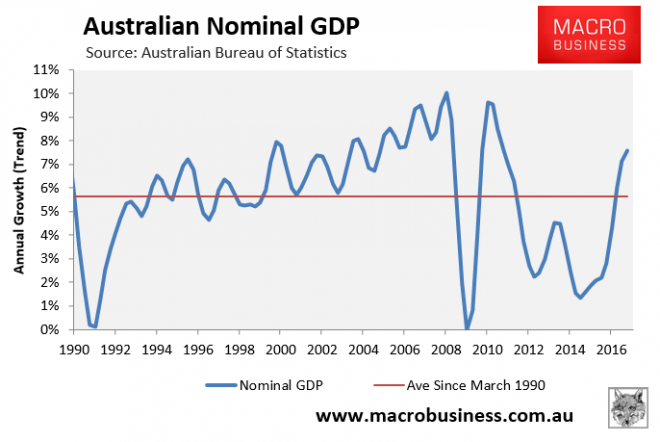 I am not convinced that the RBA and RBNZ should necessarily set interest rates around nominal GDP. As shown in the below charts, setting interest rates in this manner would likely see the cash rate rise significantly from current levels which, given anaemic wages growth and high underemployment in both nations, would seem unwise: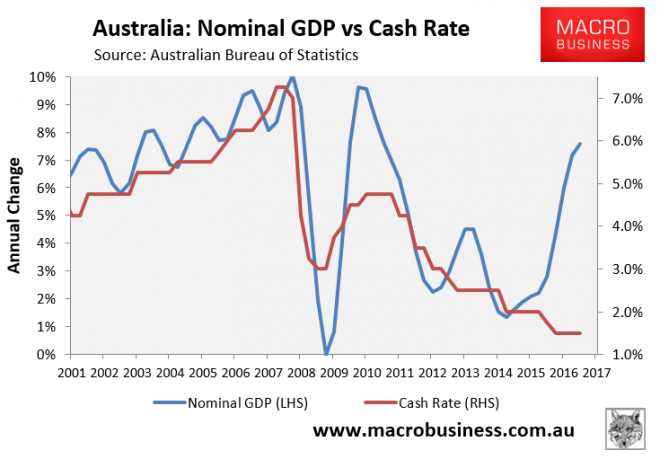 Moreover, part of the reason why nominal GDP is running strong in both nations is due to their respective mass immigration programs, which is juicing population growth and the aggregate economy. However, this is masking the relatively weak per capita growth being experienced.
There are also question marks about whether monetary policy is all that effective in boosting the real economy anyway? Without commensurate support from macro-prudential and fiscal policies, any change in interest rates is likely to manifest in financial asset and housing values, providing little real and long lasting stimulus to jobs and growth.
Therefore, if the goal is to boost productivity, jobs and growth, then the focus should be on killing Australia's and New Zealand's non-productive housing obsession.
It is this joint housing obsession that has seen lending shift away from productive businesses: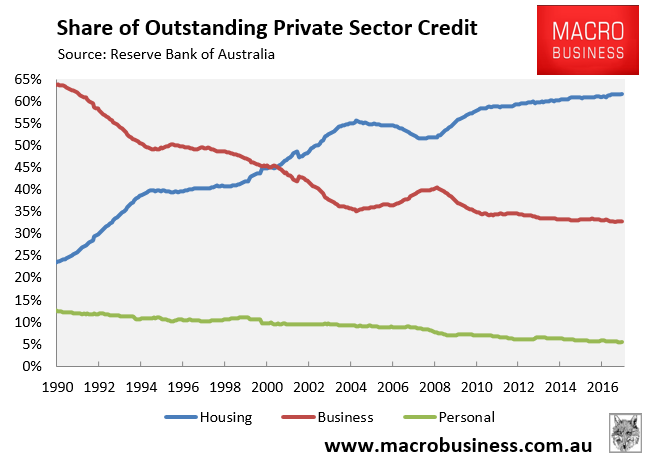 And it is this housing obsession that has encouraged excessive capital inflow, thus inflating the Australian and New Zealand dollars and made trade exposed industries less competitive.
Thankfully, the newly elected Labour-led coalition government seems intent on weaning New Zealanders off their housing obsession via their various demand and supply-side reforms. Australia's politicians should follow suit.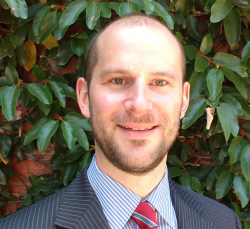 Latest posts by Leith van Onselen
(see all)