REA chief economist, Nerida Conisbee, has penned another self-serving article claiming that "cutting immigration won't help housing":
There's no doubt that the more people there are living in Sydney and Melbourne, the higher property prices go. This has led to some commentary about migration levels needing to be cut so that we pay less for homes.

But it isn't that simple.

For a start, housing is not unaffordable everywhere in Australia…

Head to Adelaide and housing is still very reasonably priced. Some regional areas have very low-cost housing. The main driver of this differential is jobs.

Sydney and Melbourne are seeing strong rises in house prices because people are moving there for jobs…

At a city level, jobs growth drives migration, which in turn drives up house prices if there isn't enough housing to accommodate everyone. The main reason that Melbourne has remained so much more affordable than Sydney is supply…

At a country level, migration brings a large number of benefits to Australia. Migrants pay taxes and support our ageing population. They take on jobs that locals are not so keen on and they spend money that supports business growth. Cut migration and it will impact our standard of living…

What is the solution to Sydney and Melbourne's unaffordable house prices? One way is to build more houses where the jobs are. Increasing housing supply works — you only have to look at Melbourne apartment prices to see that. The second is that we could look to move the jobs. This is far more difficult…

Cutting migration is not the simple solution it at first seems and may not lead to lower house prices.

The unintended impact could be stifling economic growth and the standard of living that many enjoy.
Conisbee's arguments have more holes than a chunk of Swiss cheese.
First, the primary reason why house prices are rising (and expensive) in Sydney and Melbourne, but are stable and cheaper elsewhere: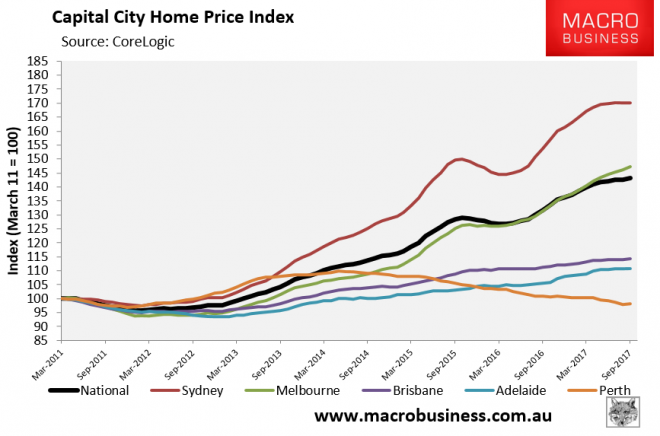 Is because these destinations are the magnets for overseas migrants: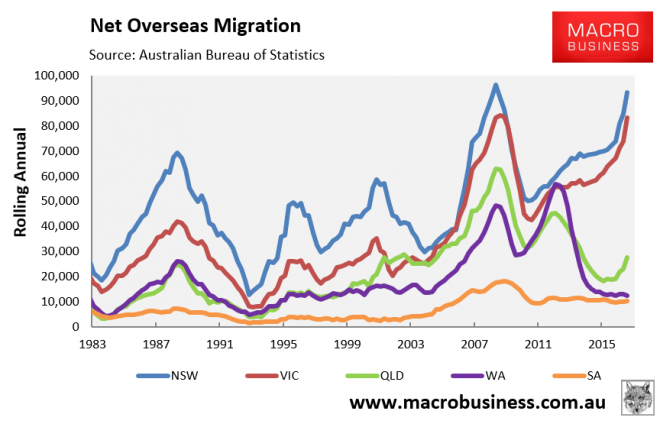 The charts speak for themselves.
Second, the claim that people are going to Sydney and Melbourne because of jobs is ridiculous.
The primary factor driving this population growth is the federal government's mass immigration 'Big Australia' policy, which has committed to a turbo-charged permanent migrant intake of around 200,000 people a year: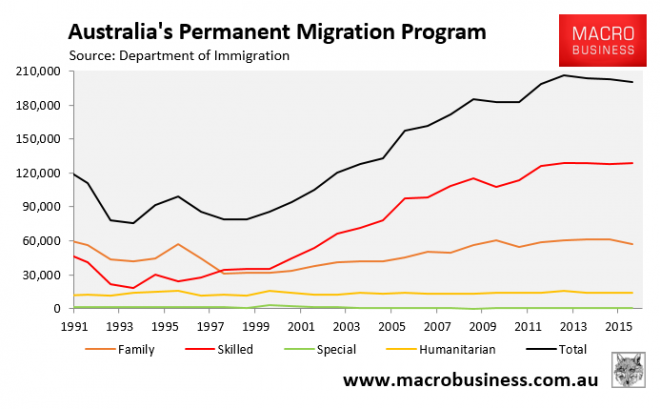 We also know from the Census that migrants tend to settle in Sydney and Melbourne, irrespective of economic conditions, because that is where their diaspora live.
In fact, locals are migrating out of Sydney, pushed-out by the flood of migrants: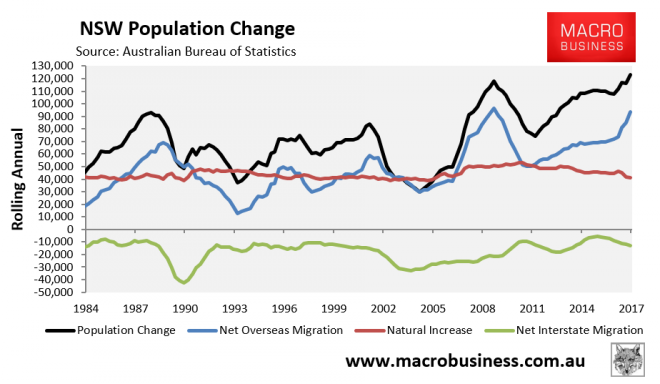 Conisbee's argument that the solution to Sydney's and Melbourne's housing woes is to simply increase supply is laughable. Both cities have just experienced their biggest ever dwelling construction booms (mostly shoebox apartments):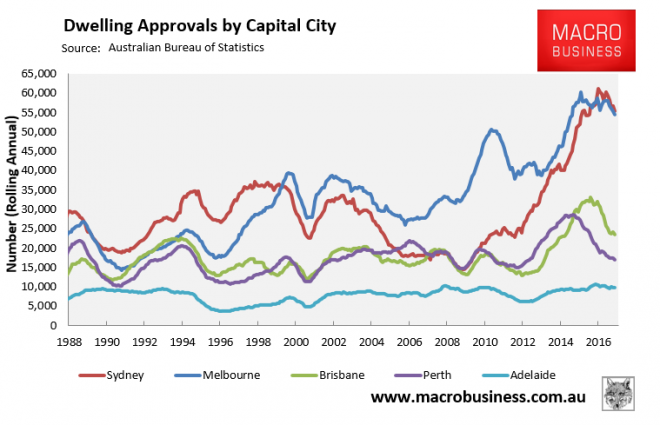 And yet neither city has kept pace with the rampant immigration-fueled population growth: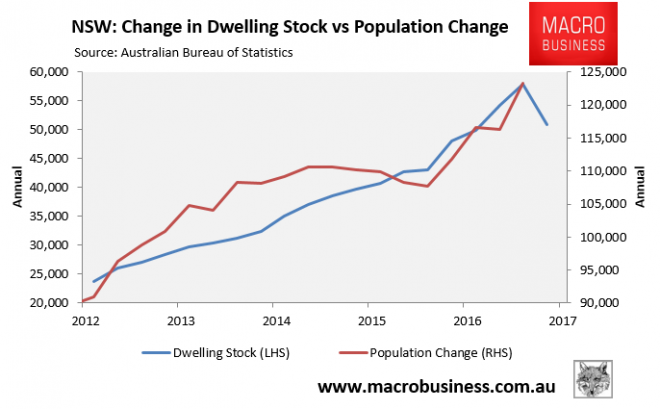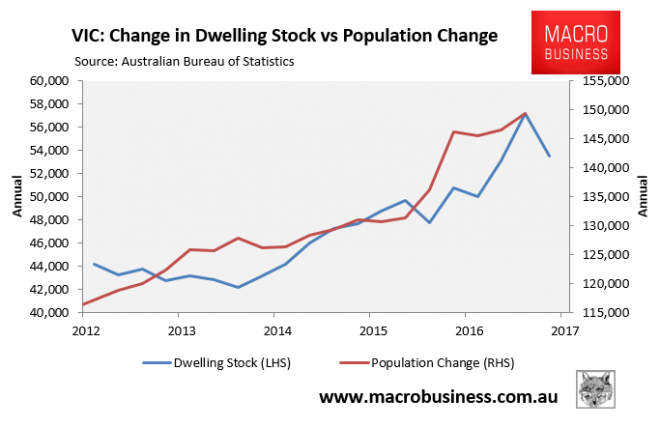 Accordingly, both cities have experienced rising dwelling prices and rents.
Conisbee's argument that "migration brings a large number of benefits to Australia" because "migrants pay taxes and support our ageing population", and that cutting migration "will impact our standard of living" is equally nonsensical because it does not factor in the substantial costs associated with immigration.
Is Conisbee seriously trying to argue that migrants don't age, and don't need infrastructure, hospitals, schools, transport, etc, all of which are completely overwhelmed in Sydney and Melbourne? Is she also trying to argue that migrants don't undercut wages, just take on jobs Australian's aren't keen on?
All of the extra infrastructure and services required by migrants costs a helluva lot and is paid for, to a large extent, by the incumbent population.
In fact, Dr Jane O'Sullivan has estimated that the infrastructure burden of new migrants is more than $100,000 per head, whereas the Grattan Institute has estimated that the blowout in state government debt has been caused primarily by infrastructure investment related to population growth:
A fiscal burden of more than $100,000 per additional person, or tens of billions of dollars per year, is a huge cost for the government to omit from its balance sheet of costs and benefits of population growth. The cost single-handedly accounts for all increase in government debt since the escalation of population growth from 2004. The Grattan Institute reported "unprecedented infrastructure spending by states and territories is largely responsible for a $106 billion decline in their finances since 2006," and "after a threefold increase in capital spending over the last 10 years, states are paying 3 per cent more of their revenues in interest and depreciation."

These figures are based on what has actually been spent. It is evident that expenditure has not been enough, with congestion mounting in transport systems, hospitals, schools, prisons, housing and community facilities.
That's right, our governments have massively increased expenditure and taken on more debt, but have still failed dismally to keep up with rampant immigration-fueled population growth. Way to improve living standards, hey Nerida?
Finally, the ultimate damnation of Consibee's claim that "cutting immigration won't help housing" comes from the NSW Government's own population projections, which shows that Sydney's population will balloon by a massive 1.74 million people (87,000 people a year) over the next 20 years, with almost all of this growth (1.53 million or 76,500 people a year) coming from net overseas migration: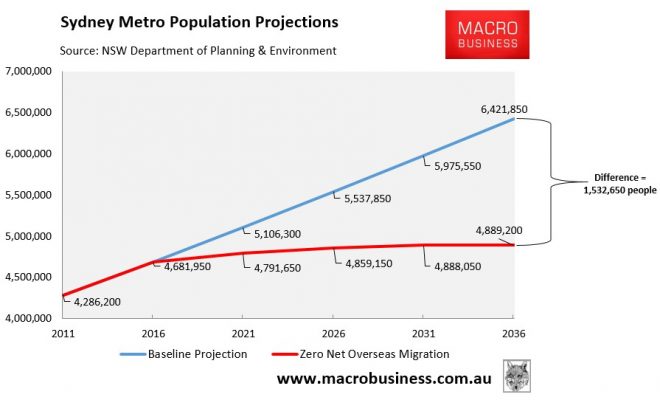 Does Consibee seriously believe that Sydney's housing and infrastructure woes would not be massively improved if the city's population grew by only 210,000 (under zero net overseas migration) versus 1.74 million (under the current mass immigration settings)?
About the only thing I can say that is positive about Consibee's contribution is that The Australian's readers have taken her to task in the comments section. They are not stupid and do not buy her self-serving arguments.