With NSW's (read Sydney's) population growing at a break-neck pace (see below chart), last month it was revealed that there was a revolt underway from within the NSW Liberal Party against the federal government's mass immigration program and over-development across Sydney (watch video above).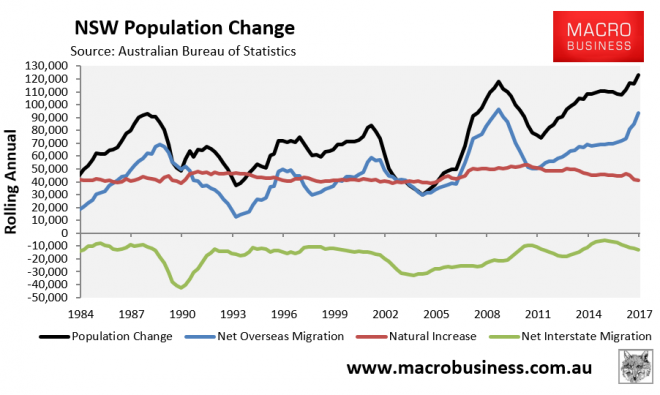 The most important quote from the video was the following:
"Government MPs have all told me the same thing: Sydney is full. They believe the federal government needs to have a difficult conversation about curbing immigration or it simply will not be possible to keep up".
Earlier this month, the revolt spread to Sydney's long suffering residents, with more than two-thirds of those surveyed declaring "Sydney is full" and off limits to further mass development, according to a ReachTel poll conducted for Fairfax Media.
Over the weekend, senior Liberal Minister, Baulkham Hills MP David Elliott, joined the revolt, declaring "enough" to further development of his electorate and warning of a voter revolt unless the population issue is addressed. From The Sunday Telegraph:
The Liberal frontbencher, who is responsible for the Corrections, Counter Terrorism and Veterans portfolios, said he is not alone, with four other NSW MPs raising concerns about a voter backlash over excessive development.

Mr Elliott wants the government to commit to building its long-promised public hospital in Rouse Hill, new schools and improvements to local bus services before allowing any new development in the region.

He sad he would be making representations to Planning Minister Anthony Roberts on blocking further development while also speaking with Education Minister Rob Stokes about the need for additional schools.

Without commitments to build more infrastructure, Mr Elliott said he would not be supporting any new proposals for the area.

"Tell 'em they're dreamin' is what I will say if there are moves to put more development in this area without the infrastructure," he said.

"This is going to be a huge state election issue — it is the only issue that my constituents are talking about in my electorate, and I know several other MPs have concerns also.

"I don't have a public hospital, an ambulance station, a police station, no courthouse, the schools are overcrowded, people are unhappy with their bus services — it is time a line was drawn in the sand. Enough"…

His outburst was prompted by an announcement by Malaysian developer Mulpha Norwest to a group of property developers last Monday that it plans to push ahead with a $3 billion residential and commercial expansion of its Norwest Business Park.

Mr Elliott said he would not support any gazetted amendments, large-scale development applications or rezoning until the infrastructure backlog in The Hills Shire is cleared.
Meanwhile, another planning fail has been revealed in Penrith's new Thornton housing estate, which has been designed so poorly that garbage trucks cannot fit down the narrow streets. Also from The Daily Telegraph:
The tight turns of the estate's lanes are preventing garbage trucks from doing what they should — collecting rubbish. In some of the streets, drivers must get down from their cabins and walk across the road to wheel bins back to the truck.

In others, residents are forced to haul their wheelie bins around the corner to another street just so the trucks can collect them.

So narrow is the bitumen, trucks have hit houses and garages, causing damage.

The problem in this estate and many others like it on the city's western outskirts has led the Western Sydney Regional Organisation of Councils (WSROC) to appeal for help to a parliamentary inquiry investigating the state's housing supply. WSROC says that streets in many new housing estates are simply not wide enough to allow effective waste collection.

"There appears to be no consideration given to infrastructure required to collect waste from a household,'' WSROC told the inquiry.

"(This is) evident in narrow street widths that do not allow for waste collection trucks to access households, zero metre dwelling setbacks where bins are presented for collection in the roadway, new dwelling styles with no bin storage space and other collection impracticalities.''

WSROC chief executive Charles Casuscelli said the problems stemmed from state government trashing of council planning rules as it approved housing estates worth more than $20 million, saying: "The trucks can't turn around or fit inside the areas for the garbage bins''.

"Some of the laneways are so narrow that trucks are making five or six-point turns to turn around and the noise upsets the residents."
Of course, the underlying cause of this madness is the federal government's mass immigration 'Big Australia' program, which massively ramped-up Australia's immigration intake from the early-2000s to around 200,000 people annually: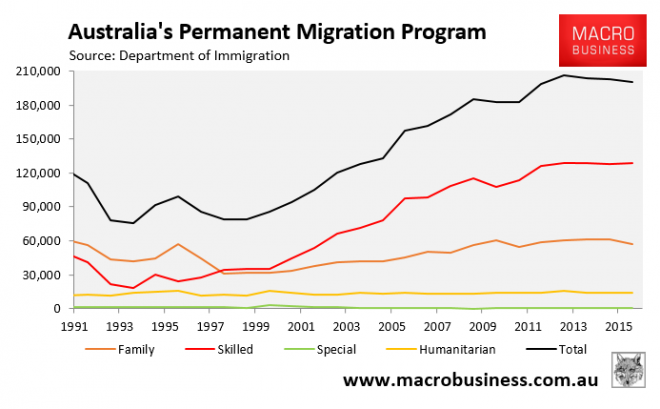 The NSW Government's own population projections show that Sydney's population will increase by 1.74 million people (1,650 people per week) to 6.4 million over the next 20-years, with 1.53 million of this growth (1,473 people per week) coming from net overseas migration: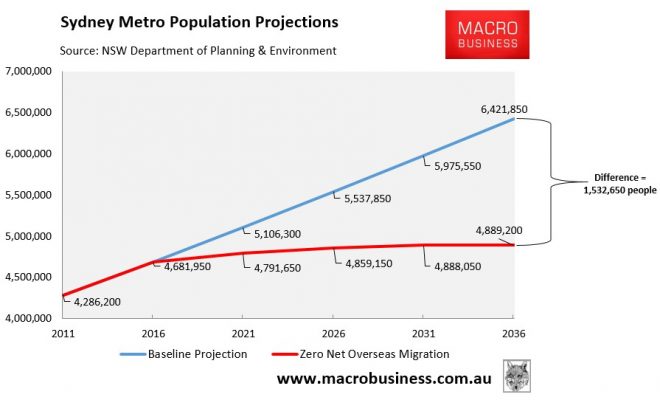 With most of this population to be crush-loaded into Sydney's West, in places like Parramatta: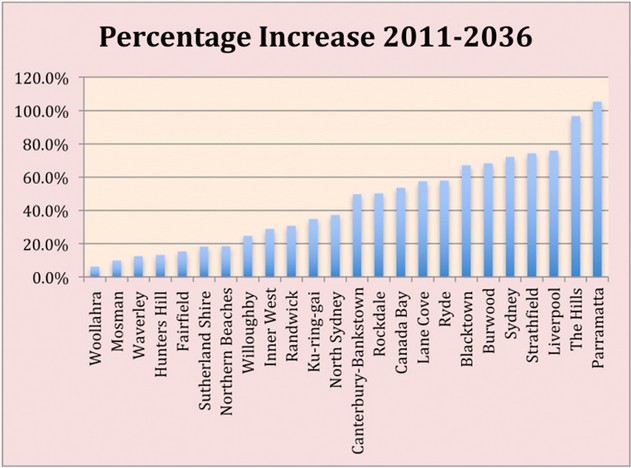 Sydneysiders are not stupid. They know that extreme immigration-fueled population growth is destroying their living standards, with roads, public transport, schools and hospitals all crush-loaded and housing becoming hideously expensive.
The NSW Liberal ministers are right to revolt, as is the electorate. But they need to take the fight to the federal government, which is driving the mass immigration 'Big Australia' agenda, and demand that it immediately halve Australia's immigration intake back to sustainable historical levels.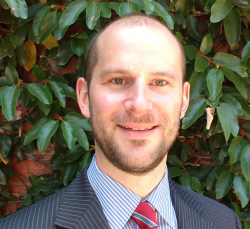 Latest posts by Unconventional Economist
(see all)