The justification behind the proposed $1 billion concessional loan from Australian taxpayers to Adani to build the Carmichael coal project has taken another hit today with a former Indian environment minister sounding the alarm on Adani's track record and the mega-mine's viability. From The ABC:
India's former environment minister Jairam Ramesh is "absolutely appalled" by the Australian Government's approval of the Adani Group's massive coal mine in North Queensland, which he says will threaten the survival of the Great Barrier Reef, "a common heritage of mankind".

Mr Ramesh, an elder statesman of India's opposition Congress Party, also said the Federal Government and Queensland Government have failed to do adequate due diligence on Adani Group's environmental and financial conduct in India before granting environmental approvals and mining licenses.

"Adani Group's track record on environmental management within the country [India] leaves a lot to be desired," Mr Ramesh told Four Corners.
"And if it leaves a lot to be desired domestically, there's no reason for me to believe that Adani would be a responsible environmental player globally."

Mr Ramesh said it was almost beyond belief that the Australian Government would look to provide concessional loans and other taxpayer support to facilitate Adani Group's coal mining project — because of the consequences for climate change of developing a giant new mine and opening an entire new coal basin.

"You're giving a tax break to a project that is actually going to have adverse environmental consequences, which will have multiplying effects on weather patterns in the region, across the world. I find it bizarre," he said.

"I'm absolutely appalled by what is happening, because the impact [of climate change] on the Great Barrier Reef is now documented.
"The Great Barrier Reef happens to be in Australia, but it's a common heritage of mankind, it belongs to the world.

"I'm very, very surprised that the Australian Government, for whatever reason, has seen it fit to all along handhold Mr Adani — he is not one of the shining stars of environmental stewardship".

…another respected Indian observer, the former head of India's Ministry of Power, E.A.S Sarma… said people in India without access to electricity were, in the main, either too poor to afford electricity, living in remote rural areas where the infrastructure cots of supplying power were extremely expensive, or both.

Coal from the Carmichael venture could not provide electricity at an affordable price for such citizens.

Mr Sarma said it would be risky for taxpayers to provide subsidies or support for the Carmichael mine.

"If I were a finance man in Australia, in the Government, I would not recommend [it]," he said.

"It's a risky proposition — it's actually a subsidy maze.

"You know, you are shifting taxpayers' money into something which is not viable"…

Mr Ramesh urged the Australian Government to do thorough financial due diligence on Adani Group, amid allegations in India of tax evasion and money laundering, as well as Adani Group's extensive use of shell companies owned in tax havens.
None of this should come as a shock. India's Minister for State Power has already acknowledged that the cost of solar power is now cheaper than coal: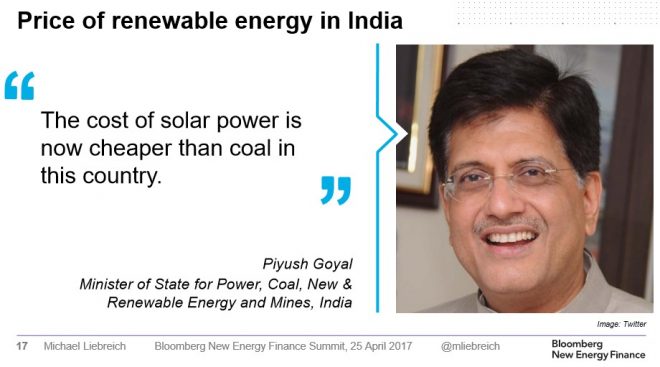 Blind Freddy can see that the Adani Carmichael Project risks becoming an unviable stranded asset, and Australian taxpayers risk losing their dough by lending $1 billion for the project.
Worse, the subsidised project would flood the world with more cheap coal, thus depressing its price, increasing global consumption (and exacerbating climate change), as well as putting non-subsidised mines in NSW and QLD out of business, resulting in job losses. It also jeopardises the environment – both globally via exacerbating climate change and locally through threatening the Great Barrier Reef.
It's not as if the employment payoffs from the Carmichael project are material, either. Adani's CEO has continuously boasted that the Carmichael Project will be the most autonomous in the world: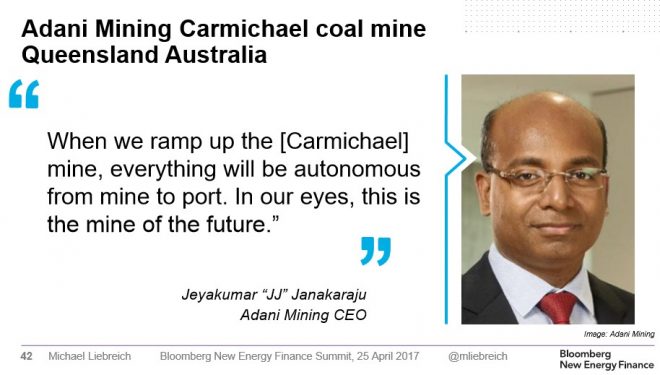 Whereas Adani's own hand-picked economic expert, Jerome Fahrer from ACIL Allen consulting, told the Queensland Land Court that only 1,464 full-time equivalent jobs would be created by the project. These immaterial job gains must also be offset by the job losses that would occur among other Queensland and New South Wales coal mines.
In short, there are far better ways to use scarce taxpayer funds than on this wasteful and destructive white elephant. Australia must withdraw its concessional loan pronto and tell Adani that if it wants the Carmichael mine, then it must fund it entirely itself and bear the risk, as well as pay the correct amount of royalties to the Queensland Government.