The income recession afflicting Australia has been well documented on this site.
Evidence comes from a variety of sources, all showing that typical Australian household incomes have fallen over recent years when adjusted for inflation. Consider the below charts illustrating the situation.
First, the national accounts measure of compensation per employee, which fell by 0.2% in nominal terms in the year to June (-2.1% in real inflation-adjusted terms):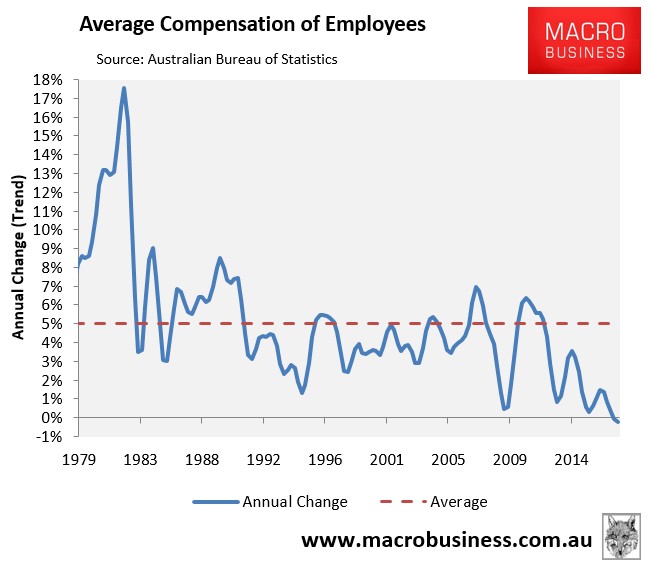 Second, real per capita wages & salaries, which have fallen by 2.5% in the decade to June 2017: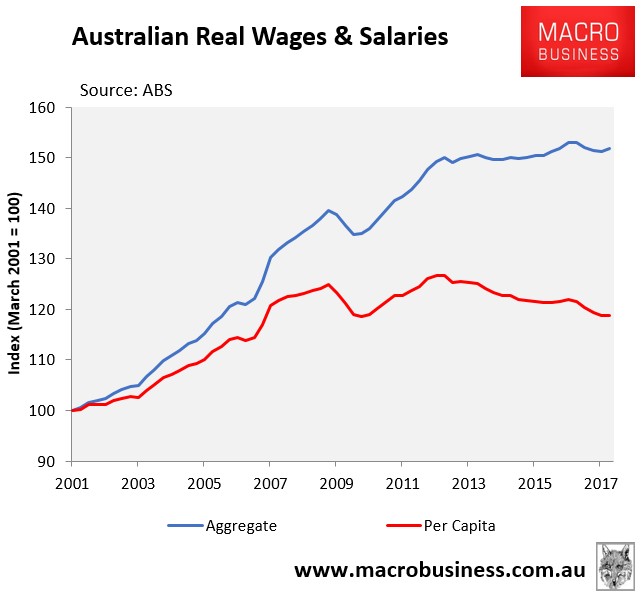 Third, real average weekly earnings have fallen by 1.7% since May 2013: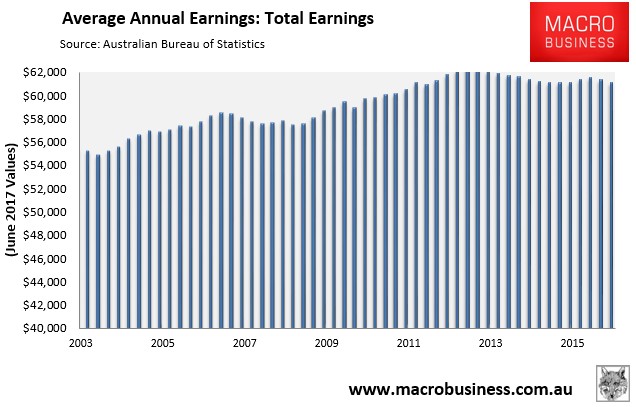 Fourth, real household disposable income per capita has fallen by 0.4% since June 2012: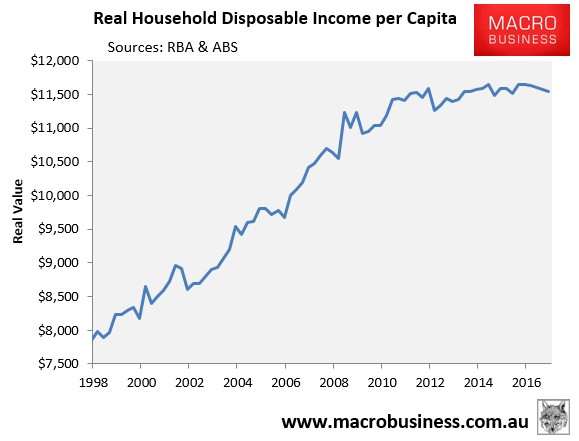 So the evidence is clear: Australian household incomes have been falling.
Today, The Australian reports that most of the slump has been borne by middle-income households, according to new research from the Australian Treasury:
Middle-income earners are bearing the brunt of a decade-long wage growth slump…

The first study of its kind into the underlying causes of the rec­ord low wage growth cycle, which the Reserve Bank saw as perplexing in a May analysis, has revealed a nationwide problem infecting every sector and hitting almost every worker.

Real wage increases over the past five years, taking into account the cost of living, have averaged half of what they did in the preceding decade, while fewer than 10 per cent of workers have experienced wage growth of 4 per cent or more — the lowest level since 2000 when the figure was 40 per cent. The percentage has been declining since.

University-educated workers, who had previously fared better with higher wage growth than those without tertiary qualifi­cations, were now experiencing lower wage growth — and had been since 2010 — than those with no post-school education…

The study undertaken with input from the RBA, the Australian Bureau of Statistics and the Department of Employment showed that while wage growth weakness had been indiscrim­inate across industries and occupations, some groups, middle-income earners in particular, had carried the greatest burden.
The June quarter national accounts revealed that household consumption had held-up on the back of a cratering in the household savings rate to the lowest level since the GFC: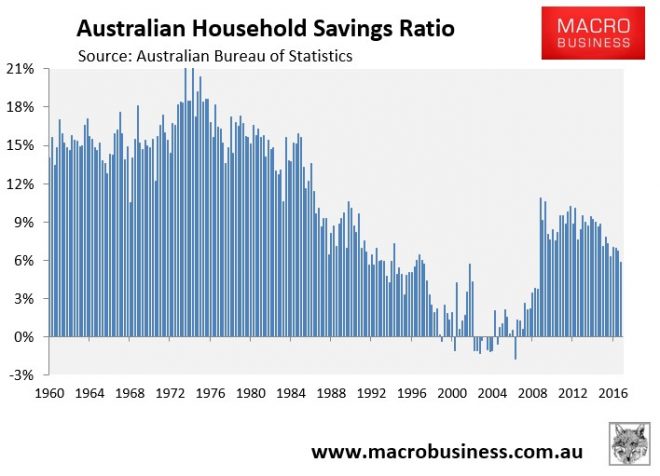 Running down savings to maintain consumption is clearly unsustainable and unless real income growth turns positive, consumption spending will soon take a hit, dragging down growth.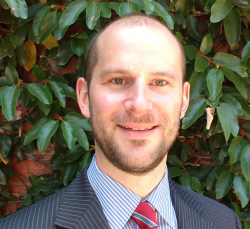 Latest posts by Unconventional Economist
(see all)