Via The Australian:
The government has been warned of a looming gap in the national electricity supply as coal-fired power stations shut down, highlighting the need for urgent decisions to build new generators that operate around the clock.

…The government is shifting its focus to the reliability of new ­energy generators, as well as the push for a clean energy target, amid a fundamental Coalition divide over whether to offer more incentives to wind and solar farms. The new advice from the Australian Energy Market Operator to Energy Minister Josh ­Frydenberg emphasises the need to fix the shortage of baseload power by using coal or gas generators alongside more renewable generators.

The Australian was told the ­report warns of a shortfall that will worsen over the next decade as old coal-fired power stations are closed and the east coast grid loses huge amounts of "dispatch­able" electricity that has been supplied for decades regardless of weather conditions or the time of day.

The government is determined to fix the "dispatchability" issue as well as the "clean energy" demands that come with its stated commitment to meet internat­ional targets to reduce greenhouse gas emissions. Driving the agenda is advice to government on the planned closure of the Liddell power station in NSW in 2022 and Vales Point in NSW in 2028. Those closures would take 3200 megawatt hours out of the east coast grid, double the capacity lost when Victoria's Hazelwood power station shut down in April.

The advice to the government from several reports, including modelling prepared for the ­energy review by Chief Scientist Alan Finkel, shows the next wave of dispatchable power can come from coal as well as a combination of sources including renewables.

…A new coal-power station would take seven to eight years to build and could face fierce competition from wind and solar by the time it starts generating, given the steady fall in the cost of ­producing renewable energy. The ­expansion of an existing coal-fired power station is seen as a more ­viable option to add baseload power as quickly as possible.

…The government is also alive to the potential of new solar farms, given advice that a new facility with a capacity of 800 megawatt hours could be rolled out in less than a year. The latest solar photovoltaic panels can produce 50 per cent more electricity at the same cost as earlier technology, while being combined with battery storage to guarantee reliability.

The government believes the Snowy Hydro scheme expansion can increase its capacity by 50 per cent to 3500 megawatt hours or more, turning a huge amount of solar or other renewable power into baseload electricity to be switched on as needed. While this could take up to six years, the project would add capacity quicker than a new coal-power station.
Ahem, nice report, the problem is the price hikes are already here with gas and power costs already prohibitive. That adds a little more urgency, no? Snowy to take six years? Lol. Make it ten. New coal power stations? Try civil war and constant delays. And again, renewable/battery costs see them both cheaper than coal within five years at current efficiency gains even without accounting for rising coal costs: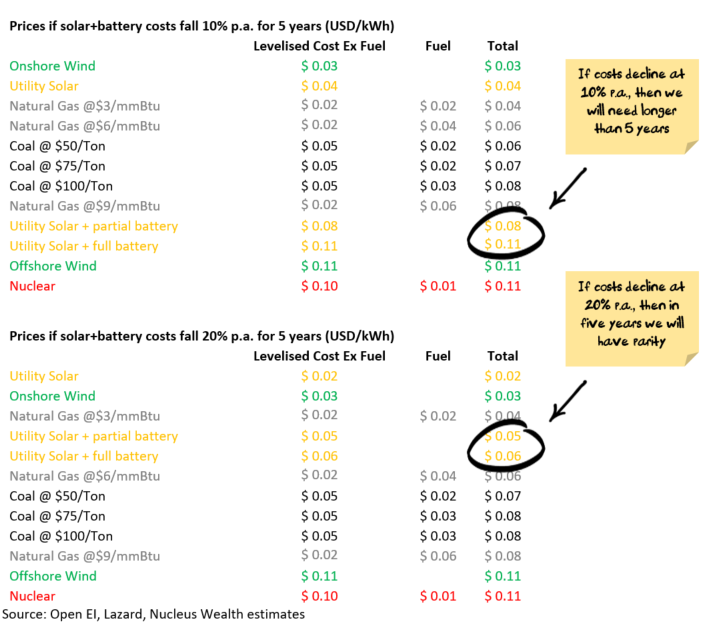 Note as well – as I have done ad nauseum – that base load closures is only one of the price rise drivers and not the largest of the them. The main problem remains the price of gas because gas peaking plants set the marginal cost of electricity in the National Electricity Market (NEM). This will continue regardless of more coal because it cannot switch on and off quickly (no it's not always "dispatchable" either). So, if you want to solve that problem you'll also need to have enough coal power to sit there running on idle to displace gas entirely, as well as require new rules for the NEM with consumers paying for capacity to remain operational that isn't even used.
Does that sound like it'll be raining cheap power to you? No. And major gas users and pensioners will still be going out of business as well.
Ironically, it is Judith Sloan who identifies the truth today:
There is no doubt the really big challenge in the system is to secure new investment in reliable baseload supply as soon as possible. Not more wind turbines, not more solar panels, not more solar thermal plants that may not work, but affordable, synchronous power in which supply can meet demand all day, every day.

If we think about the history of the National Electricity Market, we should note that when it first came about in 1998, there was excess capacity of baseload power, mainly coal-fired plants. This was the result of years of over-investment by state governments that were always keen to ensure reliability, giving the engineers a free rein when it came to decision-making.

As a result of this overcapacity, when the rules and regulation of the NEM were devised, little attention was given to providing investment signals for the construction of new synchronous electricity plants. But the reality always was that the existing plants would reach the end of their physical lives at some stage.

…By subsidising intermittent energy, the RET has effectively driven the early retirement of a number of baseload plants and/or destroyed the incentives of the owners to maintain them in order to prolong their lives.

…As noted above, the solution to our electricity crisis must involve investment in new synchronous plants. Now we often mention high-efficiency, low-emissions coal-fired plants, and they are certainly an option. But we should be agnostic on this: gas-fired plants are quicker to build and probably cheaper.

Of course, there is the problem of sourcing the gas and that is where importing liquefied natural gas is a definite possibility. I'm not talking here about AGL investing in a receiving terminal, but new entrants entering the game.

Ideally, of course, we should be able to source the gas from eastern Australia but the actions of state governments are preventing this. And while it should be possible to bring gas into eastern Australia from the North-West Shelf in Western Australia, shipping costs could prove prohibitive.

Another option is to source LNG on the spot market from Indonesia or Qatar; the quantities are relatively small.

We are talking several hundred million dollars for a receiving terminal but the time lines are not too long. Ideally, the terminal would connect with existing pipeline infrastructure.
Yes, the ONLY ANSWER for lower energy costs is cheaper gas. Thank you, Judith.
However, Judith's import terminal solution will only deliver LNG to Australia from Qatar, Indonesia or the US on an oil-linked contract currently around $9Gj (assuming it doesn't rise further). Once you've regasify and tack on a margin plus stick it through the monopoly pipelines it'll be more like $12-13Gj. Sure, it's better than the $17.50Gj currently on offer but it won't solve the problem. Even if you ignore the destructive impact of the gas price itself, as the above table shows, for gas to be useful for power it needs to be a lot cheaper than that.
As we know, Judith is a former executive at Santos, the key player in the east coast gas gouge, the one most caught short of gas reserves for its two LNG trains and most responsible for ripping third party reserves away from the local market, so her views on where the cheap gas should come from are questionable.
The answer is so maddeningly obvious that I can only yell it, once again, from my isolated rooftop. Don't export the gas in the first place.
That's it. It's that simple. The gas market has failed. We're only having this conversation about an energy crisis because we're paying double the price for our own gas that Japan pays for it: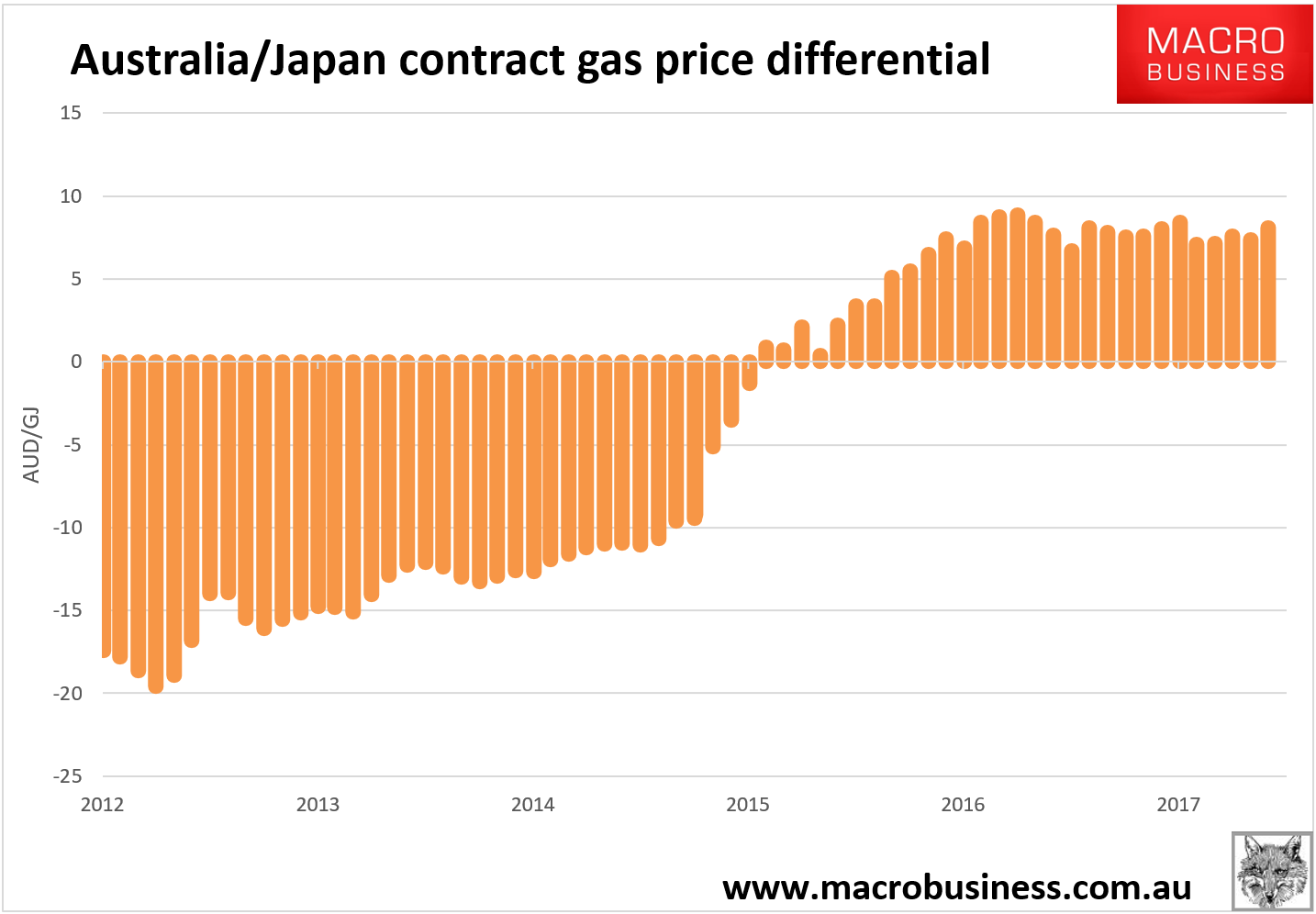 If it wants to see quickly falling electricity and gas prices before the next election then the government's gas reservation facility, the ADGSM, must be radically boosted. It is too slow and weak to bring down prices enough as it stands. If it is done right, Credit Suisse has estimated that it will cost Santos a grand total of $400m. Santos lied about having enough gas. Yet we're putting ourselves through all of this torture to save that one lying firm a few lousy pennies.
Longer term, the government will need to reshape the gas market too. It will need to nationalise somewhere along the supply chain. Buying Santos and shutting one LNG train is one option. Buying (or expropriating) and force developing reserves in a national gas company with mandated rates of return is another. Either of these options would benchmark east coast prices. The simplest and quickest solution is plain old price controls. The east coast gas market has collapsed and requires radical restructure any way you look at it.
Can we really be so lost, so captured, so broken, so dumb, that this affront to all sense, all reason, all economics, all markets, all national interest and adults with an IQ above 50, that this simple truth can be ignored?
FIX GAS YOU IDIOTS.