Last night we saw some great discussion about bitcoin at the Brisvegas Mb Fund meet, with myself in the "ponzi scheme" corner versus a bunch of readers. Today, alas, my position is endorsed by Jamie Dimon:
JPMorgan Chase CEO Jamie Dimon took a shot at bitcoin, saying the cryptocurrency "is a fraud."

"It's just not a real thing, eventually it will be closed," Dimon said Tuesday at the Delivering Alpha conference presented by CNBC and Institutional Investor.

"I'm not saying 'go short bitcoin and sell $100,000 of bitcoin before it goes down," he said. "This is not advice of what to do. My daughter bought bitcoin, it went up and now she thinks she's a genius."

In an appearance at a separate conference earlier in the day, Dimon said bitcoin mania is reminiscent of the tulip bulb craze in the 17th century.

"It's worse than tulip bulbs. It won't end well. Someone is going to get killed," Dimon said at a banking industry conference organized by Barclays. "Currencies have legal support. It will blow up."

Dimon also said he'd "fire in a second" any JPMorgan trader who was trading bitcoin, noting two reasons: "It's against our rules and they are stupid."

Dimon's criticism comes at a time when some of the most well-known figures on Wall Street are starting to embrace the cryptocurrency. Fundstrat's Tom Lee said he sees bitcoin surging to $6,000 next yearand value investor Bill Miller reportedly owns bitcoin.
I'm no great fan of our Jamie but he is making perfect sense here. Bitcoin undermines the power or government tax and control the money supply. Therefore it is doomed. Block-chain technology is different and its unique transaction capability could be deployed into all kinds of stuff.
Don't confuse them!
If you want to know how heated the current bid under the cyber-tulip is then try this from BofAML overnight: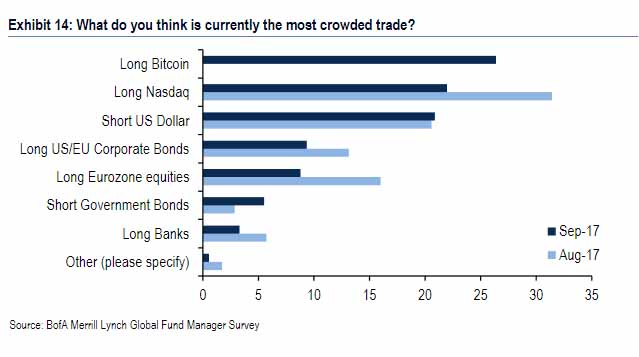 The most crowded trade…