For years the growth lobby has argued that Australia needs to run high levels of immigration in order to alleviate so-called skills shortages and to mitigate an ageing population, despite the Department of Employment showing that Australia's skills shortage "remains low by historical standards" and Australia's labour underutilisation rate tracking at high levels: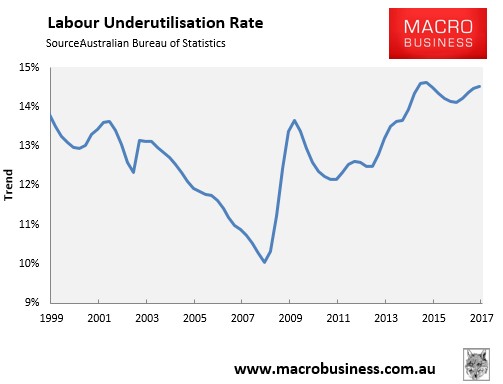 One factor the mass immigration supporters continually ignore is the risk that the rise of robotics and artificial intelligence could replace many of today's jobs, leading to an even larger pool of underemployed and underutilised workers.
Earlier this year, Seek's chief executive, Andrew Bassat, warned of an "employment crisis" whereby not enough jobs will be created to replace those expected to be lost through the rising use of robotics, especially in areas like mining, hospitality, accommodation and transport.
A similar theme was picked up over at The ABC.
Already, Australia's construction sector is gearing-up, with FastBrick's Hadrian X bricklaying machine capable of laying up to 1,000 bricks an hour.
Clearly, the rise of robotics and automation debunks the claim that Australia needs to import large swathes of skilled workers to overcome an ageing population.
The reality is likely to be the opposite: too many workers chasing too few jobs as robots and artificial intelligence take over. So why, then, is Australia running one of the highest immigration programs in the world, especially given the extreme pressure that it is placing on infrastructure, housing, schools, hospitals and overall livability?
Another potential problem arising from automation is that nations with large youth bulges also risk rising political volatility. From Global Risk Insights:
Automation is on track to disrupt the status quo everywhere, but nations with a youth bulge will be more affected than others. A large youth population whose employment and future is threatened by automation could drive political instability and violence…

[Automation] has the potential to boost economies and improve quality of life, but for many it will mean an uncertain future and fewer opportunities. Governments must find ways to occupy or support those who lose their jobs to automation or else face diminishing legitimacy in the best-case scenario and politically motivated violence in the worst.

The risks of political violence will be higher in countries with a youth bulge (a relatively large youth population). Fewer employment opportunities and heightened competition could drive young people towards alternative institutions that channel their rage and anxiety…

The problem arises when a large youth population cannot be absorbed by the economy, leaving masses of youth disillusioned with the current political system and broader status quo. Automation will contribute to this problem, making it harder for economies to absorb new workers and large youth populations by replacing their jobs with machines…
The more sensible policy option is to restrict immigration and instead better utilise the existing workforce and use automation to overcome any loss of workers as the population ages – as has been utilised in Japan (where unemployment is around 3%).
In fact, economists at MIT recently found that there is absolutely no relationship between population ageing and economic decline. To the contrary, population ageing seems to have been associated with improvements in GDP per capita, thanks to increased automation:
If anything, countries experiencing more rapid aging have grown more in recent decades… we show that since the early 1990s or 2000s, the periods commonly viewed as the beginning of the adverse effects of aging in much of the advanced world, there is no negative association between aging and lower GDP per capita… on the contrary, the relationship is significantly positive in many specifications.
Again, the last thing that Australia should be doing is running a mass immigration program which, as noted many times by the PC cannot provide a long-term solution to ageing, and places increasing strains on infrastructure, housing and the natural environment.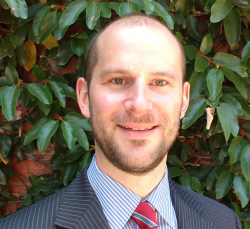 Latest posts by Unconventional Economist
(see all)