Back in February, The Economist released the below chart showing that Australia was leading the world in gambling losses, losing just under $US1,000 a year per resident adult, with nearly half of these losses coming from poker machines (see below graphic).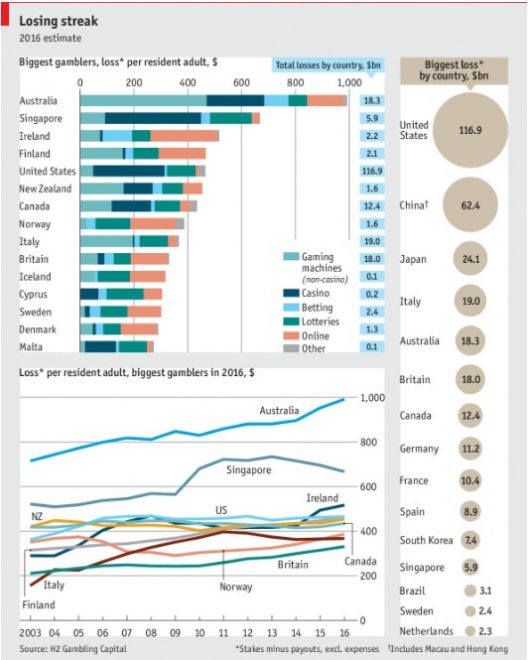 According to The Economist:
To the general public, Australia hardly leaps to mind as a gambling hotbed. Yet industry insiders know it is far and away their most lucrative market: according to H2 Gambling Capital (H2G), a consultancy, betting losses per resident adult there amounted to $990 last year. That is 40% higher than Singapore, the runner-up, and around double the average in other Western countries. The most popular form of gaming in Australia is on ubiquitous electronic poker machines, or "pokies", which are more prevalent there than anywhere else. Although the devices are legal in many other markets, bet sizes are usually capped at modest levels. By contrast, in Australia, which began to deregulate the industry in the 1980s, punters can lose as much as $1,150 an hour.
On Tuesday, News.com.au ran a sobering report about how the nation's pokies addiction is tearing apart the social fabric:
A MANIACALLY upbeat tune filters out to the road, spiked with the sounds of Super Mario scoring gold coins, of money falling in a sheet — dizzyingly intoxicating, unrelentingly merry…

Ross has lost $780,000 on the pokies, and everything he cared about, but even after 21 years in recovery, this unfathomable obsession still has a hold on him. "You know how triggering it is to hear the noise?" asks the 57-year-old. "I had a photography business, I went from a nice apartment to homeless and living at a Salvation Army hostel within six months. I've had many attempts to stop, and a few lapses. Even after losing everything, I'd be planning to be back.

"You gamble to extinction.

"I've got a history of gambling in my family. Mum had a stroke, because of my gambling and the shame … It's a multigenerational thing, and it stops with me"…

[Ross is] at a community meeting, face-to-face with a man who's pocketed the proceeds of his addiction, the chief executive of Mounties Group, a chain of clubs in western Sydney's Fairfield. This suburb has more machines and more losses than anywhere in the country, with $8 billion fed into the pokies each year — $40,000 for every resident…

The legacy of pokies is now deeply stitched into the fabric of life in Australia. We are the world's biggest gamblers, losing more money per capita than anyone in the world. We have more machines per person than any country on earth, and pour an incredible $135.7 billion into them annually in pursuit of that elusive high…

Allison Keogh, an Alliance for Gambling Reform spokesperson who is estranged from her pokies addicted mother, says the juxtaposition makes her nauseous. "They promote these places as family friendly, it makes me feel sick," says the 44-year-old. "The sound reminds me of what I've lost."

Allison spent hours of her childhood in "the jail with pink walls" — the local club's kids' playroom — while her mother played the pokies.

"This money comes from addiction. I grew up in a small country town, a great community. Pokies damaged that. A netball field was small consolation"…

NSW is the state with the worst problem, boasting a phenomenal 10 per cent of the world's poker machines (second only to Nevada globally).

As much as $19.5 billion was gambled on pokies in NSW in February-March this year. Thirteen of the state's top 25 hotels for pokies profits are in the Fairfield and Canterbury/Bankstown local government areas. Three are owned by Woolworths…

Mark Henson, an Oakdene gambling counsellor… [says] "It's ingrained in our society.

"We have jails full of people who got involved with drugs or other means to obtain money. They need money to gamble, a way to obtain money, then they're feeling shame and remorse, so what do they do to escape? Gamble."
Pokie machines – which make up nearly half of all gambling losses – are a blight on our society. And while alcohol and cigarettes are also used by consenting adults, consumption of both have shown a decline in recent years, unlike poker machine losses.
It seems The Whitlams were right all along: