Close watchers of Macrobusiness will be aware that after a year of set-up we recently launched a fund to implement the macroeconomic themes for readers in the market.
When putting together an offer like this to such a broad readership, there are always going to be surprises.
One area that offered such a surprise is the popularity of the ethical screening component of the fund where investors remove themes that don't sit well with their ethics.
One, because it was never actually advertised as a feature of the fund, meaning that it was really a 'value add' as opposed to an attraction to invest.
Two, it's remarkable that this type of ethical stock screening is not (in my understanding) widely available to the public investor, without going down a specific ethical advice path (with commensurate cost). This would typically lead you to believe that there is not a lot of demand for this type of service in the market, or perhaps that its 'all too hard' for a product provider to implement.
Well, from our initial response it is safe to say that ethical screening is front of mind – with over two-thirds of new accounts created choosing at least one ethical screen!
The next surprise was the most commonly chosen ethical screens. We have taken the approach at Nucleus that 'your ethics are unlikely to be our ethics' and this has come shining through. For example, relatively few investors screen out Nuclear (i.e. companies that produce uranium or run nuclear power plants) but the most chosen screen was for companies that produce cluster munitions: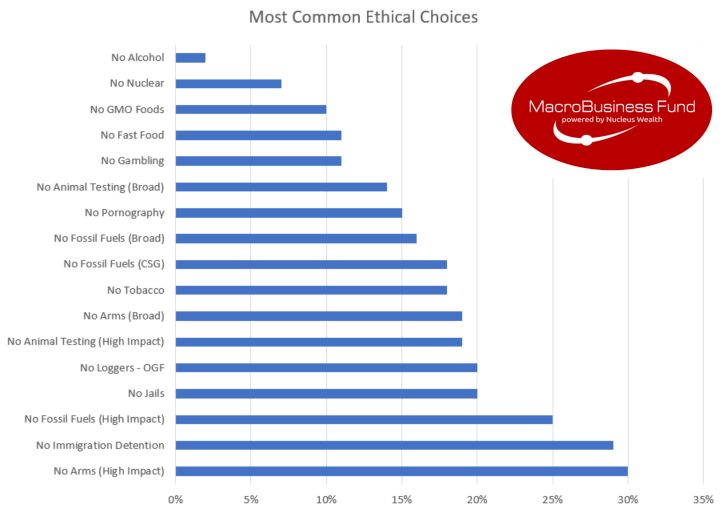 See below for a list of the choices given – the website has more details on each of the categories and the 'Review' page shows the impacts of ethical choices on our portfolios.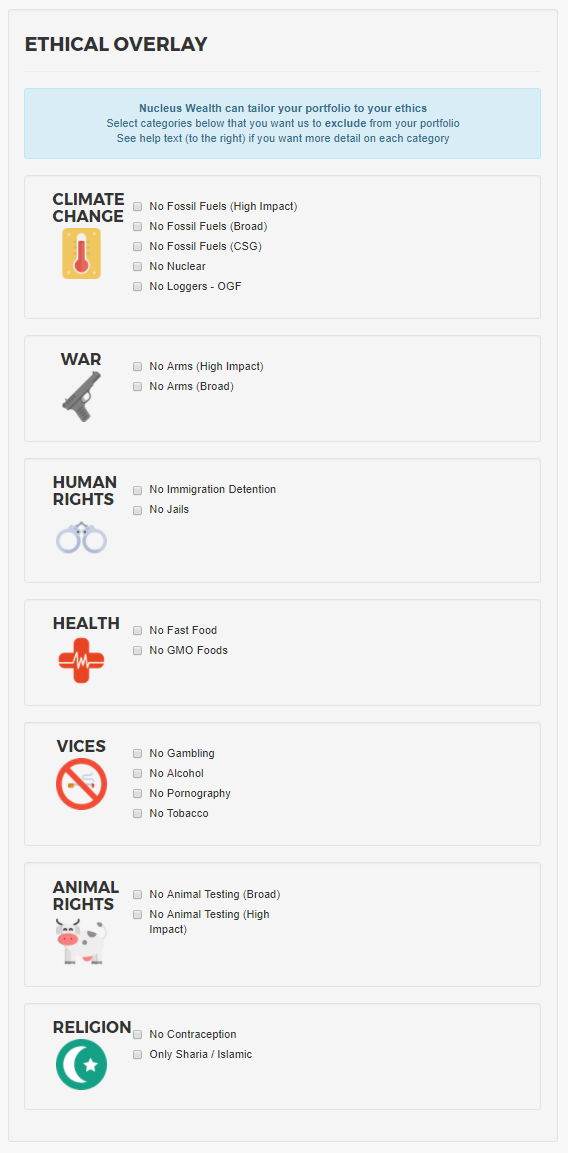 For example here is a sample from the current portfolio:

Tim Fuller is Head of Operations at the MacroBusiness Fund, which is powered by Nucleus Wealth.

The information on this blog contains general information and does not take into account your personal objectives, financial situation or needs. Tim Fuller is an authorised representative of Nucleus Wealth Management, a Corporate Authorised Representative of Integrity Private Wealth Pty Ltd, AFSL 436298.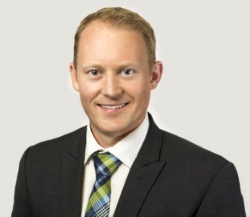 Latest posts by Tim Fuller
(see all)