DXY was down last night: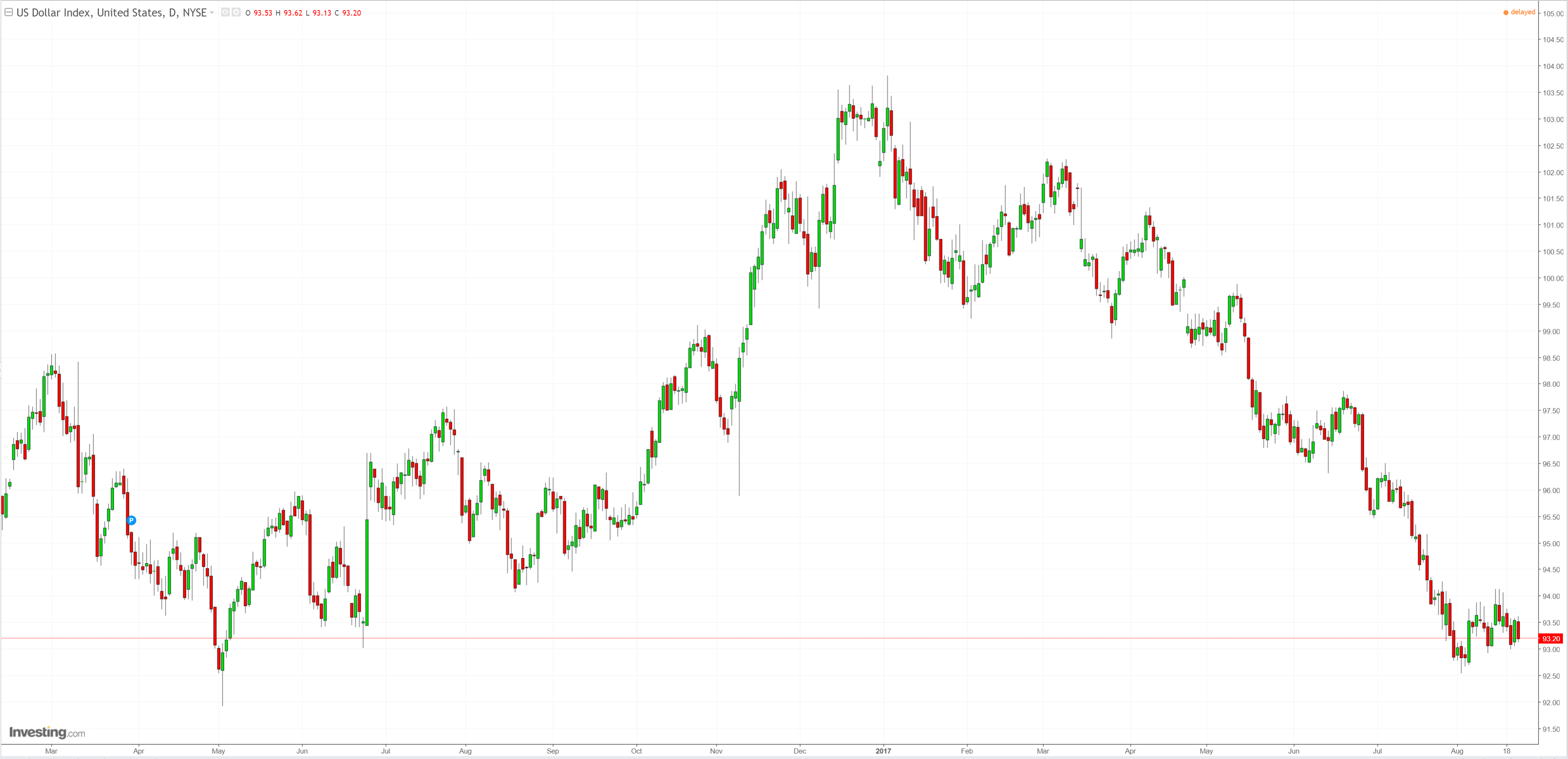 AUD up against DMs: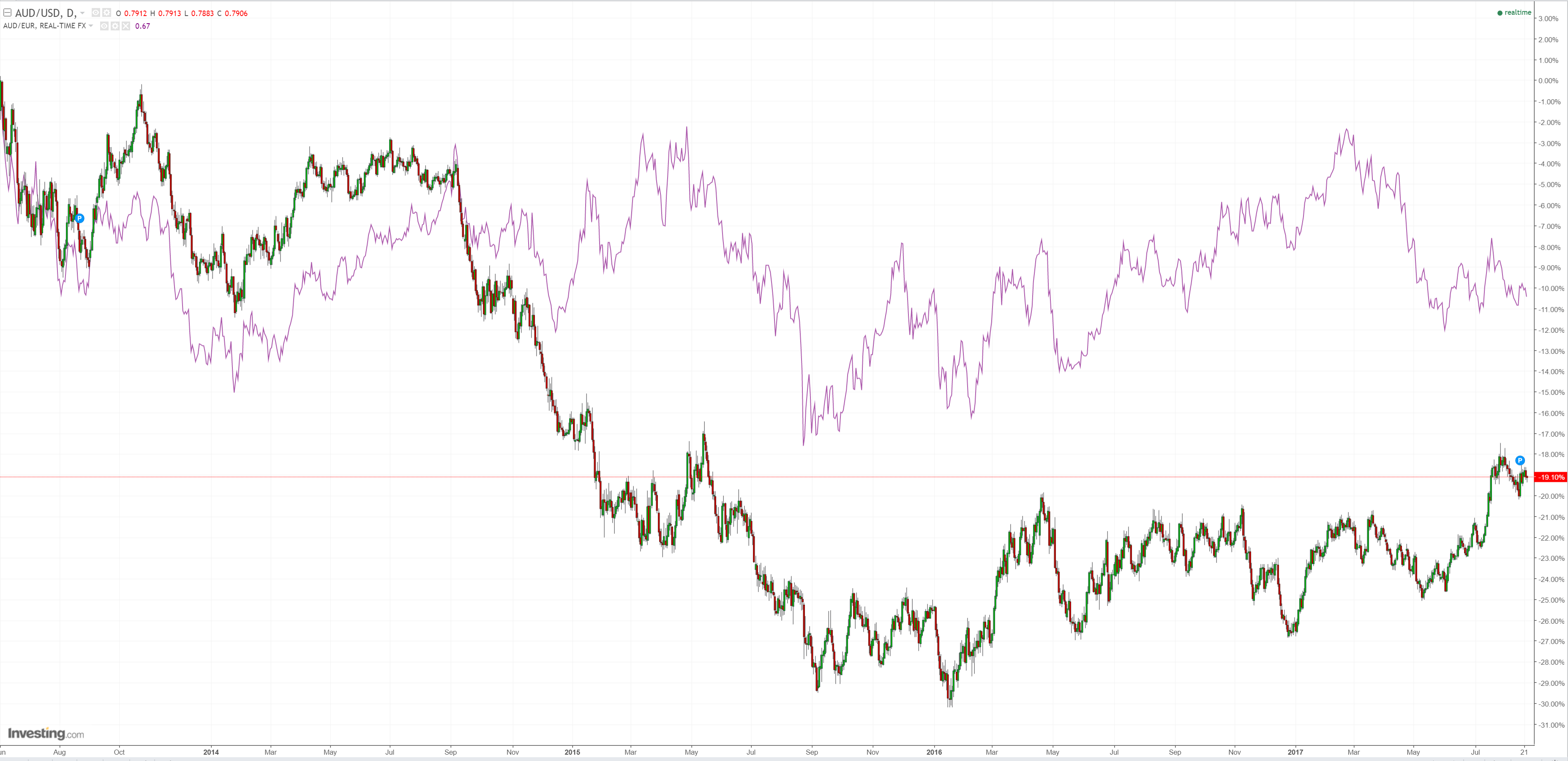 Down against EMs: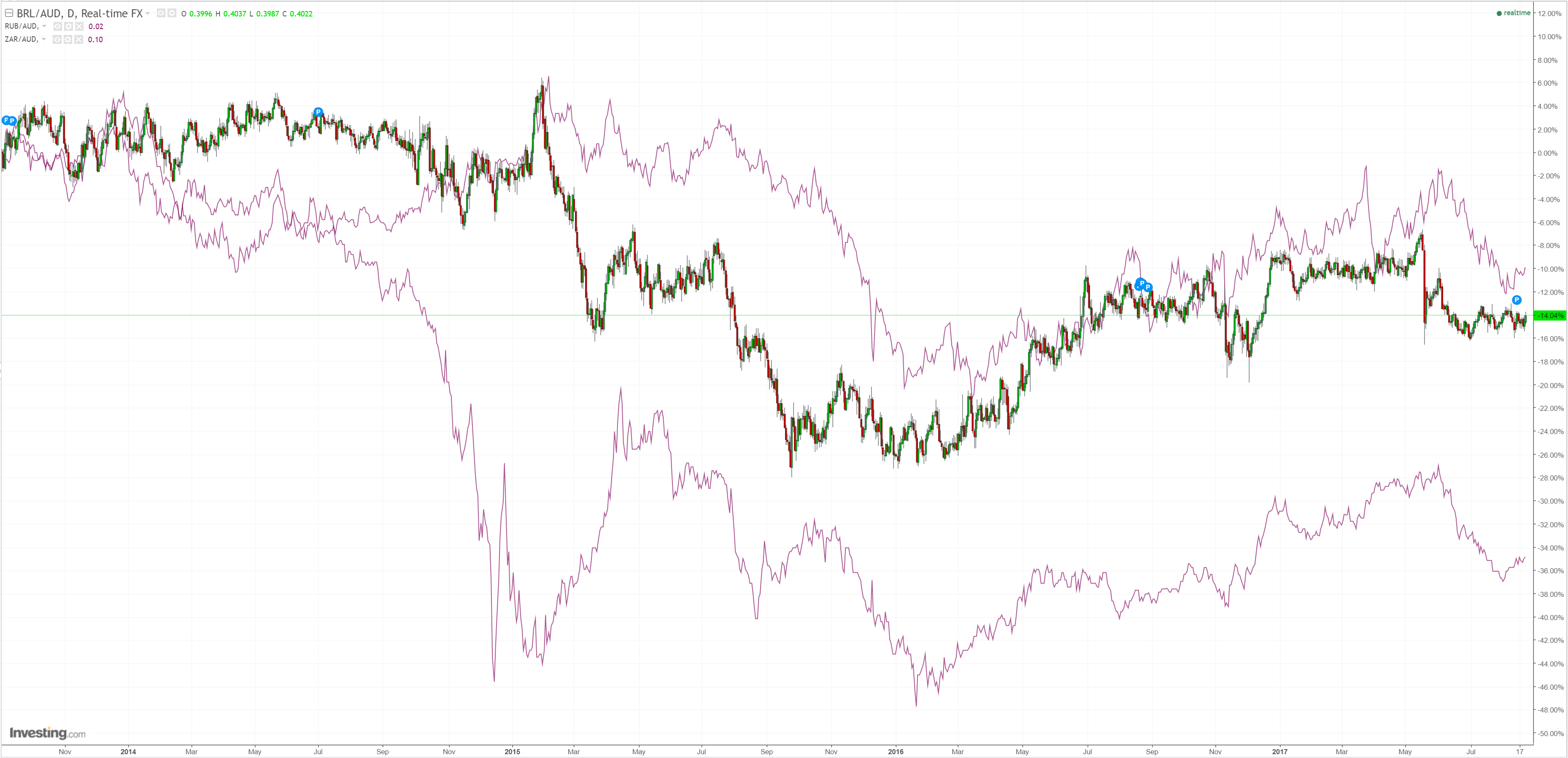 Gold firmed and is still at the verge of break out: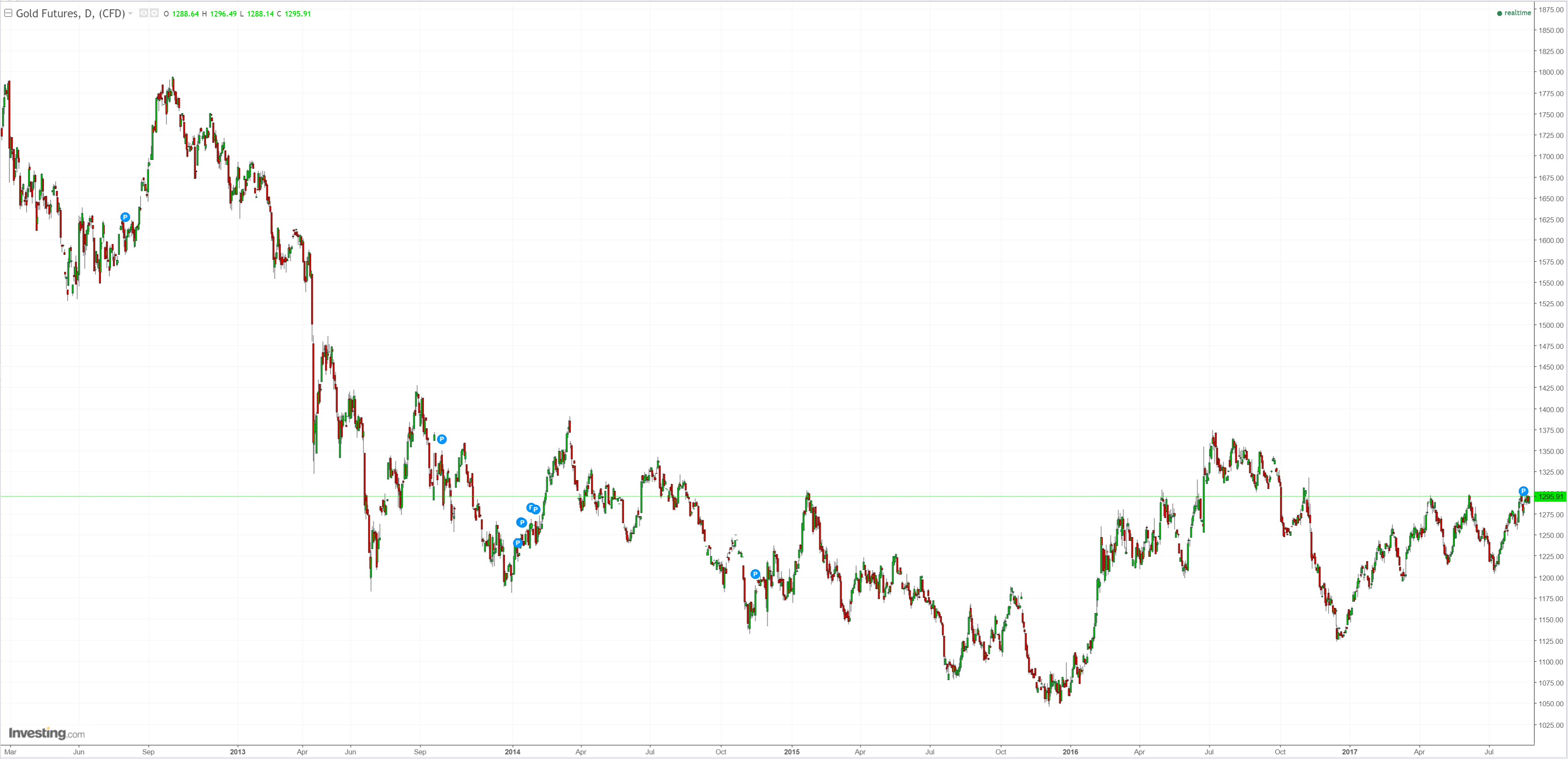 Brent rose too as US inventories sink: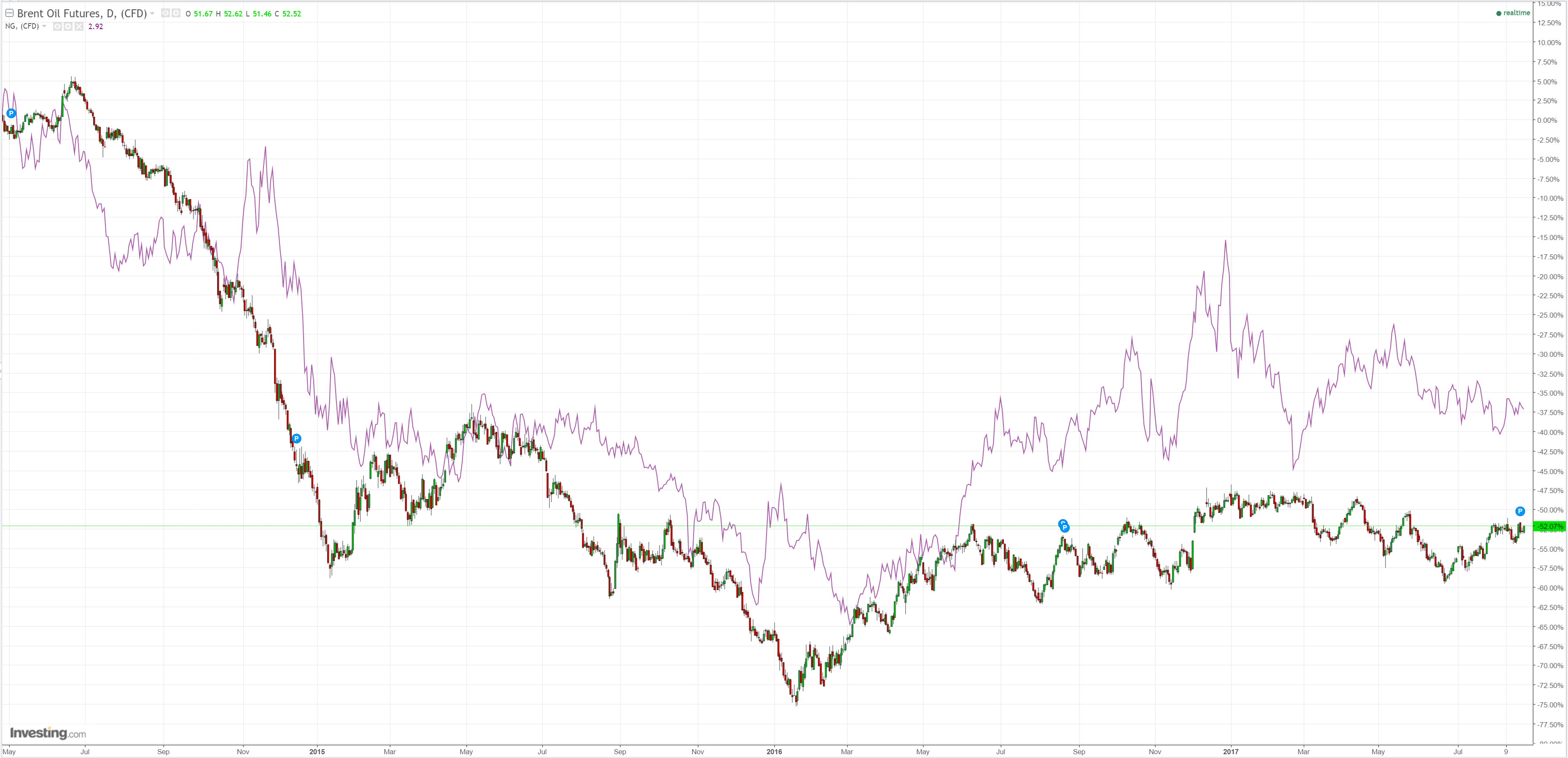 Base metals were mixed: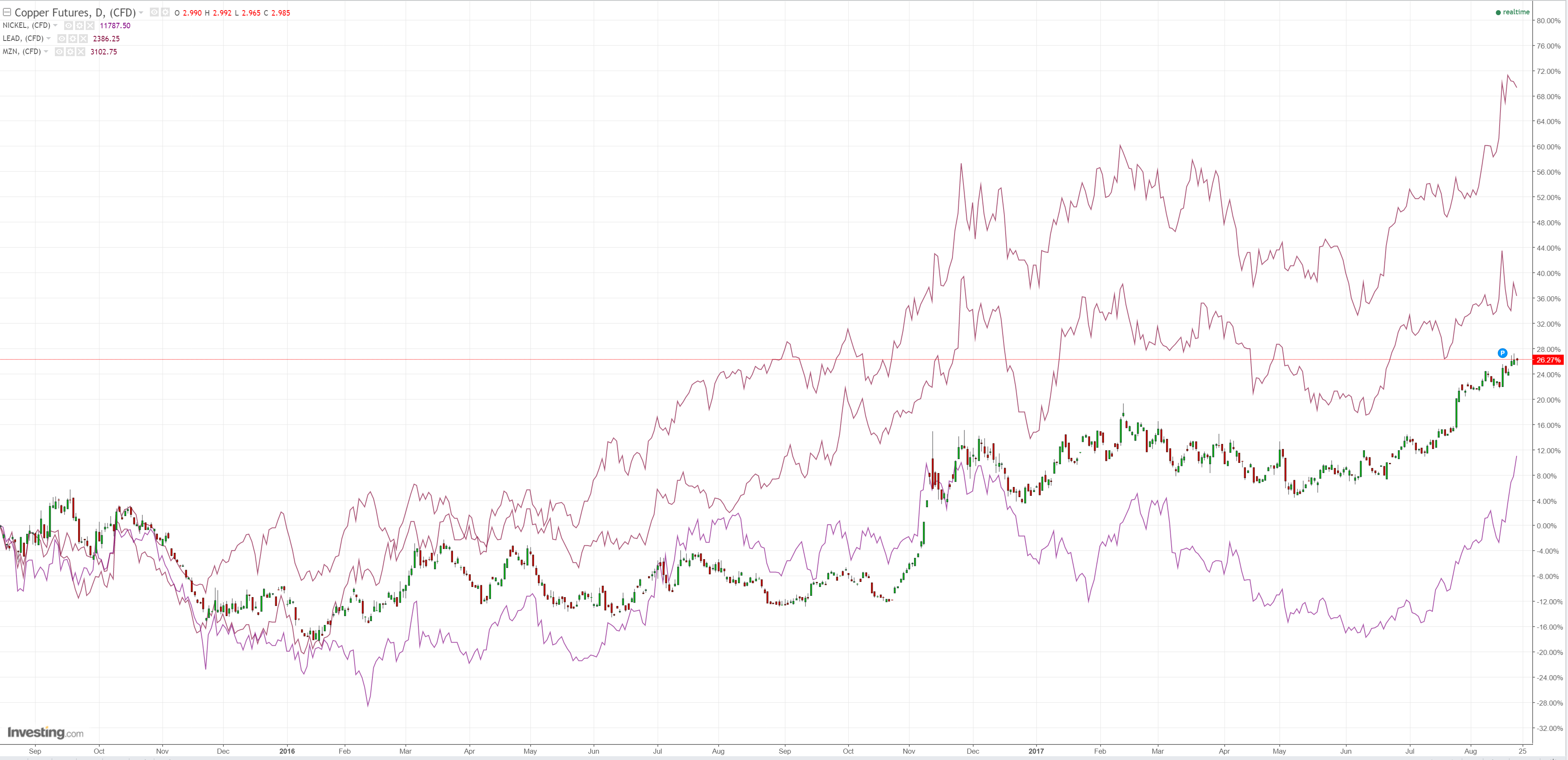 EM stocks soared to new highs: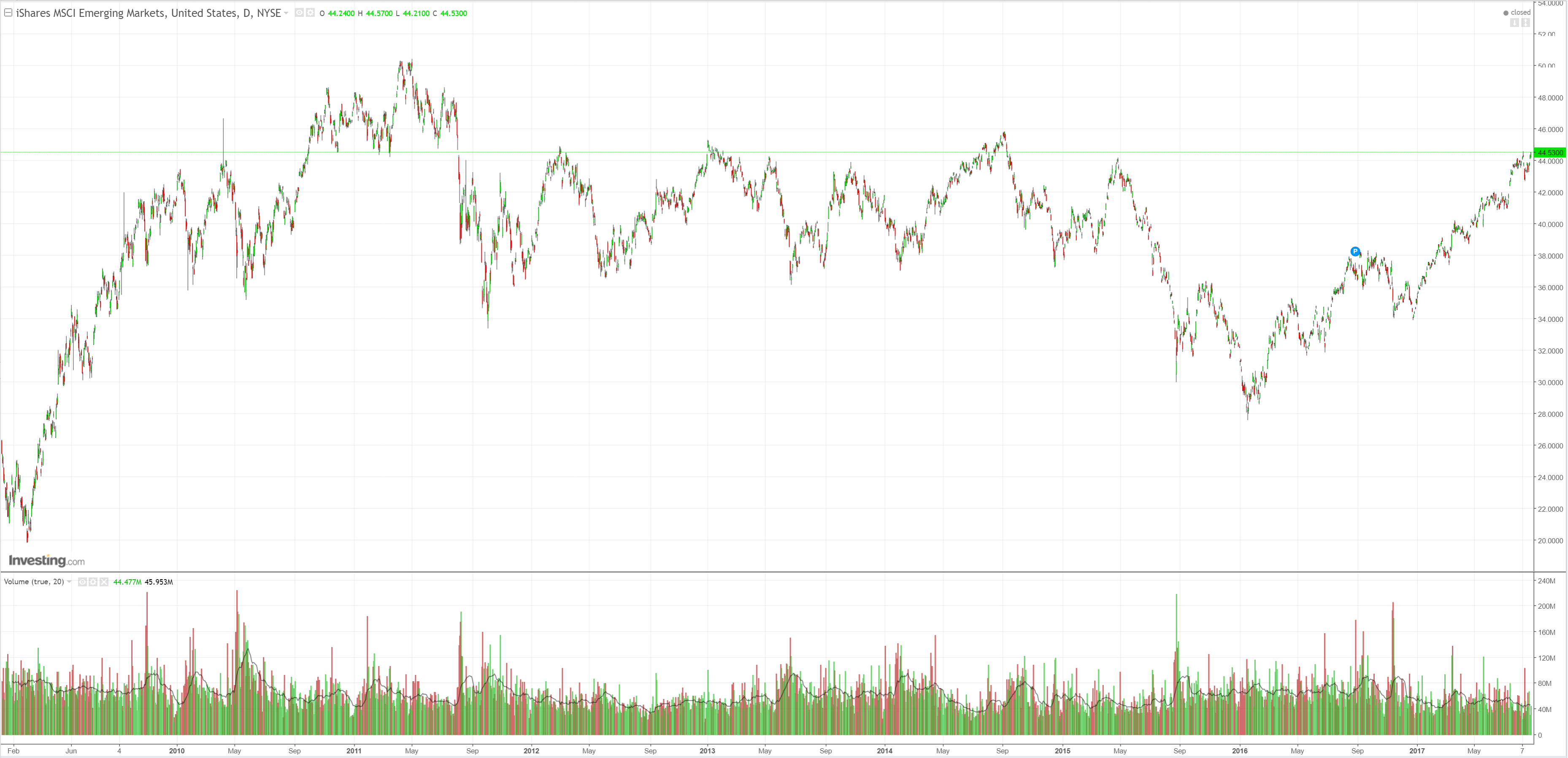 High yield is still dragging the chain: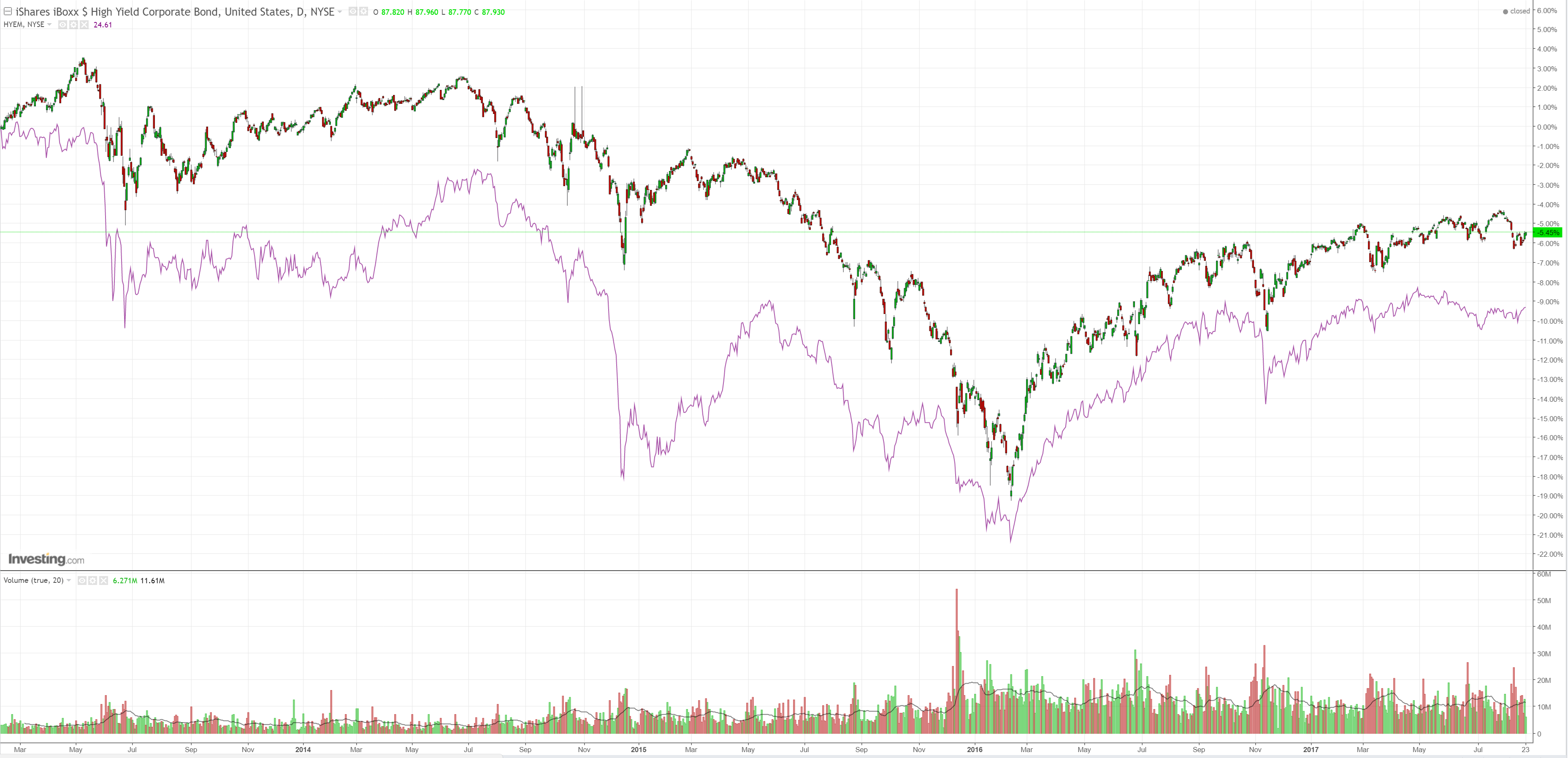 US yields fell: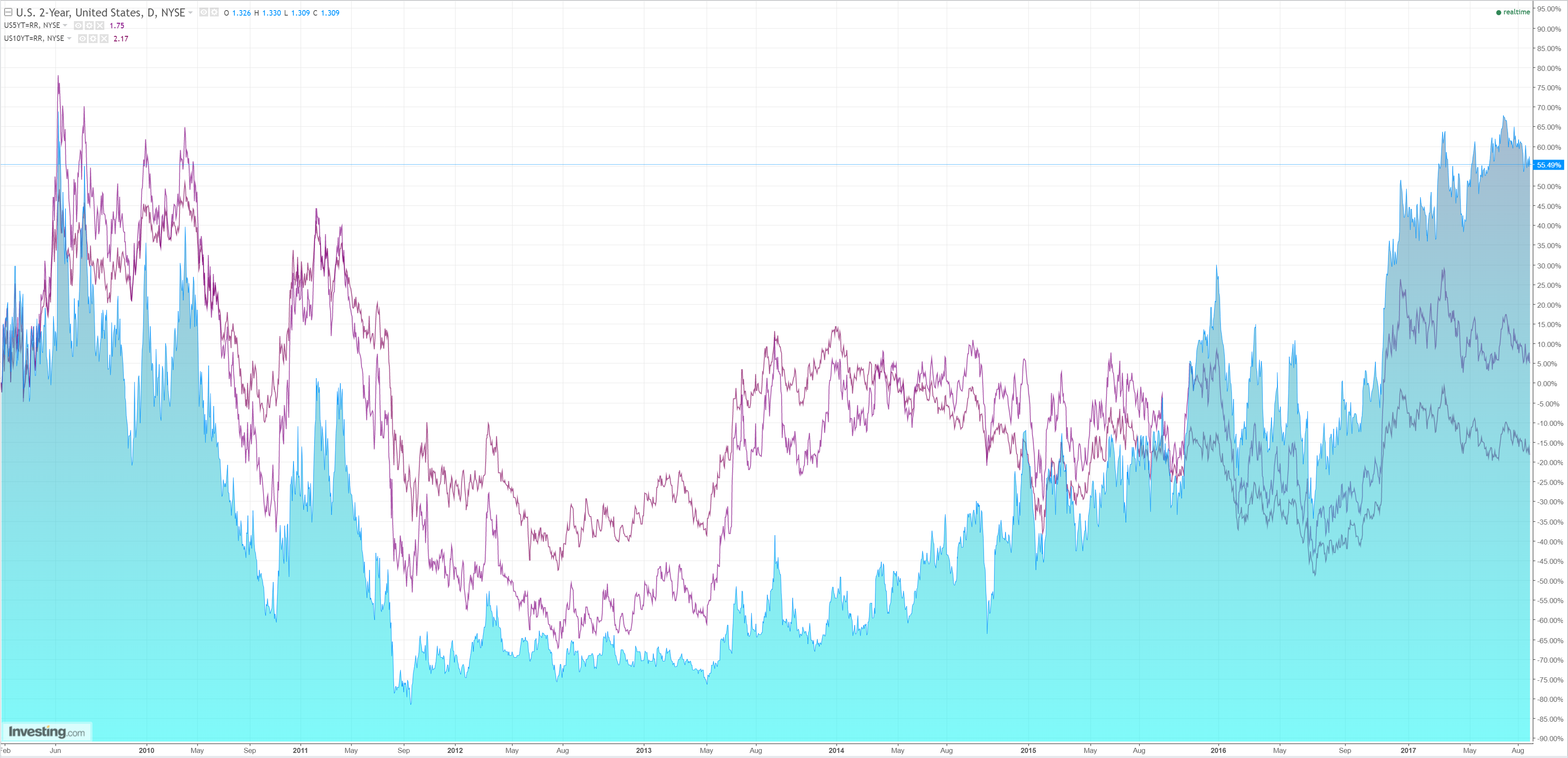 German too, Italy is suddenly a problem: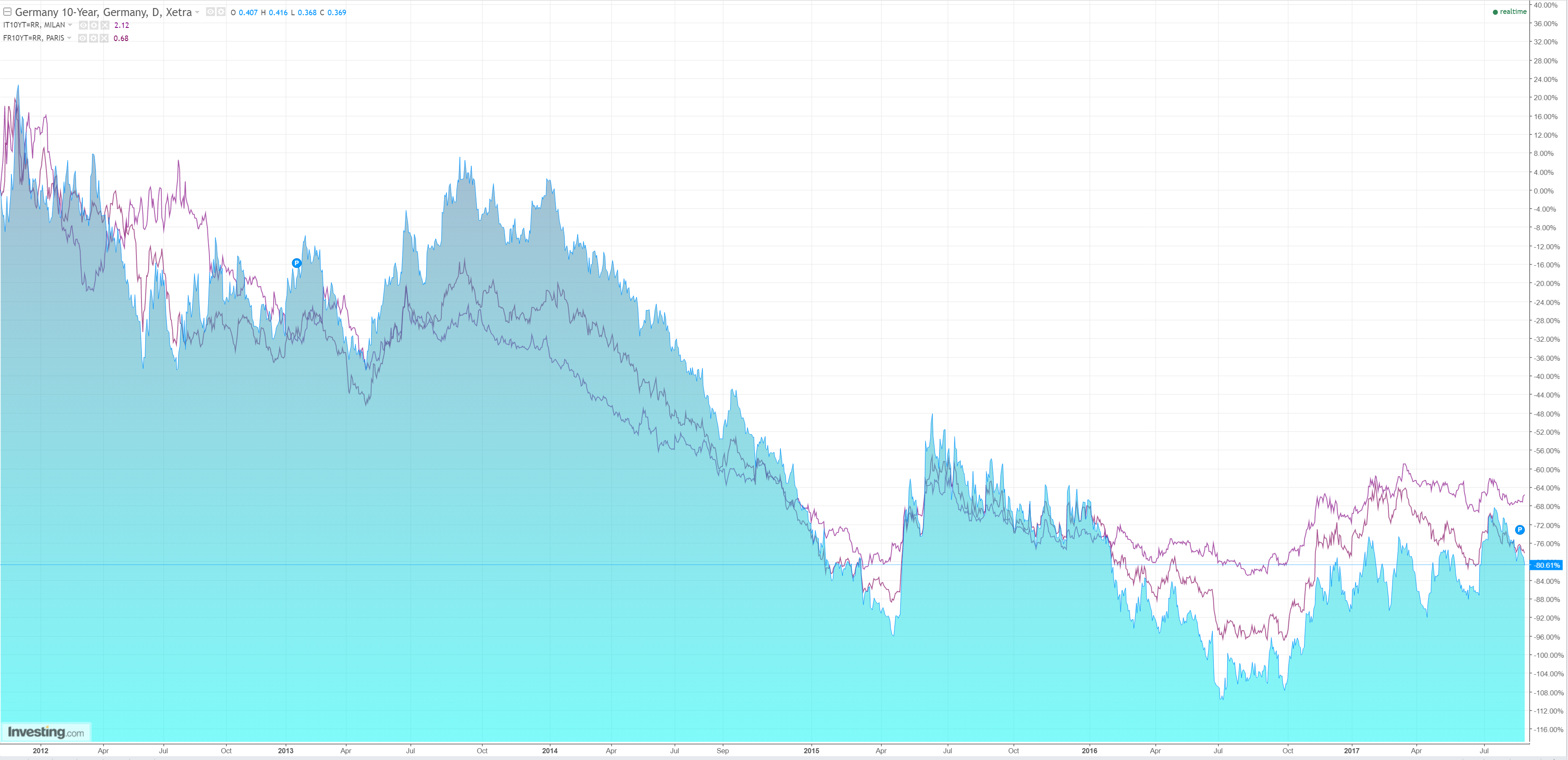 And stocks fell: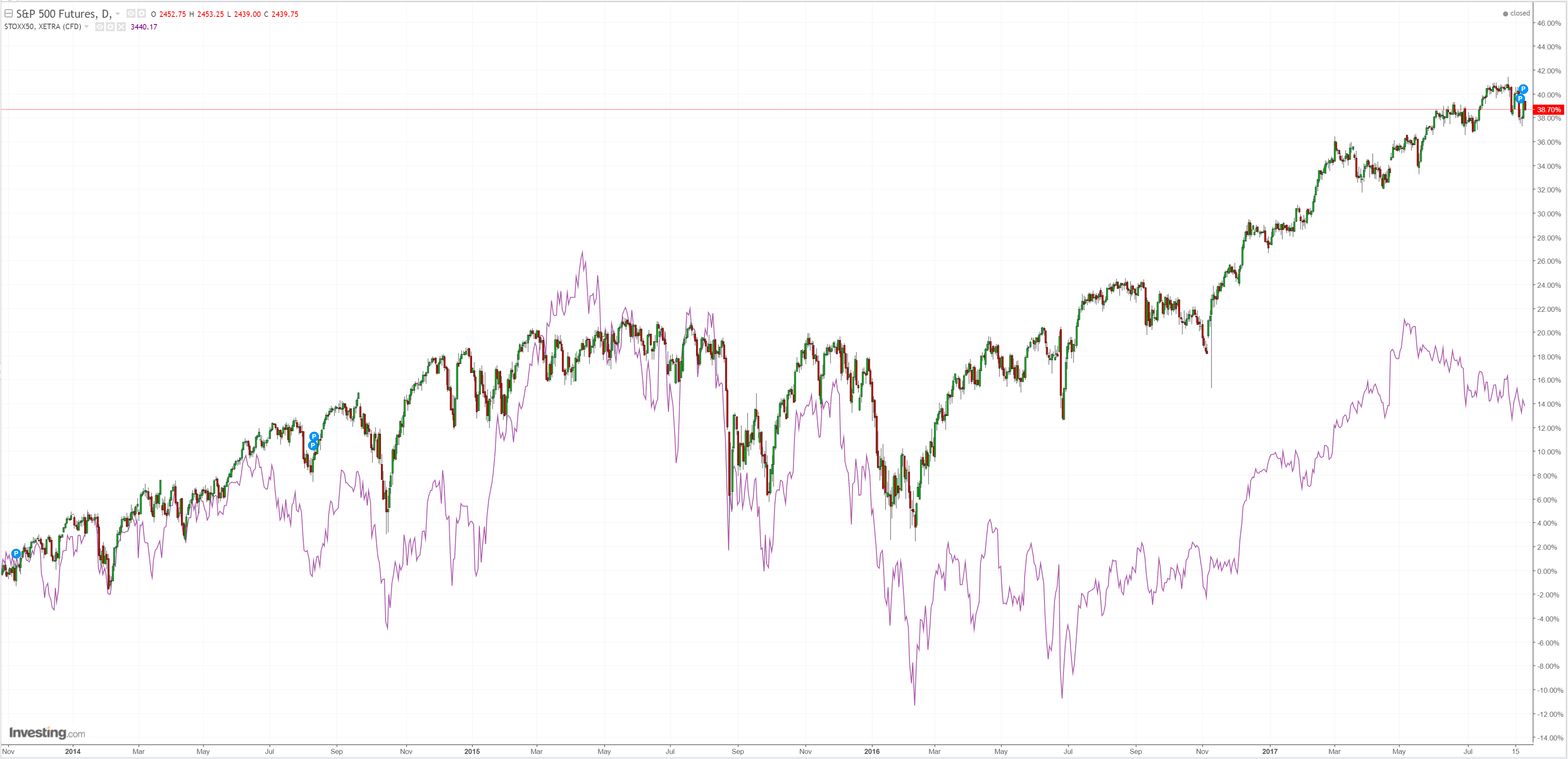 It's all about Trump's big mouth and the USD:
President Trump issued an extraordinary challenge to his own party late Tuesday, threatening to shut down the government in a matter of weeks if Congress did not fund a wall on the southern border that was a signature promise of his campaign for the White House.

Mr. Trump followed up on that threat on Wednesday by going after a key Republican senator on Twitter who has been skeptical of building a border wall between the United States and Mexico. Senator Jeff Flake of Arizona is also one of two Republican senators up for re-election next year in a swing state, and the president has put his finger on the scale toward a primary challenger, Kelli Ward.

On Tuesday night, he told a rowdy crowd in Phoenix, "If we have to close down our government, we're building that wall."

"We're going to have our wall," he added. "The American people voted for immigration control. We're going to get that wall."
Said Fitch:
Fitch Ratings said Wednesday it will review the U.S. debt rating if the debt ceiling is not raised, as it reiterated that prioritizing payments may not be compatible with a Triple-A rating. Prioritizing payments is an idea some Republicans have advanced if the U.S. were not to raise the debt ceiling in time. Fitch added that a government shutdown would not have a direct impact on the AAA rating but would "highlight how political divisions pose challenges to the budgetary process."
And the result: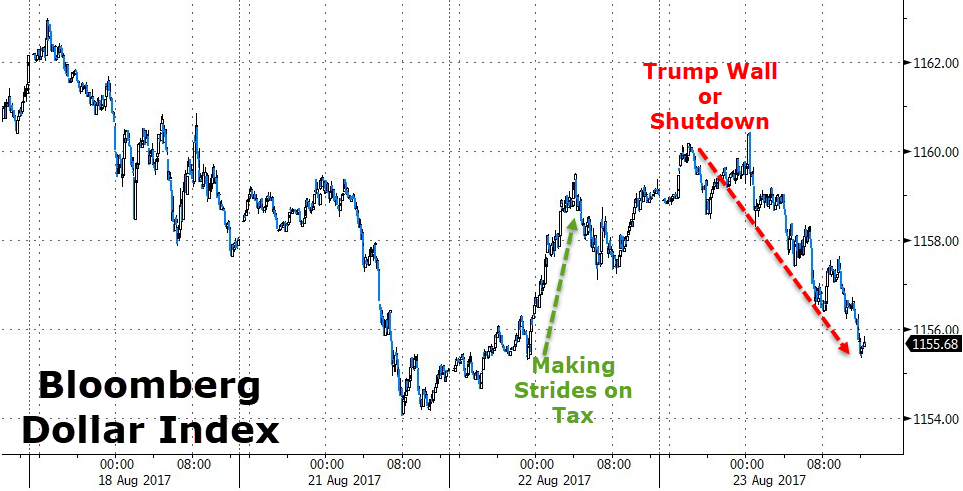 Given I'm still of the view that we may see one last spike down in the DXY this is not overly concerning. Still, what an idiot.
Meanwhile the global economy is still powering along. Via Capital Economics:
Preliminary PMIs, which were published by Markit today, point to continued strong growth in the world's largest advanced economies in August.

 The flash manufacturing PMI for the euro-zone and Japan rose in August but fell for the US (see Chart 1), resulting in a weighted average of the three rising from 54.3 to 54.5. After picking up last year, this average PMI has been quite stable this year and points to annualised GDP growth in advanced economies of about 2½%. (See Chart 2.)

 The manufacturing PMI for the euro-zone remains well above those of the US and Japan. (See Chart 1 again.) The fall in the services PMI for the euro-zone meant that the composite PMI only edged up. That said, the latter remains consistent with GDP growth of 0.6% q/q in Q3, unchanged from Q2.

 The breakdown showed that France's composite PMI was unchanged while Germany's rebounded. Admittedly, the composite PMI for Germany and the ZEW survey for August, published yesterday, are consistent with a slight slowdown in GDP growth in Q3. But given that the euro remains at a fairly low level by past standards and surveys point to an acceleration in export growth, we think the outlook for the German economy is still fairly bright, with growth likely to be around 2.3% for the year as a whole.
And:
• Consumer confidence in advanced economies has reached its second highest level since 2001. This suggests that consumption growth will hold up well despite subdued real income growth.
Wages growth. The missing ingredient for a global virtuous cycle.