by Chris Becker
Reporting and analysing the demise of the Trump Presidency is not hard work, but it bears well in protecting your portfolio. While a handful of US stocks have benefited since the election, leaving most other markets in limbo, currency-land has been upended as the realisation of a stalemated Congress that cannot enact any meaningful stimulus.
Even the Fed knows this, sending the signal that inflation expectations are not going to be "great again", as the inability of passing any bold infrastructure or even wasteful military spending builds as the weeks move on from one chaos to the next.
This has seen the value of the USD fall swiftly, as measured by the Dollar Index (DXY) versus Trump's favourability:
Economist John William's contends that the perceived value in the USD is the political stability – for want of a better word – of the United States. And that is unfolding:
"Right now, you have a circumstance in Washington where there is tremendous political discord. I can't remember seeing anything like this in the past.

The President has effectively had his options shut off in terms of moving the economy. I was looking for him to get elected because of the weakness in the economy. . . . This intensifies the problems for the economy, but I can tell you right up front it's a big negative for the dollar…

If you have a move for impeachment for the President, that will tank the dollar."
Perhaps, in the short term, but removing Trump may provide the stability that the USD needs, by placating the Republicans that control the Congress – until the end of 2018 at least.
For Australian dollar positions, there is the distinct possibility of a big spike versus USD if the long held support in the Dollar Index at the 93 point level breaks, with daylight below to 80: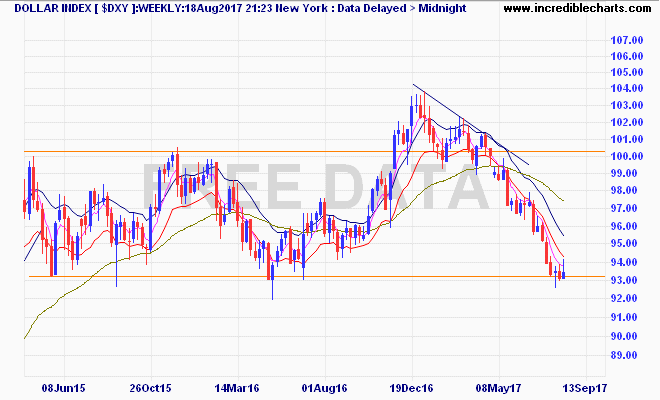 This could see a spike up to 86 cents for the Aussie which has been the biggest  resistance level for more than 3 years, after it recently broke above the 78 cent mark, its yearly high: