I've been waiting for it for while and now we get our first clear evidence of slowing growth arising from policy tightening. Chinese data for July has just missed across the board with Industrial production in at 6.4% vs 7.1% expected, fixed asset investment at 8.3% versus 8.6% expected and retail sales at 10.4% versus 11% expected: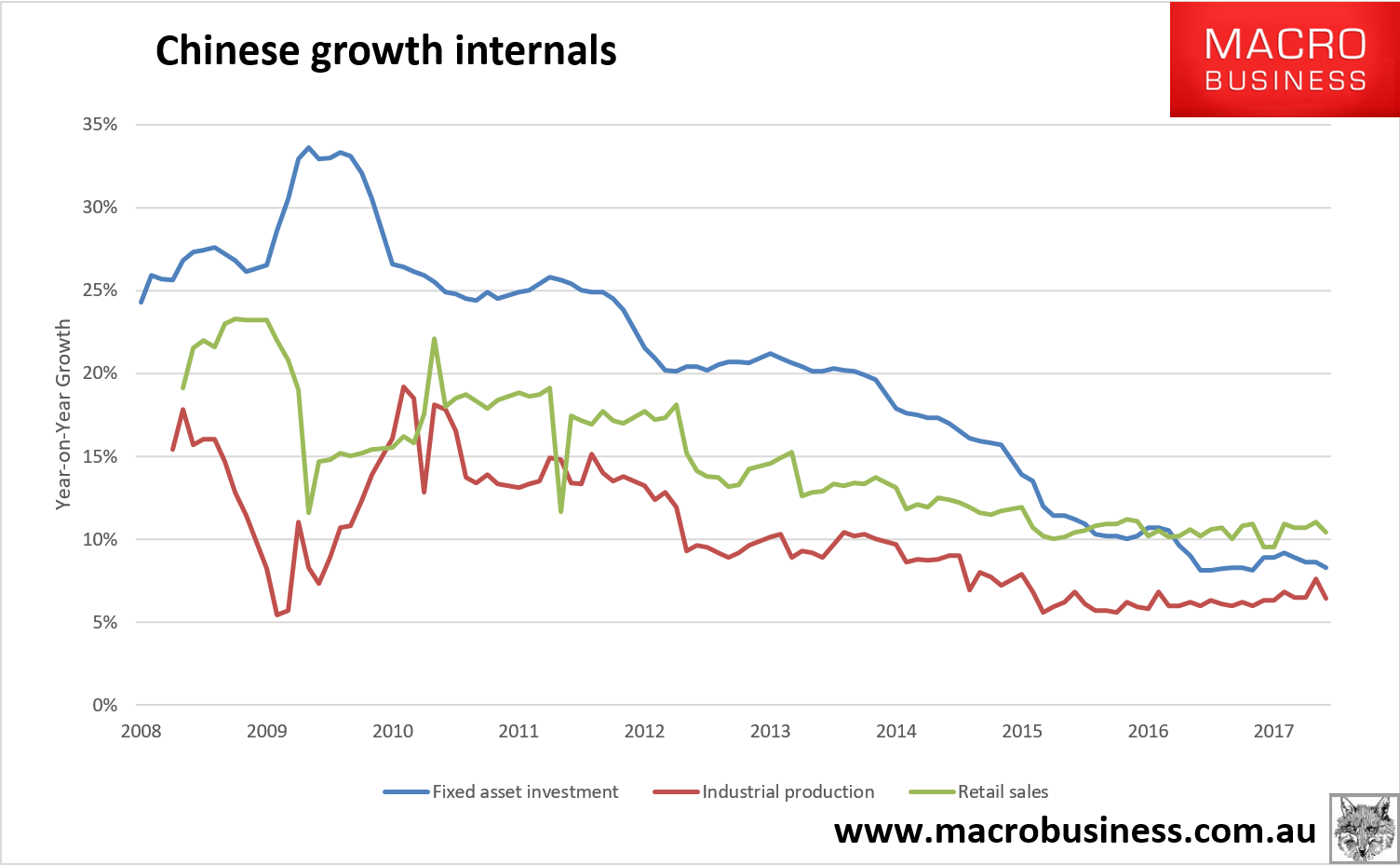 Some of this is clearly numberwang with give back after last month's surge but there is stronger evidence of an ongoing trend slowing in construction. Floor area sales continue to decelerate year to date: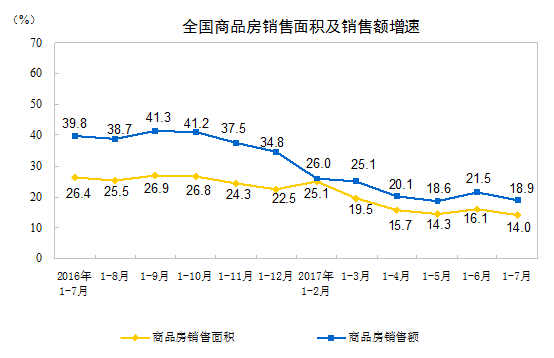 Total floor space under construction fell back to 3.2% year to date and ought to backtrack further over subsequent months: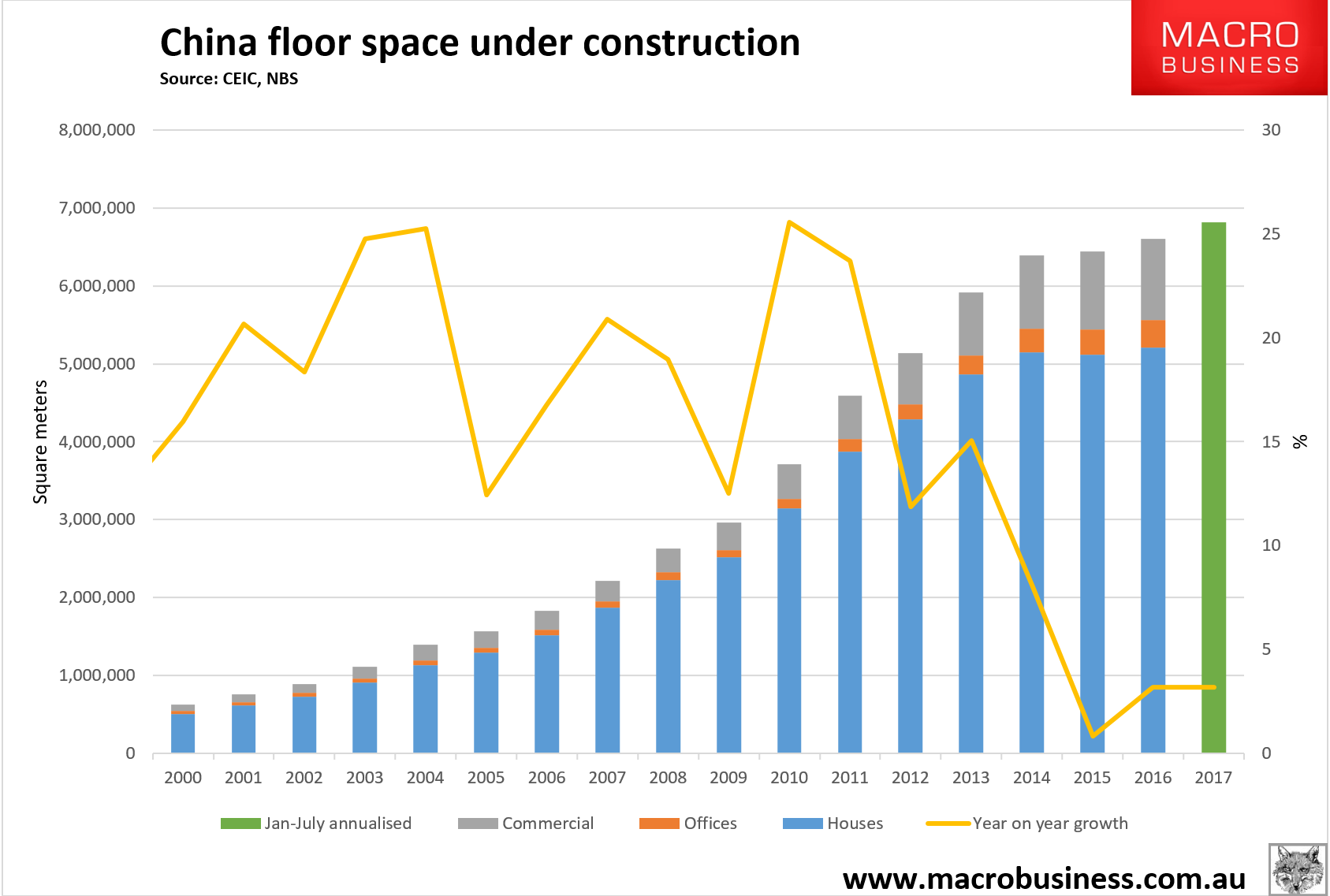 As floor space starts decelerate sharply with year to date growth down to 10.6% and now tracking at just above 2014 levels: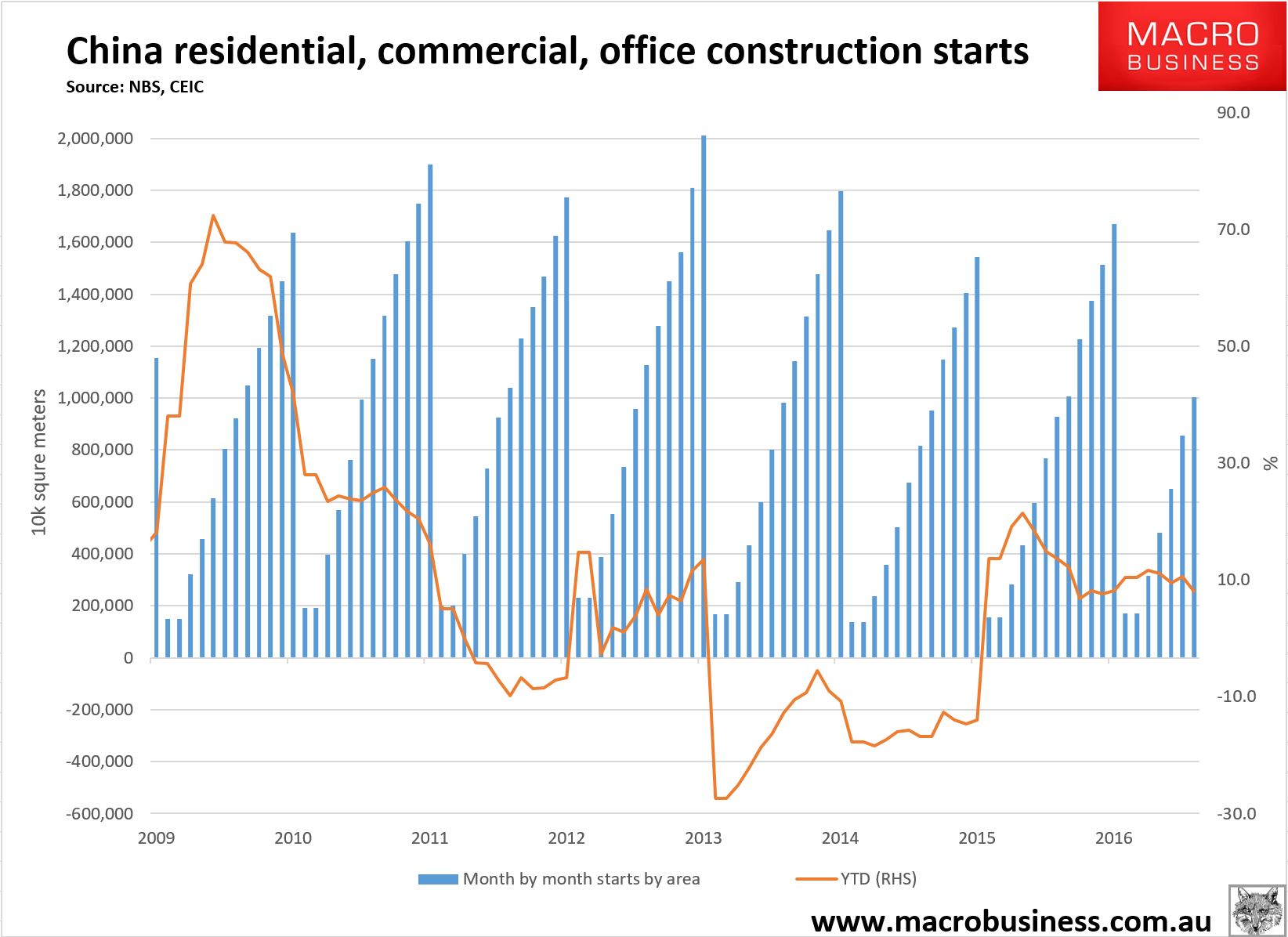 And year on year starts down -8% in July: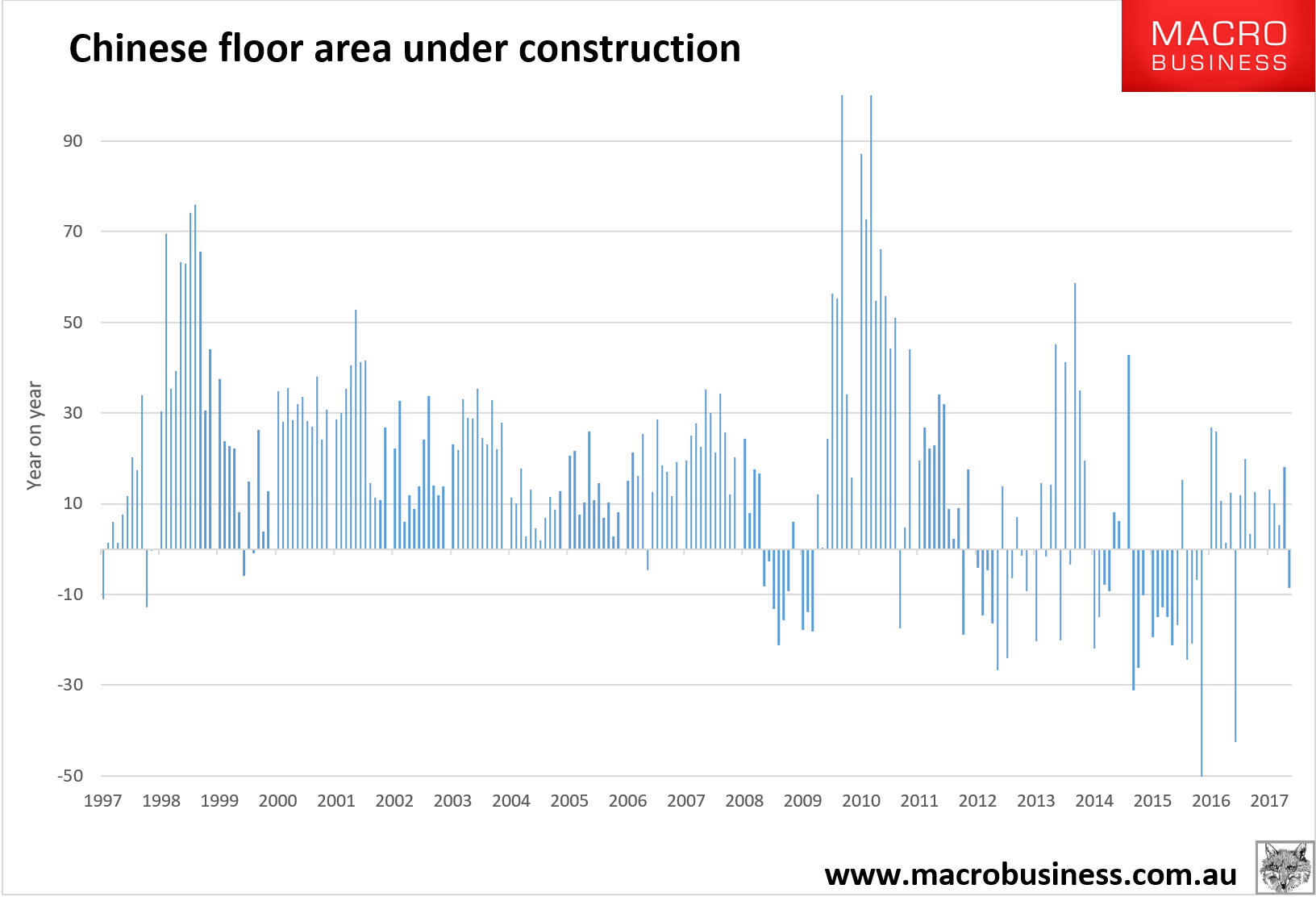 Steel output remains insane as previously illegal production moves into the official stats: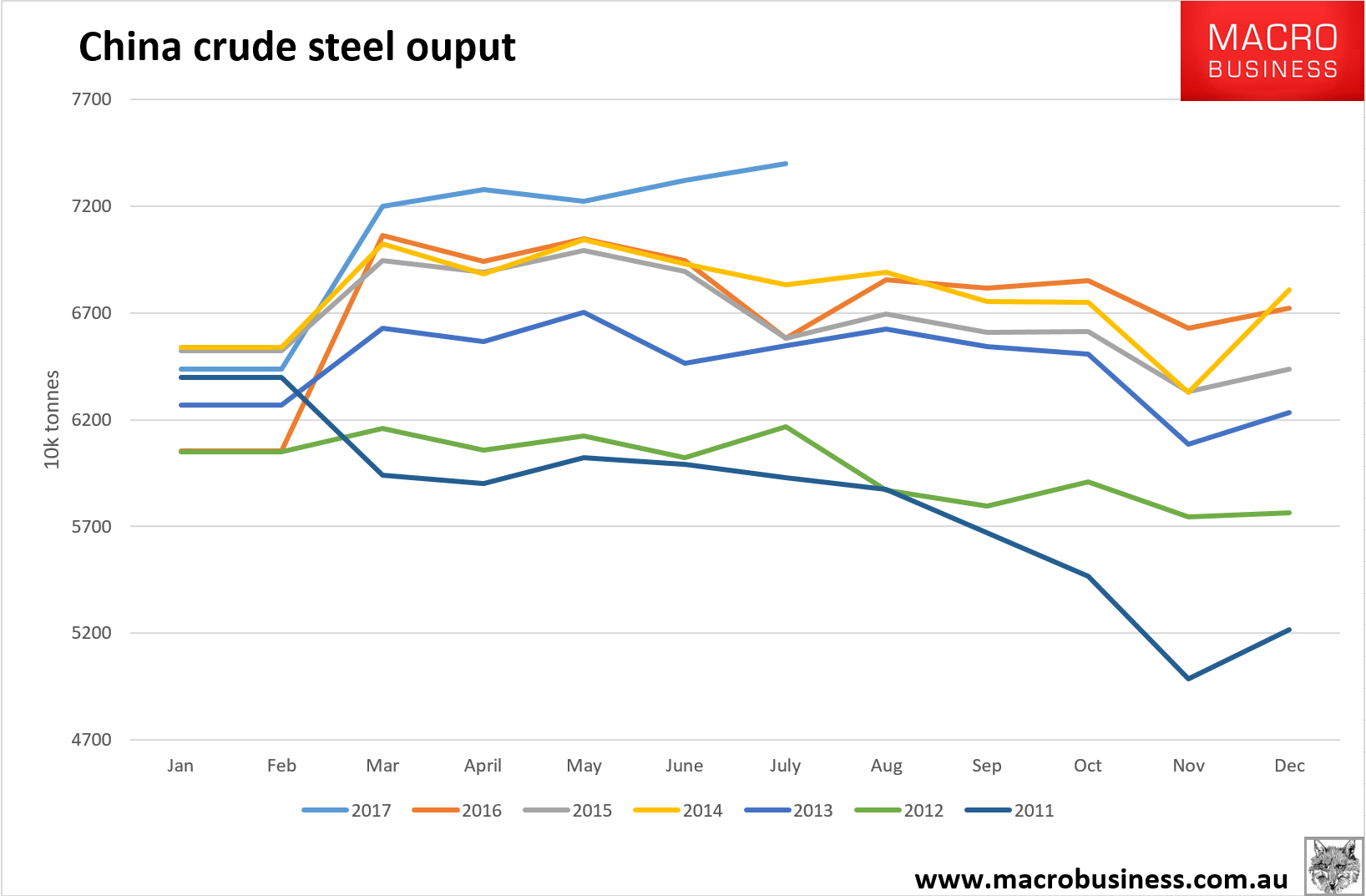 Whereas cement tells us the real story of actual easing construction volumes: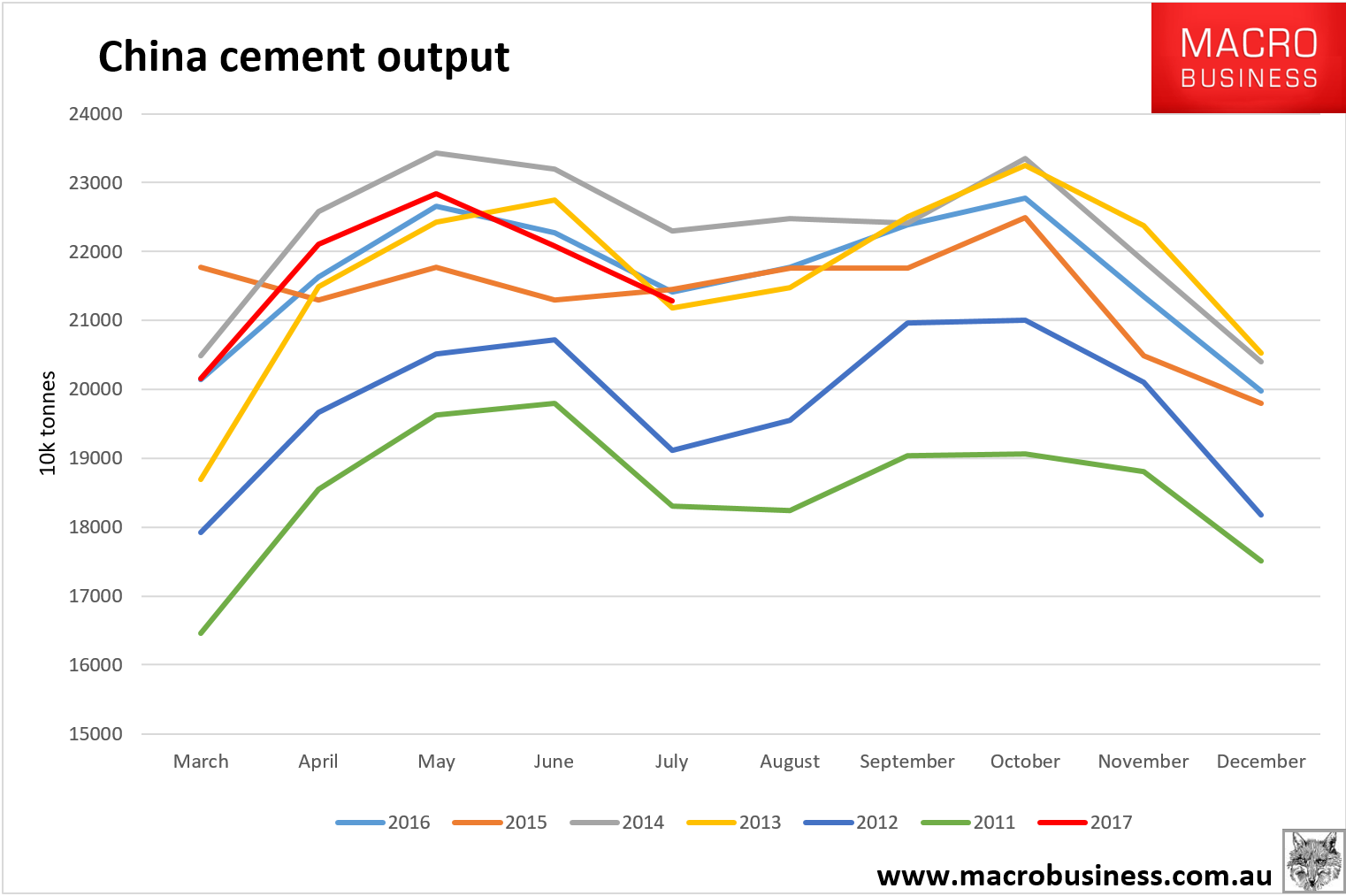 The China slowing is upon us. I expect is to be modest but material by year end. Capital Economics sums it nicely:
The activity and spending data for July all came in below consensus expectations. Industrial production expanded 6.4% y/y last month (the Bloomberg median was 7.1%, our forecast was 7.5%), down from 7.6% in June. The underlying data on the output volumes of individual products provide somewhat mixed signals. On the one hand, growth in electricity and steel output accelerated. But on the other hand, production of consumer goods and most other commodities slowed. Softer foreign demand appears to have played a role, with growth in industrial sales for exports declining from 11.7% y/y to 8.6%.

Meanwhile, fixed investment expanded 8.3% during the first seven months of the year (Bloomberg 8.6%, CE 8.6%), down from 8.6% in the first half. This implies a slowdown from 8.6% in June to 6.8% last month. The slowdown was concentrated in manufacturing, although property and infrastructure investment also softened. Finally, retail sales growth also slowed, from 11.0% y/y to 10.4% (Bloomberg 10.8%, CE 11.0%). Car sales slowed along with sales of products linked to the property cycle including furniture, decorating materials and white goods.

The upshot is that both foreign and domestic demand appear to have softened at the start of Q3. A few sectors, such as steel, seem to have defied this slowdown in economic activity. But the strength in these areas likely won't last given that policy tightening is set to further weigh on infrastructure and property investment in coming months.
Yep.