Here's what the future looks like for any enterprising Australian politician, via the AFR:
Kiwi Prime Minister Bill English looked like a shoo-in for re-election a month ago.

Having taken over from the extraordinarily popular John Key in December, his National Party was polling 47 per cent, with Labour languishing on just 24 per cent. Under New Zealand's mixed member proportional (MMP) electoral system in which majority parties rely on smaller ones for confidence and supply, it looked like the government would barely change.

Then, on July 31, Labour's leader Andrew Little suddenly stepped down to be replaced by 37-year-old Jacinda Ardern. In the first One News Colmar Brunton Poll since she took the reins, Labour's vote has jumped up by staggering 13 points to 37 per cent. Even worse for English, while only 6 per cent of Kiwis wanted Little as prime minister, 30 per cent wanted Ardern.

Despite the National-led government delivering budget surpluses, consistent 3 plus per cent economic growth and a 4.8 per cent unemployment rate, what has been dubbed "Jacindamania" has swept the country. Ardern is swamped by voters whereever she goes. Yet despite her increased lead, in most polls, public and private, between 60 and 65 per cent of those questioned think the country is going in the right direction. For Australians, it looks a lot like Kevin Rudd's 2007 election where voters want more of the same, but maybe run by someone different with a slightly broader social agenda.
True but the swing against the ponzi-growth obsessed government was on well before that and its drivers are very obvious in the rise of the sustainable immigration and house price sensitive platforms of The Greens and NZ First: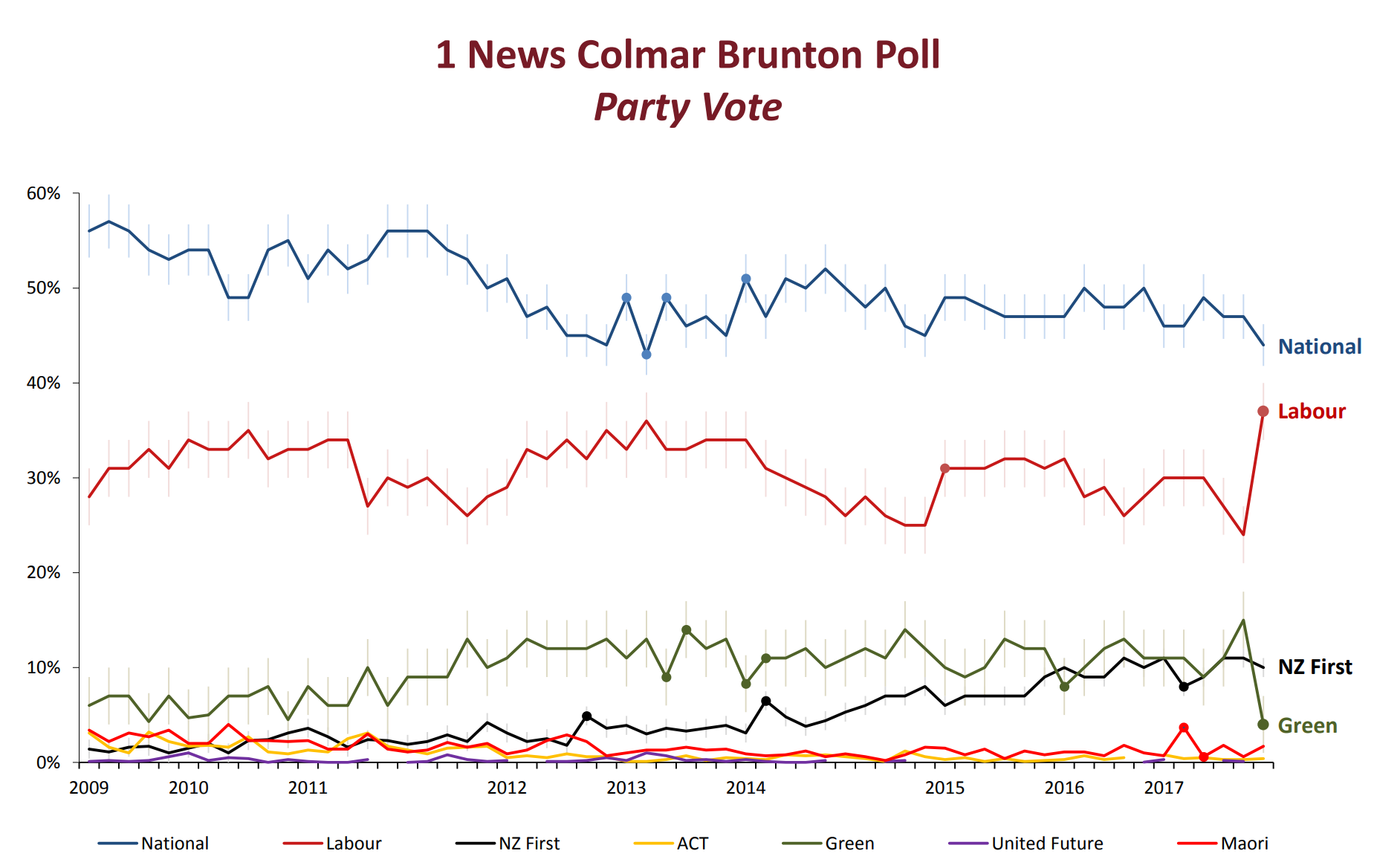 All Jacindamania has done is rally those trends under the Labour banner with the same policies and a charming albeit toothy smile.
The very stupid reigning Nationals, led by the formerly astute immigration/housing sensitive turned stupid Bill English, sound positively barren by comparison, at The Australian:
New Zealand Prime Minister Bill English launched his National Party's campaign for re-election yesterday with a warning that the Labour opposition would destroy nine years of economic success.

Speaking to a crowd of about 2500 in west Auckland four weeks before the September election, Mr English focused on his government's achievements over three terms, saying the Nationals had steered New Zealand through the global financial crisis, devastating earthquakes and spiralling debt.

"Tomorrow morning, compared to five years ago, 60,000 fewer children will wake up in a household dependent on a benefit. And one big reason is because in a strong economy, their parents can get a job," Mr English said.
It ain't over until NZ First chooses a side to rule with but Labour appears the front runner unless the Nationals abandon heir policy platform.
There is NO DOUBT that a respectable face emblazoned upon the same immigration cuts/house price policy agenda would completely wipe the floor in Australia.