Via MB's new best friend, Andrew Bolt:
Michael Lee of the Brighton Savoy sends me the quotes he's got for his hotel's electricity next year:

We are a family owned hotel currently in our 50th year of business.
Just a heads up of electricity prices for business at the coalface.
The Brighton Savoy has an electricity contract in place until 31st December 2017.
Attached is a quotation for 1,2 and 3 year electricity prices
A one year renewal would lead to an increase of $37,845.00 or an increase of 52.50%
A two year renewal would lead to an increase of $63,595.00 or an increase of 44.2%
A three renewal would lead to an increase of $85,796.00 or an increase of 39.3%
These increases are untenable and business is being hit from every angle.

What madness has possessed our politicians that they can do such harm in the name of global warming?
And the usual loon pond:
Australians will die because of high power bills driven by renewable energy, the chair of the Coalition's climate committee is warning.

Liberal backbencher Craig Kelly believes some people cannot afford to heat their homes this winter.

"People will die," he told ABC Radio on Thursday.

Mr Kelly cited recent reports that one-in-four Australian households this winter will be frightened to turn on the heater due to high power prices.

He also said the World Health Organisation has made it clear that winter mortality rates increase if people can't afford to heat their homes.
I won't deny that decarbonisation is playing a role given it is phasing out coal but it is not causing the power price spikes. It's gas that sets the marginal price in the National Electricity Market owing to where it sits in the wholesale electricity market bid stack. See Australian Energy Market Operator description below: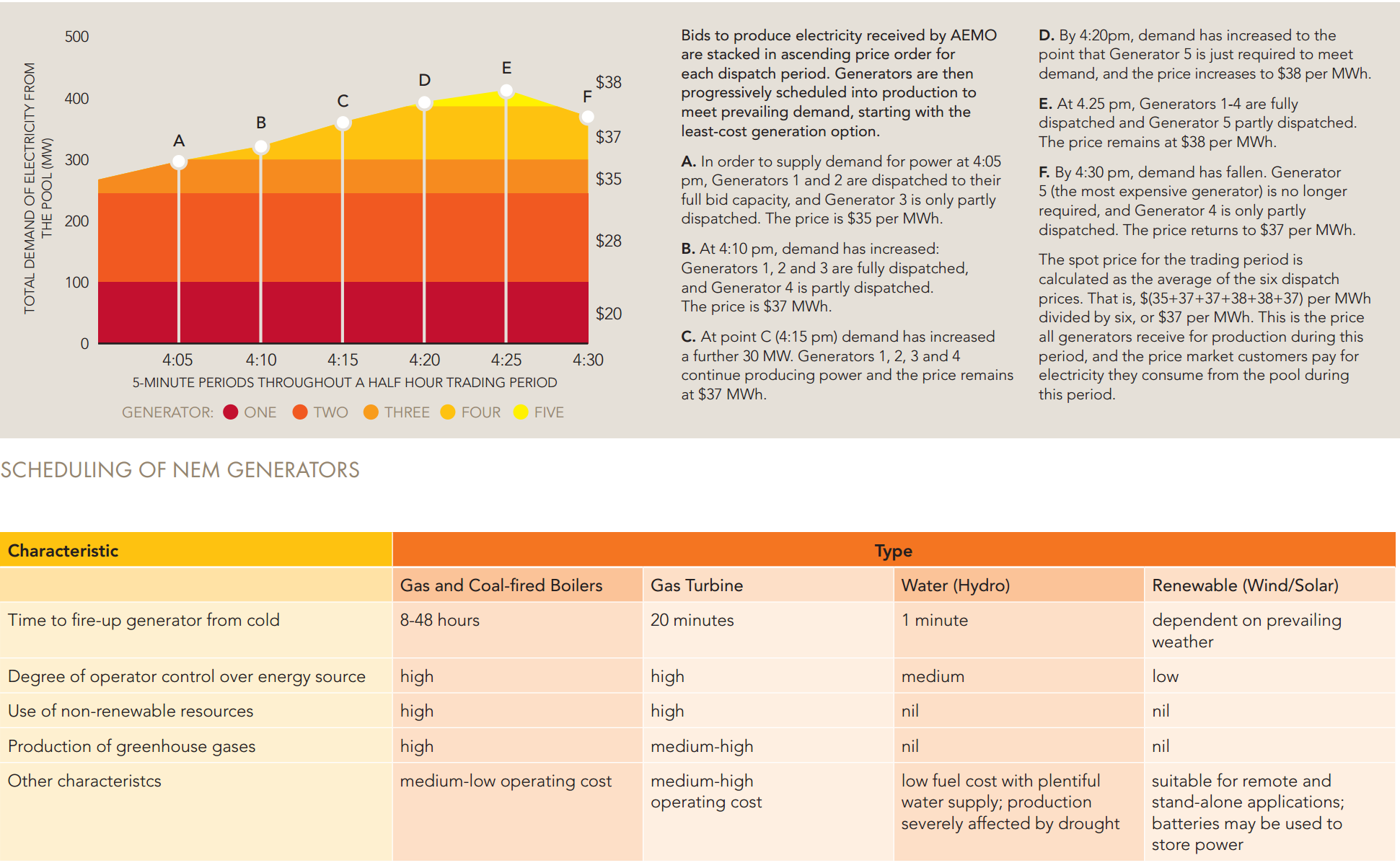 It has been a rough consensus for fifteen years that Australia would undertake decarbonisation via the transitional fuel of gas as a bridge to renewables. However, the price of gas has launched 600% owing to Curtis Island exports and cartel discriminatory pricing and that has doomed the plan. It's not renewables themselves which are quite cheap.
The only way to reduce power bills short term is to force the price of gas lower using draconian anti-monopoly regulation. Sadly the government has cocked that up by failing to install a gas reservation mechanism wide enough, deep enough and quickly enough to make any short term difference. The gas price is a national crisis, even the government declared it so, yet it has been treated in policy terms like a Sunday stroll.
Alas, we now appear destined to stumble into the worse case scenario. Demand destruction will be the key to adjustment ahead.
I just hope that we get some kind of effective cartel-busting mechanism operational in the medium term. Otherwise as local gas consumption falls the cartel will raise prices even further to offset volume losses.