Yesterday Domainfax reported:
Four out of five businesses advertising Australian jobs on Chinese, Korean and Spanish language websites are offering illegal pay rates as low as $4.20 per hour, a new audit has found.

Two separate audits conducted this year and last year found 78 per cent of 200 job advertisements examined were offering pay rates below minimum award rates.

All of the Chinese and Korean advertisements were for jobs in NSW, mostly in Sydney. The Spanish advertisements for were for jobs around the country.

The audit conducted by Unions NSW identified widespread migrant exploitation and alleged wage theft, particularly in the hospitality industry.

…Mr Morey said migrant workers often knew they were being ripped off, but lacked the confidence, language skills and support to stand up for their rights. Their visa or residency status was often used to threatened them against complaining about underpayment and exploitation.

"This is wage theft on a massive scale. And it's being perpetrated against people ill-equipped to fight back," Mr Morey said.
More today:
Popular Melbourne restaurant Dainty Sichuan allegedly paid employees $10 an hour while they worked 10 hour-plus shifts, seven days a week.

The Fair Work Ombudsman has commenced legal action in the Federal Circuit Court against the companies behind Tina's Noodle Kitchen in Box Hill and Dainty Sichuan, on Swanston Street in the CBD, for the alleged underpayments.

The restaurants allegedly underpaid their staff almost $31,000 in just a two-week period.

The allegations have the potential to embarrass lord mayor Robert Doyle with the restaurant a major donor to his successful reelection campaign.
This is a scam being perpetrated on all Australian workers. Each one of the enslaved foreigners displaces an Australian worker at award rates. The downwards pressure this places on wages growth is obvious.
While low wage growth is a result of a suite of issues – falling national income, automation, weak unions – you'd have be economically obtuse to not recognise that a flood of cheap foreign supply is not a key driver: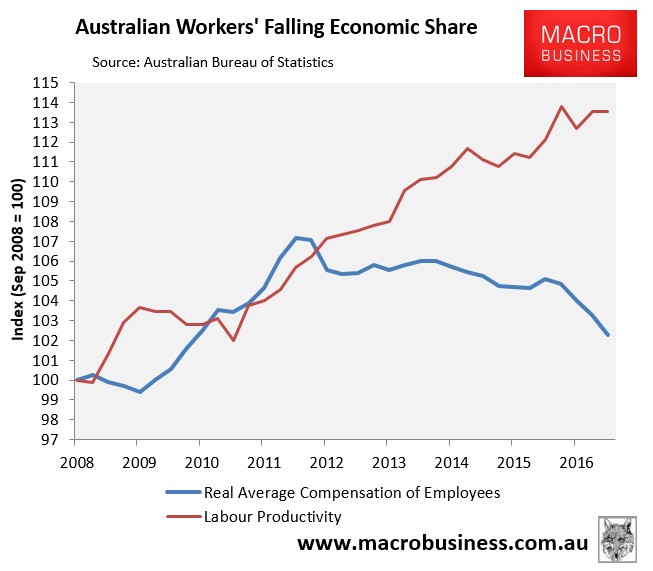 For anyone monitoring the trends daily, it has become obvious that across an entire range of sectors, particularly services, visa rorting has become central to profits.
Late last year, the Australian Population Research Institute (APRI) released an alarming new report entitled "Immigration overflow: why it matters", which examined the widespread rorting of Australia's visa system, as well as the crushing impact of Australia's high permanent immigration program on Sydney and Melbourne.
One of the findings from this report was "the high and increasing numbers of IT professionals being granted 457 visas", which "constitute by far the largest occupation group within the 457 program":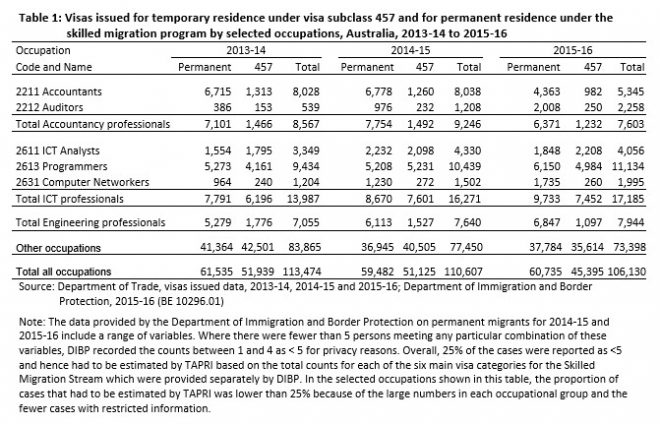 The APRI claimed that most IT professionals being granted 457 visas are Indian nationals who are sponsored by Indian IT service companies. These companies have been successful in winning a major chunk of Australia's IT consulting work on the basis of these 457 visa holders, partly because they are paying them much lower salaries than the market rate for IT professionals in Australia:
As Table 2 shows, some 76 per cent of the 7,542 457 visas issued in the three IT occupations listed were to Indian nationals. The great majority of these were sponsored by Indian IT service companies as intra-company transferees…

Once in Australia their staff are being paid at much lower rates than experienced resident IT professionals and in some cases even new local graduates.

Even more disturbing is the relatively high proportion of these Indian IT professionals (28 per cent) whose 457 visas were approved at the extremely low base salary of $53,900 or less. This is despite the fact that only eight per cent of the 457 visas granted to Indians in the two ICT occupations in 2014-15 were aged less than 25.

The median starting salary for local ICT graduates under the age of 25 is around $54,000. Coincidentally, the 457 minimum salary 'floor' is set at $53,900…
The report also noted how the biggest sources of skilled permanent migrants – engineers, accountants and IT professionals – are also the areas with the biggest surplus of workers: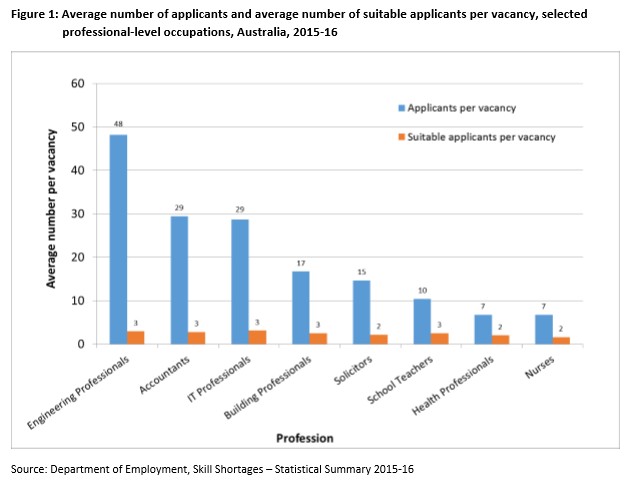 Thus, the overall immigration system is destroying career prospects for local graduates in these (and other) areas.
Adele Ferguson recently penned another troubling piece on the "rampant" exploitation of foreign workers and visa fraud in Australia:
Extortion, blackmail, cash back scams and slavery are happening every day under our noses. They happen in the most unsuspecting places such as suburban restaurants and nail bars. Most suffer in silence.

In some cases unscrupulous employers offer sponsorships to desperate foreign workers in return for payment. In other cases they lure unsuspecting workers into a job with the promise of sponsorship, then they turn on the blackmail dial.

The price of visas can vary from $30,000 to $150,000 depending on the visa, the job on offer and the worker's nationality. For companies engaging in this illegal practice, the scheme offers big bucks…

If workers complain, their sponsorship is likely to be cancelled, inevitably leading to deportation unless a new sponsor can be lined up. Finding a legitimate sponsor isn't easy and there are no protections for workers who are exploited.
What this says is that running mass immigration into an economy with surplus capacity is triggering a whole range of unhealthy adjustments across the economy. There are now entire business lines, firms and sectors whose business models rely entirely on the systematic undermining of wages and, worse, running virtual slave labour. We have seen this in pizzas, convenience stores, agriculture, building, mining, accounting, IT, engineering, education, transport, the gig economy and no doubt it is even more widespread.
Also from Domainfax today comes one answer:
But for those who care about a holistic economy, where the needs of workers and the desires of employers are in balance, we may have some good news around the corner.

A spokesperson for the Australian Council of Trade Unions says that in the past six months, the phones have been running hot. The call centre has had a 25 per cent increase in people making inquiries to join and a near 40 per cent increase in new members who join through the ACTU, from 541 to 753 for the same period.

People clearly want to know how to join a union perhaps persuaded by the team of president Ged Kearney and new secretary Sally McManus. (You could blame this on local union organisations but just remember it's harder to organise when there are fewer members.)

"This shows both a large increase in interest and a large increase in follow through that we attribute to increased campaigning, better join processes and a clear value proposition for people to join," he says.
The problem is there's not a lot of evidence that unions give two hoots about the great immigration scam. Sure they pop up now and again with a few squeaks but given the scale of the rort they ought to be marching in the streets.
My guess is the unions don't care for three reasons.
First, the services economy is the least unionised. Unions are turf warriors par excellence so as long as their own members aren't being overly rorted then it's business as usual.
Second, the most heavily unionised sectors of the economy are those that are benefiting most from the great immigration scam. Think increased public sector employment, building infrastructure and dwellings, education boom etc. The people ponzi grows these sectors more than others, from Greg Jericho:
Third, the unions' direct parliamentary representation, the Labor party, is if anything the strongest champion of the mass immigration scam in the Parliament. So for unions to protest, they'd be in direct conflict with their vertical market monopoly.
The union movement has also disintegrated into sectional interests and forgotten what class war really is.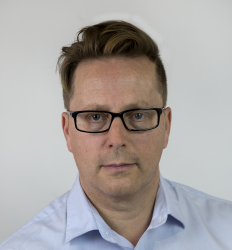 Latest posts by Houses and Holes
(see all)