Via Domainfax:
Opposition Leader Bill Shorten's recently claimed that inequality has reached a 75-year high prompting Mr Morrison to accuse the opposition of pedalling a "lie".

Dr Lowe told a charity lunch in Sydney organised by Australian Business Economists that inequality "grew quite a lot in the 1980s and the 1990s and it has risen a little bit just recently".

"It has become more pronounced in the past few years because of the of the rise in assets prices and people that own those assets have seen their wealth go up," he said.

He then noted that the trend could present challenges for government.

"If you have rising inequality it may be harder to get policies of the middle ground, so that is a political aspect."

Mr Shorten is preparing to unveil new tax changes at Labor's NSW state conference this weekend – including a possible crackdown on family trusts and other forms of tax minimisation that benefit the wealthy – after declaring inequality to be the party's defining mission going into the next election.

Mr Lowe made his comments in a Q&A session following his speech on the labour market and monetary policy where he attempted to hose down talk of a hike in interest rates, saying Australia won't be blindly following central banks overseas.
Quite right, as MB noted, we know from the Australian Census that home ownership rates have collapsed among younger cohorts, while remaining steady (or increasing) for older cohorts: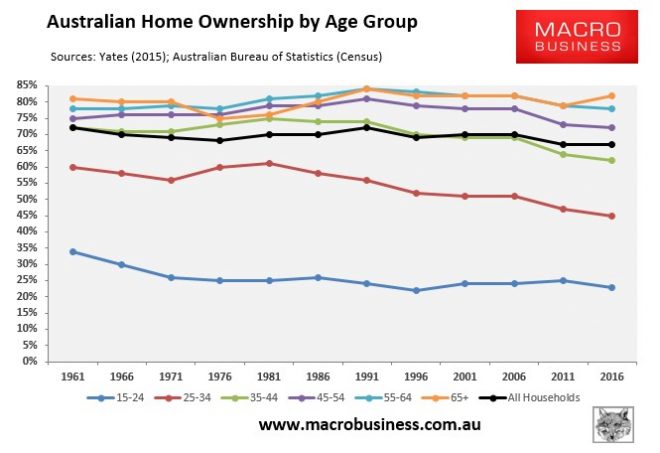 We also know from the Grattan Institute's research that the wealth of older generations has soared, due primarily to the surge of house values, whereas the wealth of younger generations has stagnated: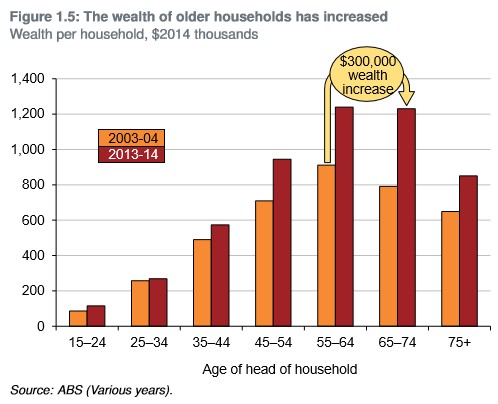 When one considers income and wealth side-by-side, Labor's focus on inequality is entirely justified.
The solution is to cut skilled immigration, do tax reform like negative gearing, as well as a wider productivity push to shift more of the post-mining boom adjustment off wages and onto capital. That will trigger big falls in the dollar and share the load of the great deflation much more fairly.