Back in April, New Zealand's National Government announced modest "tweaks" to the country's immigration program, which including a $48,000 income threshold for a skilled migrant, as well as only allowing employers to tap lower-skilled migrants for three years, with these people facing an annual review of their visas.
The announcement of immigration curbs came after the Labour opposition took aim at New Zealand's mass immigration program, which it claimed is choking housing, infrastructure and public services in Auckland, and undercutting working conditions, as well as similar concerns raised by New Zealand First.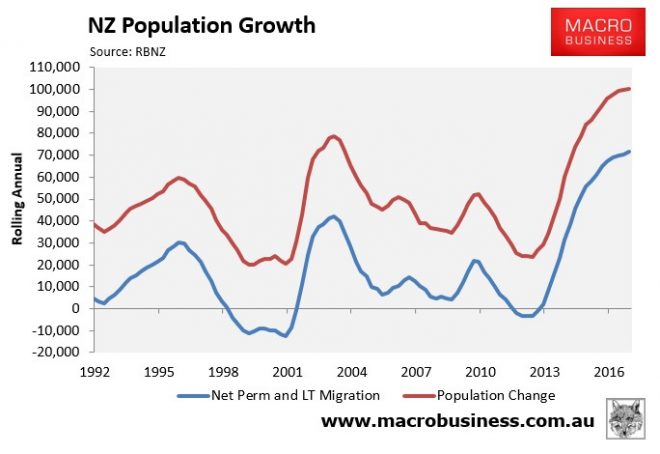 The Salvation Army, the Treasury, the RBNZ, and former RBNZ special adviser Mike Reddell had also raised concern that New Zealand's immigration program does not take sufficient account of whether their are genuine labour shortages, and may be depriving incumbent residents of employment opportunities.
Earlier this week, it was flagged that National would water down its announced immigration 'tweaks', and yesterday it delivered on its promise. From Interest.co.nz:
The Government's revealed details of its partial back-down on tougher temporary work visa conditions originally announced in April.

The main changes include creation of a new 'mid-skilled' category and reduction in the bottom limit remuneration for this category to $41,538 a year, instead of $48,859 as originally proposed.

The original proposals attracted a lot of negative feedback from employers…

Immigration Minister Michael Woodhouse said on Thursday he wanted to "reassure employers that the changes announced today are not designed to reduce the number of migrants coming in on temporary work visas".

"Employers will continue to be able to employ migrant workers where there are genuine labour or skill shortages. However, these changes will help provide clarity around the conditions under which temporary migrants come here."
The pay floor of $41,538 for 'mid-skilled' migrant workers is appallingly low, given the average full-time salary in New Zealand was $60,300 as at March 2017, which of course includes both skilled and unskilled workers. Obviously, providing a pay floor that is 31% below the national average will continue to incentivise employers to hire cheap foreign labour over locals, thus New Zealand's visa system will continue to undermine the pay and working conditions of locals.