Things are heating-up over the pond, with the Reserve Bank of New Zealand (RBNZ) seemingly at war with the National Government over excessive immigration.
It all began last week when RBNZ Deputy Governor, Grant Spencer, gave an excellent speech examining the growing imbalances in the New Zealand housing market, which included advice to reduce New Zealand's immigration intake:
We estimate the shortage of houses in Auckland has increased over the past year and may now be in the order of 20,000-30,000 houses. Furthermore, the overall housing shortfall is expected to increase further as supply is growing more slowly than demand.

…we cannot ignore that the 160,000 net inflow of permanent and long-term migrants over the last 3 years has generated an unprecedented increase in the population and a significant boost to housing demand. Given the strong influence of departing and returning New Zealanders in the total numbers, it will never be possible to fine-tune the overall level of migration or smooth out the migration cycle. However, there may be merit in reviewing whether migration policy is securing the number and composition of skills intended. While any adjustments would operate at the margin, they could over time help to moderate the housing market imbalance…
RBNZ Deputy Governor Spencer then upped the ante in subsequent radio interviews, calling for a full scale review of migration settings. From Interest.co.nz:
[Spencer] significantly extended the speech's two-sentence suggestion for a review of migration settings into a full call for a review.

"Given it's an important driver, we should be taking a look at that policy — making sure we're getting the numbers and skills that Government's really targeting," Spencer told Guyon Espiner when asked about migration on Friday.

"I think it needs to be reviewed. We're running at a rate of 60,000 (per year) at present. But how many years can we continue running at a rate of 60,000 and continue to absorb that rate? It gets more and more difficult when the country doesn't have that absorbtive capacity," he said…

Later on in the day Spencer repeated the call for a migration review in even stronger terms when talking to NBR Radio.

"We think at the end of the day the physical imbalance needs to be addressed, and that's about building more houses and potentially looking at migration, in the sense that I don't think the country can sustain the rate of immigration – 60,000 plus per annum for a large number of years — so that's the essence of it," Spencer said in the NBR Radio interview.
Blind Freddy can see that New Zealand's immigration intake is far too high – running at nearly 70,000 annually – and is the key driver of New Zealand's record population growth: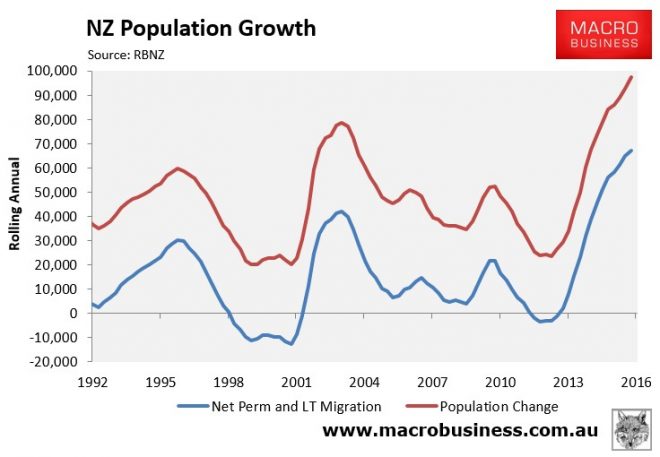 Worse, the New Zealand Treasury's recent briefing papers revealed that an increasing share of New Zealand's record intake of non-New Zealand migrants are increasingly low skilled and could be lowering the nation's productivity and GDP per capita (see here for my analysis).
Treasury's concerns are best summarised in the below chart, which shows that a "significant proportion" of the 21,000 migrants granted residency under the Skilled Migrant Category (SMC) in 2014-15 now work in low wage occupations. The recent trends also show a "relative decline" in the skill levels of these migrants, with almost 40% of SMC migrants former international students.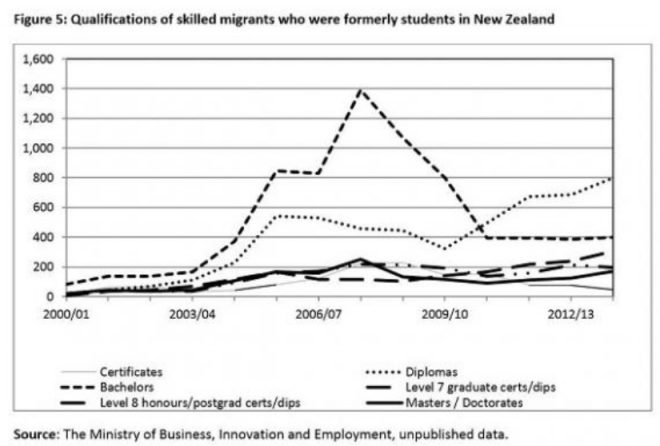 International diploma-level students granted residency has more than doubled since 2008, whereas the number with bachelor degrees has fallen by around two-thirds.
Moreover, the primary motivation for international students going to New Zealand has increasingly become residency, not education.
In short, New Zealand is running a ponzi economy based on quantitative drivers of growth, such a low quality immigration and housing – rather than quality drivers of growth. In turn, it is lowering the present and future living standards of New Zealanders via adverse economic and environmental consequences.
As noted by Kerry McDonald recently:
The critical criterion for policy is impact on the living standards of New Zealand residents. The impact on the immigrants is irrelevant. But, the political view is a simple and misleading "quantity" based one – more immigrants means population growth and more jobs, houses and infrastructure spending, so GDP increases. This suggests a strong, well-managed economy – which is a nonsense in New Zealand's case with an export dependent economy.

In terms of national benefit the "per capita" impact is the important one. Unless immigrants increase New Zealand's exports and foreign exchange earnings and savings per capita, or bring particularly valuable skills to the economy, they simply impose substantial additional costs on and reduce the living standards of New Zealand residents…

[Auckland's] population growth is increasing the negatives: more spending on infrastructure and government services; more agricultural land for housing; a less attractive living environment for existing residents; more demand for urban water use at the expense of more productive uses; greater population pressure on the environment generally; and an increasing dependence on the rest of New Zealand to subsidise it's weak export performance – which reduces the living standards of everyone else.
Yet, despite the growing backlash from the RBNZ, the Treasury, and others, the National Government is maintaining a tin ear, refusing to make changes to immigration policy.
Here's Prime Minister John Key:
"We don't just let anyone come," Key said.

He said overseas students and those on working holidays were renting rather than buying houses.

"The single biggest changes are Kiwis either not leaving, or returning, or Aussies coming over. It's actually a sign of success in the economy," he said.

Key said skilled migrants "make the waka go faster" in areas where they were needed.
And here's Finance Minister Bill English:
"We're always looking at the tax system and immigration, and there's been a number of changes in those areas. The Reserve Bank may not be familiar with those," English said.

He would not agree to a migration review.

"No, we're not committing to doing that, and the Reserve Bank does not have a detailed understanding of how the tax system or the migration system works," he said.

Asked, therefore, if the Reserve Bank was wrong, English said: "They're putting a view of theirs out, but they're not in the policy-making process, and so there's adjustment going on in those areas continuously."
Righto, so the RBNZ, Treasury and others are wrong to be concerned about New Zealand's unprecedented immigration intake? I think not.
Expect this debate to heat up as Auckland comes under more pressure and overall living standards are squeezed even further.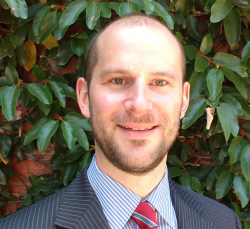 Latest posts by Unconventional Economist
(see all)