Via NABFX:
Until we see that ingrained US dollar bearishness has run its course, at least for now, then setbacks for AUD/USD are likely to be shallow and a move to above 80 cents hard to argue against with any conviction.

….We'd also note that while AUD/USD is now looking rich to our short term fair value (STFV) model estimate (0.7910 vs. 0.7690 STFV) this is inside the model's ' fair value range.  Typically, reliable buy/sell signals only emerge when AUD/USD is about 4 cents away from STFV.," NAB adds.

"We maintain our 0.70 year-end /early 2018 forecasts for AUD/USD while acknowledging that the level from which we still expect a 5-6 cent fall into year-end is currently several cents higher than when we made the forecast.
Quite right. Here's how I capture those two forces: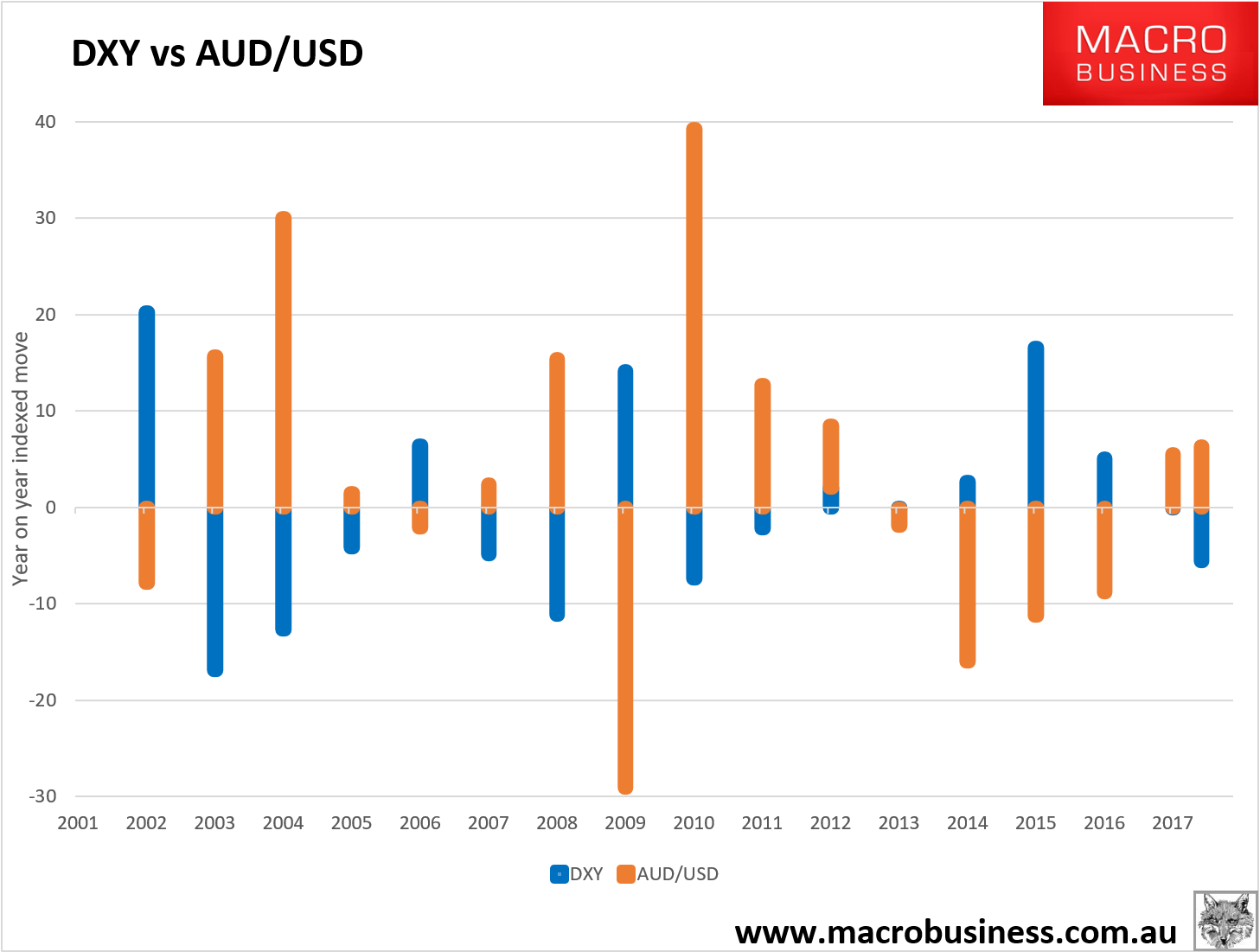 Right now the Aussie is under the influence of rising local forces (Chinese and commodity bullishness) and falling USD pressures (repricing Fed hikes, policy convergence with Europe). I still it rising into the low 80s.
However, I also see the AUD specific forces coming off through Q4 and and USD specific forces a little later as the oil dip passes, freeing up the Fed.
Plus, in my view, the Aussie will keep falling next year as China returns to reform.
Thus now remains a great time to get money into offshore assets.
————————————————————————————————
Disclosure: I'm the strategist for the Macrobusiness Fund which is currently overweight international stocks. We also run an international equities fund. Both of these will benefit from a falling Australian dollar so I am definitely talking my own book.
Register your interest in the fund and we'll be touch.