Jessica Irvine yesterday penned another shameless mass immigration spruik, entitled "Why I love a Big Australia, and you should too", which yet again missed by a wide margin. From The SMH:
…many countries around the world would like to have the population problem we have, as the demographic timebomb that is ageing populations begins its slow detonation. Japan is its most visible casualty, shrinking by 1.3 million people over the past six years.

Australia may still be growing, but we're ageing rapidly too. Between the 1996 census and last year's, the percentage of the population aged 14 and under shrank from 21.4 per cent to 18.9 per cent. Meanwhile, the share of the population aged 65-plus has risen from 12 per cent to 15.2 per cent.

As a result, the median age of Australians has risen from 34 years to 37.3 years.

As this population ageing continues, the federal budget is about to take a body blow, as fewer working aged people are available to do the work to pay the taxes to fund the growing bills of the elderly.

Migrants, tending to be younger, are like a fresh inflow of water into a stagnant tributary. They help rejuvenate us as a nation.

And they also bring valuable skills.

Of course, there is always the attendant fear that migrants will take our jobs, and hurt our wages.

In simplistic theory, an influx of new workers should reduce the bargaining power of existing workers, making labour less scarce and making it harder for them to push for pay rises.

But in the latest issue of the Australian Economic Society's Economic Record journal, three academics from the Crawford School of Public Policy, Robert Breunig, Nathan Deutscher and Hang Thi To look at the impact of migration and the labour market outcomes of Australian-born workers, and those who have lived here for more than five years.

The evidence confirms Australia's migrant intake – unlike that of the US or Britain – is highly targeted to fill skills gaps or to perform work that Australians seem reluctant to do, like fruit picking, nursing or mining.

They find no evidence that migrant workers result in negative outcomes for Australian-born workers, either in terms of unemployment or wages growth.
Yet again, Jessica Irvine has recycled the myth that Australia can prevent a "demographic timebomb" by continually importing younger people via mass immigration. However, as outlined dozens of time on this site (but ignored by spruikers like Irvine), this myth has been debunked over and over again by the Productivity Commission (PC). For example:
PC (2005): "

Despite

popular thinking to the contrary, immigration policy is also not a feasible countermeasure [to an ageing population]. It affects population numbers more than the age structure".
PC (2010): "Realistic changes in migration levels also make little difference to the age structure of the population in the future, with any effect being temporary"…
PC (2011): "…substantial increases in the level of net overseas migration would have only modest effects on population ageing and the impacts would be temporary, since immigrants themselves age… It follows that, rather than seeking to mitigate the ageing of the population, policy should seek to influence the potential economic and other impacts"…
PC (2016): "[Immigration] delays rather than eliminates population ageing. In the long term, underlying trends in life expectancy mean that permanent immigrants (as they age) will themselves add to the proportion of the population aged 65 and over".
Who would have guessed: trying to overcome an ageing population through higher immigration is a Ponzi scheme?  It requires ever more immigration, with the associated negative impacts on economic and social infrastructure, congestion, housing affordability, and the environment.
This brings me to Irvine's next faulty claim that Japan is the demographic timebomb's "most visible casualty, shrinking by 1.3 million people over the past six years".
It is true that Japan's population has fallen over the past six years, as it has in several other OECD economies: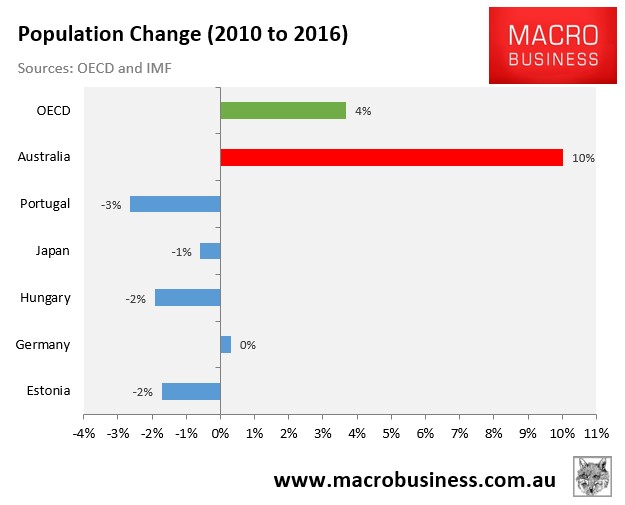 Importantly, however, Japan's economic growth has matched Australia's when measured in per capita terms, whereas Australia's per capita GDP growth has actually underperformed the OECD average over the six year period quoted by Irvine: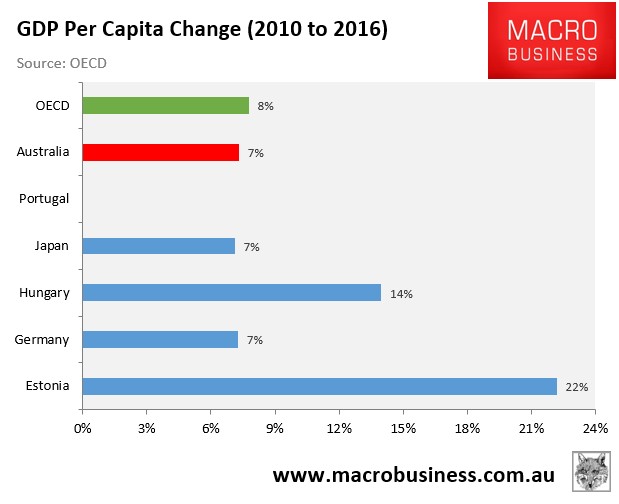 Taking the data further back to 2003, which is when Australia's migrant intake accelerated sharply (and also captures the mining boom), also paints a lacklustre picture of the Australian economy. As shown in the next chart, Australia's population has surged by a whopping 21.5% over this time period – roughly 2.5 times the OECD average: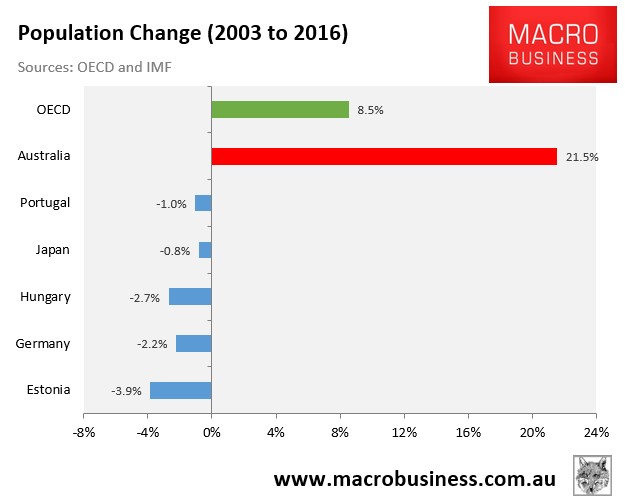 And yet Australia's growth in per capita GDP has barely beat the OECD average, and has actually underperformed most economies whose populations shrank: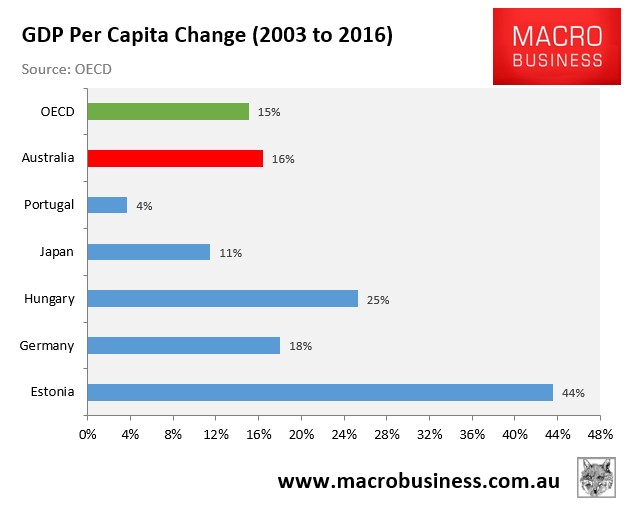 Clearly, the suggestion that Australia needs mass immigration to stop the "demographic timebomb" from detonating is not borne out by the data when the economy is measured in per capita terms.
Indeed, economists at MIT recently found that there is absolutely no relationship between population ageing and economic decline. To the contrary, population aging seems to have been associated with improvements in GDP per capita, thanks to increased automation:
If anything, countries experiencing more rapid aging have grown more in recent decades… we show that since the early 1990s or 2000s, the periods commonly viewed as the beginning of the adverse effects of aging in much of the advanced world, there is no negative association between aging and lower GDP per capita… on the contrary, the relationship is significantly positive in many specifications.
So what is the problem that Irvine is trying to solve via mass immigration? When you add negative externalities, such as increased congestion in our major cities, the need for expensive new infrastructure to be built (paid for largely by the incumbent residents), smaller and more expensive housing, as well as damage to Australia's natural environment, then it is clear that mass immigration is not improving living standards as measured by per capita GDP, and is wrecking living standards once broader impacts are taken into account.
Irvine's next assertion that migrants "bring valuable skills" and that "Australia's migrant intake – unlike that of the US or Britain – is highly targeted to fill skills gaps or to perform work that Australians seem reluctant to do, like fruit picking, nursing or mining" is also not backed up by evidence.
The PC's recent Migrant Intake Australia report explicitly stated that around half of the skilled steam includes the family members of skilled migrants, with around 70% of Australia's total permanent migrant intake not actually 'skilled':
…within the skill stream, about half of the visas granted were for 'secondary applicants' — partners (who may or may not be skilled) and dependent children… Therefore, while the skill stream has increased relative to the family stream, family immigrants from the skill and family stream still make up about 70 per cent of the Migration Programme (figure 2.8)…

Primary applicants tend to have a better fiscal outcome than secondary applicants — the current system does not consider the age or skills of secondary applicants as part of the criteria for granting permanent skill visas…
The PC also showed that while primary skilled migrants have marginally better labour market outcomes than the Australian born population in terms of median incomes, labour force participation, and unemployment rates, secondary skilled visas, and indeed all other forms of migrants, have much worse outcomes: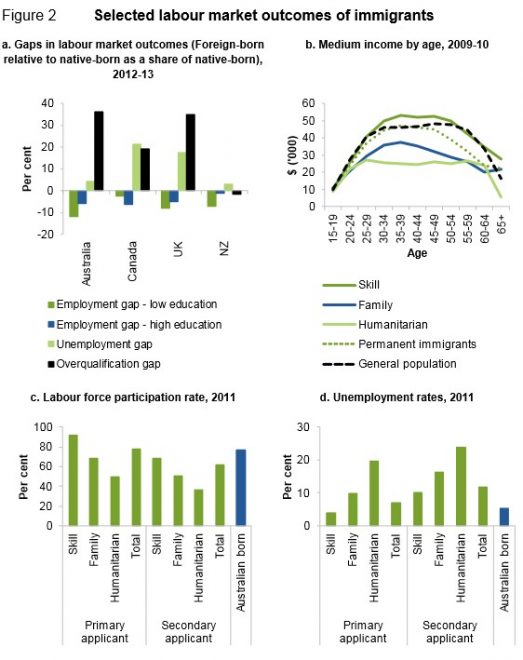 The Australian Bureau of Statistics (ABS) latest Characteristics of Recent Migrants report, released last month, also revealed that migrants have generally worse labour market outcomes than the Australian born population, with recent migrants and temporary residents having an unemployment rate of 7.4% versus 5.4% for the Australian born population, and lower labour force participation (69.8%) than the Australian born population (70.2%):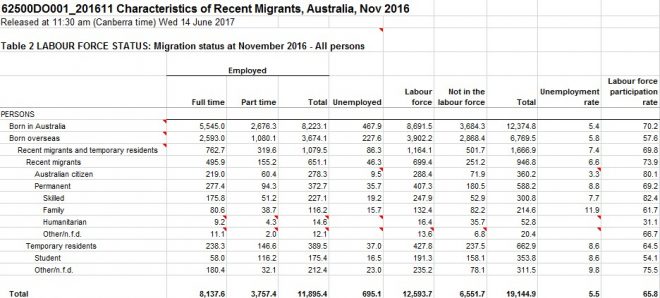 Finally, Irvine's claim that mass immigration does not lower incumbent workers' wages growth does not pass the laugh test.
Throughout the mining boom, business groups lobbied to increase immigration (both temporary and permanent) to alleviate labour shortages and prevent a wages/inflation break-out. And yet now that the mining boom has finished (and there substantial labour underutilisation), we are somehow supposed to believe that continually importing workers does not place downward pressure on wages? Get real.
As I noted when the ANU academics' 'research' was initially released:
"..the ANU academics have a bias towards immigration, given they noted the 'benefits' of "cultural and culinary diversity, innovation and creativity", without also acknowledging the negative externalities from immigration, such as increased traffic congestion, reduced housing affordability, and environmental degradation. This is hardly surprising, given the ANU is a factory for foreign students.

Their modelling also has a clear short-coming in that it only examined labour market outcomes during a period of "robust economic growth", rather than the situation we have now where immigration remains strong".
Instead of trusting their modelling, I prefer to go with the PC, which has studied the economic impacts of immigration for well over a decade, and can rightfully be considered an 'independent umpire' on the issue.
On the specific issue of whether immigration lowers incumbent workers' wages, the PC's view is clear. In 2006, the PC completed a major study on the Economic Impacts of Migration and Population Growth, which modelled the impact of a 50% increase in the level of skilled migration over the 20 years to 2024-25 and found that the benefits from increasing skilled migration accrue to the migrants themselves and wealthy capital owners, whereas existing resident workers are made worse-off. Here's the money quote:
The increase in labour supply causes the labour / capita ratio to rise and the terms of trade to fall. This generates a negative deviation in the average real wage. By 2025 the deviation in the real wage is –1.7 per cent…

Broadly, incumbent workers lose from the policy, while incumbent capital owners gain. At a 5 per cent discount rate, the net present value of per capita incumbent wage income losses over the period 2005 – 2025 is $1,775. The net present value of per capita incumbent capital income gains is $1,953 per capita…

Owners of capital in the sectors experiencing the largest output gains will, in general, experience the largest gains in capital income. Also, the distribution of capital income is quite concentrated: the capital owned by the wealthiest 10 per cent of the Australian population represents approximately 45 per cent of all household net wealth…
In a similar vein, the PC's most recent modelling found that labour productivity is forecast to decrease under current immigration settings, as are real wages, versus a zero net overseas migration (NOM) baseline:
Compared to the business-as-usual case, labour productivity is projected to be higher under the hypothetical zero NOM case — by around 2 per cent by 2060 (figure 10.5, panel b). The higher labour productivity is reflected in higher real wage receipts by the workforce in the zero NOM case.

Anyway, let's forget the modelling and think logically for a moment. The whole purpose of 'skilled' visas is to suppress wages growth by allowing employers to recruit from a global pool of labour to compete with Australian workers.
When demand for workers rises, employers would normally need to bid against each other for the available scarce talent, thus biding-up wages. However, the ability to bring in a migrant under the auspices of "skills shortages" obviously breaks this nexus. We don't need some bullshit economic model from the ANU (a factory for foreign students) to tell us otherwise – it's common sense.
Perhaps the final word on Jessica Irvine's latest dross should go to reader "Susan", who wrote the following comment under Irvine's article:
"Not sure why you regularly complain about high house prices when you want a big Australia. Big Australia means big Sydney and Melbourne and minor growth outside of those 2 cities".
Touche!