The release yesterday of the ABS population data for the 2016 Calendar year revealed some inconvenient truths for the Victorian economy.
This data showed that Victoria's population surged by an Australian record 146,628 people in the 2016 calendar year, representing a population growth rate of 2.40%: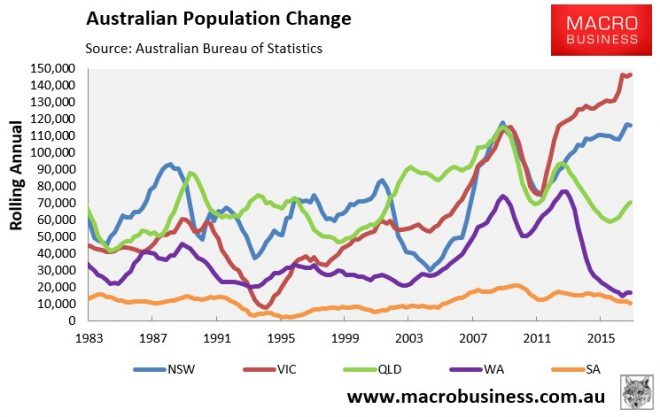 The State Government has been at pains to emphasis that the Victorian economy is the strongest in the nation, driving the nation's jobs growth: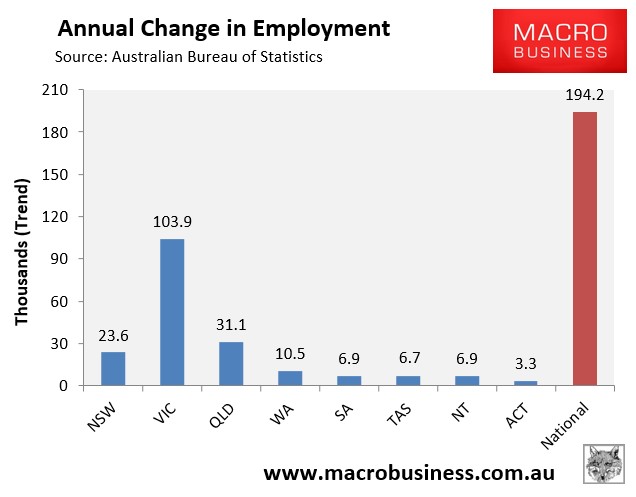 As well as the strongest growth in Final Demand out of all the states: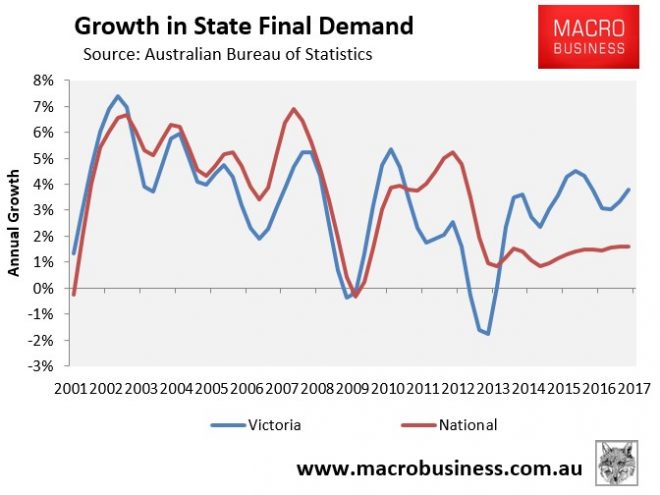 Scrape under the surface, however, and what is revealed is a ponzi economy that is failing to lift the living standards of the incumbent population.
The annual state accounts, current to June 2016, revealed that since the onset of the Global Financial Crisis (GFC) in 2008, per capita gross state product (GSP) in Victoria had risen by a pathetic 0.8%: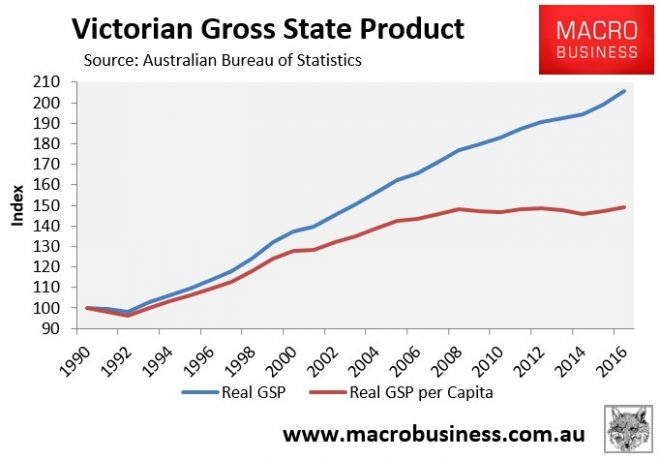 Worse, Victoria has experienced the lowest increase in per capita GSP in the nation since the GFC: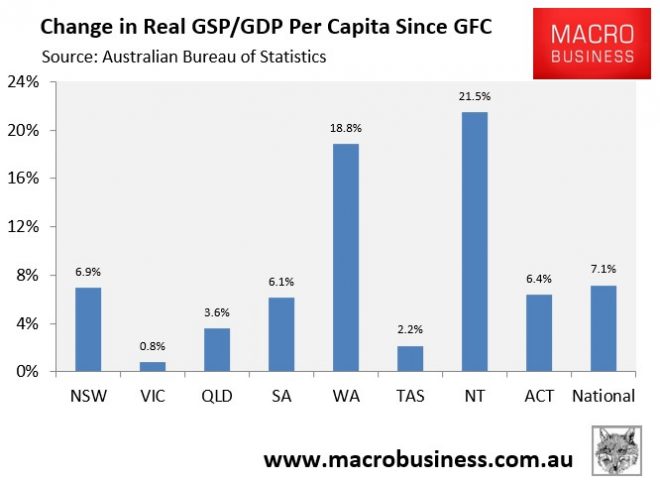 Victoria also has the lowest per capita gross disposable income on the mainland, only beating out lowly Tasmania: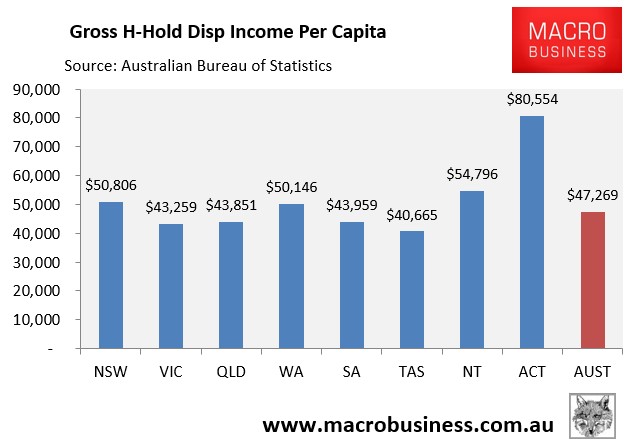 The most recent data also shows that on an individual basis, Victorians are not enjoying increases in their material living standards.
State final demand per capita has barely risen since the GFC, despite robust aggregate growth: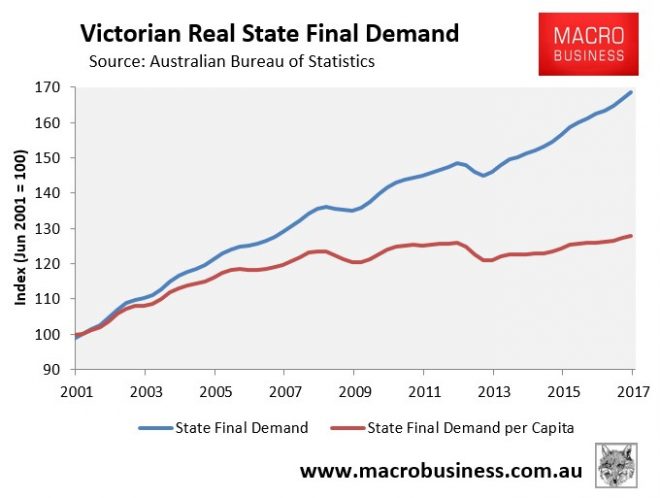 And Victoria's unemployment rate remains above the national average: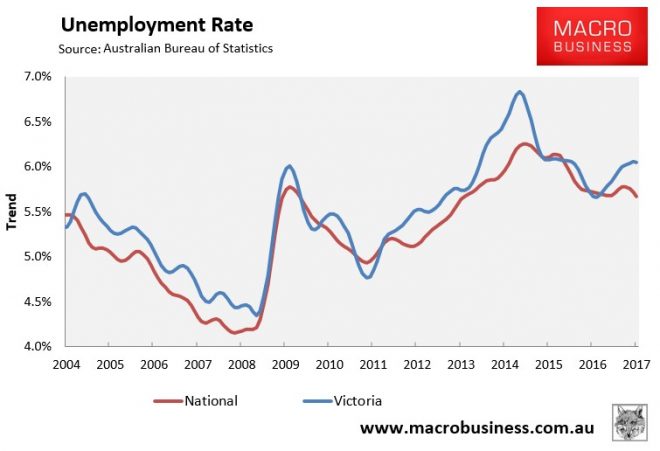 Whereas underemployment is only marginally better than the national average: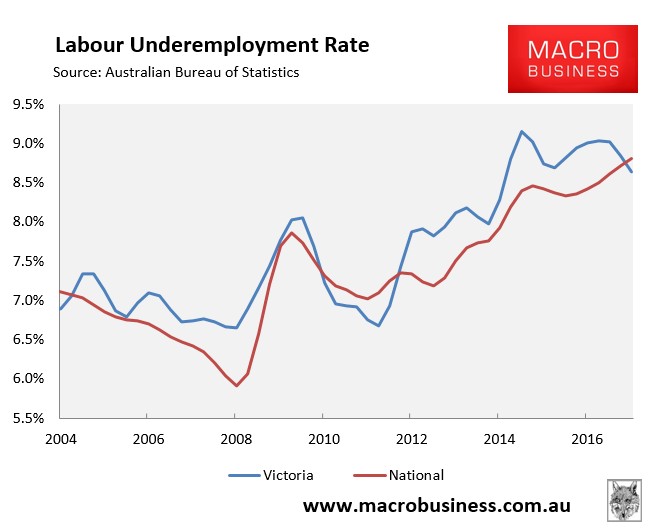 What has been happening in Victoria is that the economic pie has grown due to rampant population growth. But everyone's slice of that pie has stayed the same (and shrunk once wider impacts are taken into account)!
Victoria is running a ponzi economy based on endless population growth (mostly immigration), which in turn has juiced its services industries (think cafes, universities and financial services) and the housing construction industry (see below chart).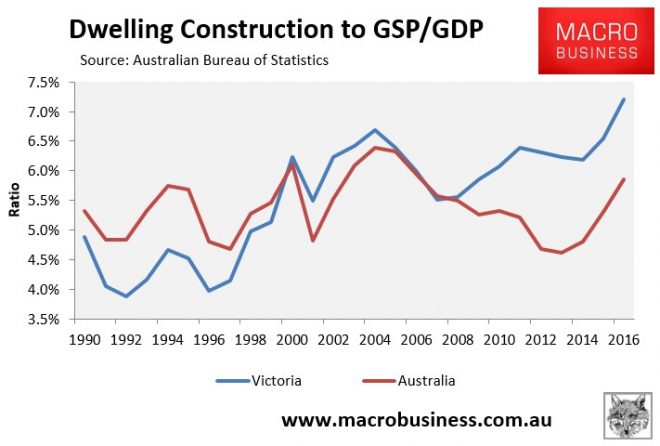 Such a growth model is like a dog chasing its tail. There is activity but the per capita Victorian is no better off. Meanwhile, it accumulates debt as seen in Victoria's trade performance. Exports recorded minimal growth in the 14 years to June 2016, whereas imports more than doubled. Accordingly, the state's trade deficit had blown out to a whopping $47.5 billion in the year to June 2016 (see below charts).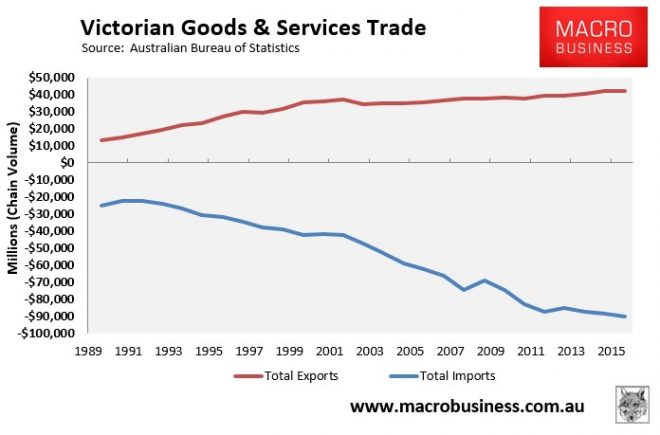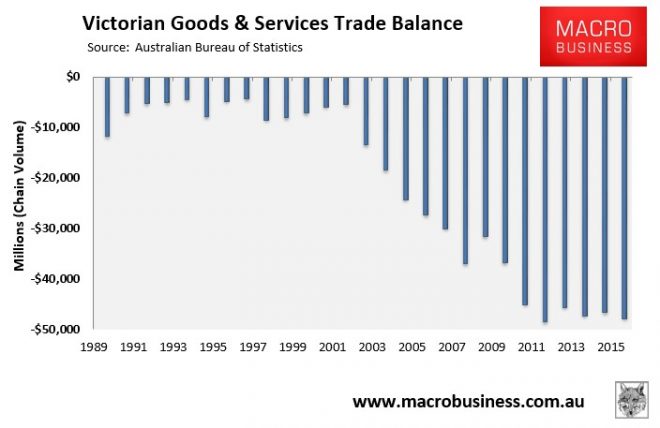 Other indicators of living standards that are not captured in the aggregate economic statistics have unambiguously gotten worse. Economic and social infrastructure is becoming increasingly crush-loaded every year as rampant population growth continually outstrips capacity, leading to overcrowding on roads, public transport, and in schools. Housing affordability and rental availability has also deteriorated markedly on the back of the population deluge.
Victorians are running full tilt on a rat wheel economy that Australian politicians and their mates in a few chosen sectors are enriching themselves on. It is the perfect exemplar for what has gone wrong across the nation.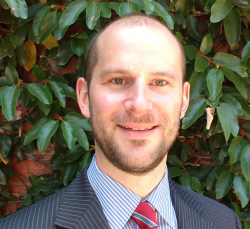 Latest posts by Unconventional Economist
(see all)