In the wake of the latest Census results, which reported a 1.9 million (+8.8%) surge in Australia's population in the five years to 2016, driven by 1.3 million new migrants, Sustainable Australia's president, William Bourke, hit the airwaves yesterday appearing on multiple radio shows to lobby for a cut to Australia's net immigration intake from 200,000 currently to the historical average of 70,000 people per year: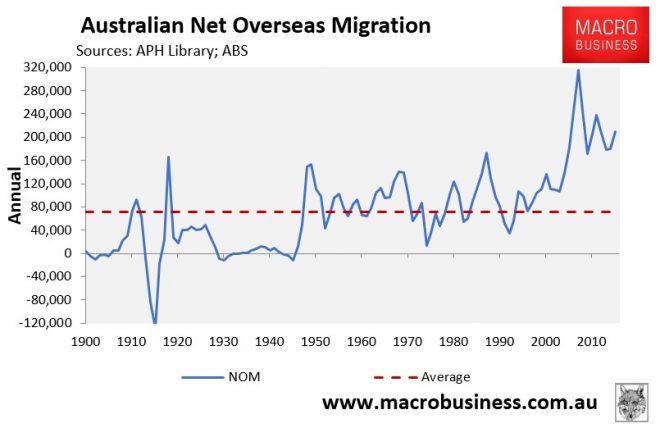 The below appearance on 3AW's Neil Mitchell program was especially noteworthy (listen to audio here). Below are some highlights of this interview.
Mitchell: "When you look at these [Census] figures, how do you argue it's changing Australia?"

Bourke: "It's changing Australian in every way possible. We need to talk about the numbers rather than having racial rants.  This is about an Australia being better rather than being ever-bigger. There's no mandate for this rapid population growth. No party has taken this to an election, so that's the starting point".

Mitchell: "How is it changing the country…"?

Bourke: "The big issues we feel are job security, housing affordability, planning in our suburbs and our environment. And all of those major indicators are going backwards with this onslaught of rapid population growth. So, it's changing our daily lives. It's gone beyond some big number into the future. It's actually hitting us in the face when we drive out of our driveway in the morning and we try and get to work. Or when we try to look up a job when we try to get our next opportunity.  Or when we look at our green space in our suburb that's disappearing. Or looking at our urban heritage… that's just being bulldozed for this highrise development".

Mitchell: "Do you believe that immigration should be based on race?"

Bourke: "Absolutely not. It's an issue of numbers. The real issue is that the permanent immigration program to Australia – which is the key driver of our population growth… The key driver of our rapid population growth is our record immigration program of around 200,000 per year. That is triple the long-term average of 70,000 per year. And that's why places like Victoria are growing by 150,000 people a year rather than its traditional 50,000 per year"

"All we need to do is wind that [immigration] back to what it was 20-years ago to that long-term average – no discrimination based on race or religion or any of those things – just dial it back to the long-term average"…
Sustainable Australia is the only political party to have questioned Australia's mass immigration program in the wake of the Census. And it has done so in a sensible non-racial way. Well done to William Bourke for putting the issue out there and educating the public.