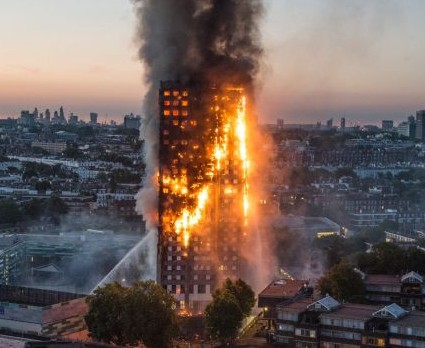 It appears that the towering inferno that engulfed London's Grenfell Tower, killing several people (picture above), may have used cheap combustible cladding that enabled the fire to spread quickly up the apartment's exterior walls. From The Brisbane Times:
The London tower devastated by a vicious building fire may have been installed with flammable cladding during a recent renovation.

Online records indicate contractor Harley Facades Limited installed "over-cladding with ACM cassette rainscreen" at Grenfell Tower.

ACM stands for aluminium composite material, which is the same combustible product blamed for fuelling nearly a dozen major high-rise fires globally in the past decade, including in Melbourne in 2014…

Mark, 45, a witness to the Wednesday's London fire, said the Greenfell Tower had recently been renovated with cladding added to the outside. He believed the cladding caused the fire's intensity.

"It was burning like paper, it wasn't the building, it wasn't the structure. That cladding – it was just like throwing fuel on the fire." he said…

Veteran fire safety engineer Stephen Kip said combustible cladding could help a blaze spread up the facade of building, starting fires on many floors.

"All of the fire safety systems in buildings, like sprinklers, are in the inside, not the outside," Mr Kip said.
Last year, there were several reports (here, here and here) about how similar cheap combustible cladding had been used to cover potentially thousands of buildings across Australia, which in November 2014 sent a Melbourne Docklands building into a towering inferno.
The problem is so bad that the Metropolitan Fire Brigade in Melbourne has identified up to 50 Melbourne city towers as being high fire risks due to the possible use of flammable cladding. Engineers Australia also released a report in 2015 claiming that 85% of strata units built in New South Wales were defective on completion, and warned that a major fire in a high-rise Sydney apartment is inevitable.
London's apartment blaze is a stark warning to Australia's regulators, who need to take action to mitigate the risk of a similar tragedy occurring to an Australian high-rise.