Labor Senator Sam Dastyari has posted the above video on Facebook that mocks the high cost of housing in Sydney. The video profiles various run-down and poorly-located houses across Western Sydney that have a price tag over $1 million, and is an effort to show just how ridiculously expensive Sydney housing has become.
Dastyari's video has been attacked this morning in The Australian, with the families that own the houses calling Dastyari a "snob" over the video:
The western Sydney family whose home was mocked by Labor sen­ator Sam Dastyari have labelled him a "snob" after the politician filmed a bizarre foul-mouthed video on housing affordability…

Leanne and Bob Carabetta bought the Ryde property feat­ured in the video for $245,000 in 1999, as a young couple with a baby on the way.

The house had previously sold for $92,500 in July 1987, $108,000 in July 1995, and $187,000 in August­ 1996.

On Saturday, the three-bedroom­ home on Lane Cove Road, which had been listed for between $1.05m and $1.1m, sold for $1.3m at auction…

Ms Carabetta, 46, said she had taken "great offence" at Senator Dastyari's comment about the securit­y shutters, and "snobbery" about the house…
Coalition frontbencher, Angus Taylor, has also attacked Dastyari:
Coalition frontbencher Angus Taylor says the mocking of a western Sydney family home by Sam Dastyari is "tasteless" and a "shocking indictment on the state of the modern Labor Party"…

"In typical Labor fashion, this is headline grabbing with no practical solutions in the whole video, not once in the two minutes does Sam … mention a way forward.

"Labor independent of that has offered one way forward, which is to raise taxes, which of course is their solution to every problem".
I am no fan of Sino Sam, but he is right on this issue. According to recent data from CoreLogic, there are more suburbs in Sydney where the median house value is above $2 million than there are suburbs valued below $600,000: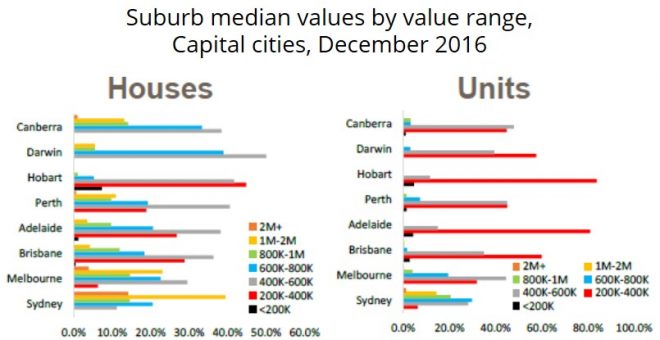 And there are few suburbs in Sydney within 50 kilometres of the CBD where houses are valued below $1 million (left panel below):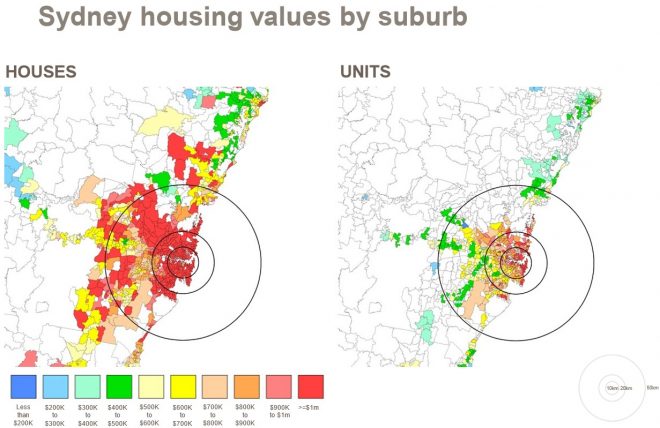 As reported in Domain over the weekend, the number of suburbs with a median house price below $500,000 has also shrunk from 159 in 2012 to just four currently:
There are now only four Sydney suburbs where the median house price is below $500,000, new data shows. And they're all more than 45 kilometres west of the CBD.

Five years ago, there were more than 150 suburbs out of 467 in Sydney that could make this claim. This included areas like Auburn, South Granville, Westmead and Campbelltown.

Now, the only areas with median house prices under half a million dollars are the City of Blacktown's Willmot, Tregear, Lethbridge Park and Blackett…
Bottom line: Dastyari is correct.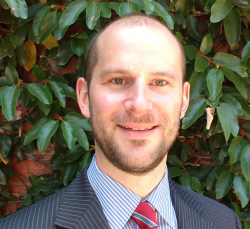 Latest posts by Unconventional Economist
(see all)