The Turnbull Government has agreed to review occupations that are currently on the banned list under its new skilled visa system. Large companies and business groups have been asked to submit job titles they want to be reviewed to the Immigration Department as soon as possible. Occupations that are likely to be put forward for consideration include web developers, helicopter pilots, aircraft maintenance engineers, merchandise planners and CEOs. From The AFR:
Mr Dutton and the Department of Immigration have been swamped by industry complaints about the crippling impact of abolishing the 457 visa on sectors including science and technology, research, mining, retail, hospitality and even the government's own agencies…

The sectors are scrambling to convene high-level meetings, survey their members and pull together evidence as soon as Monday, including why Australian nationals cannot do these critical jobs and the economic impact if up to 200 occupations remained banned under the government crackdown announced on April 18…

Director of employment and training at the Australian Chamber Jenny Lambert is helping to lead the response for more than 60 industry groups. She said the university, restaurant and catering sector have also been badly impacted.
From the incessant whining coming from industry, you'd think that the Turnbull Government had totally abolished immigration altogether, rather than making minor adjustments to the temporary 'skilled' visa system, which was clearly being overused if not outright abused.
The arguments about filling skills shortages are particularly laughable, given the Department of Employment has for several years shown that skills shortages are near 'historical lows'. In a similar vein, almost 90% of 457 visas issued have gone to the cities rather than the regions, where skills shortages are supposedly the most acute (graphic from The Australian):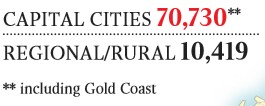 The recent Senate Report, entitled A National Disgrace: The Exploitation of Temporary Work Visa Holders, identified massive flaws in the Consolidated Sponsored Occupations List, which it saw as ad hoc and ineffective. The Senate Committee also claimed the 457 visa system was"not sufficiently responsive either to higher levels of unemployment, or to labour market changes in specific skilled occupations".
Joanna Howe, Senior Lecturer in Law at University of Adelaide, has also identified major flaws in the 457 visa process:
The mechanism for identifying who can apply for these [457] visas is the Consolidated Sponsored Occupations List. This is a list that has no requirement that the occupation be in demand in the Australian labour market. It includes more than 600 occupations, most of which are not in shortage. So long as an employer nominates an overseas worker to perform a job on this list, then the occupation is deemed to be in need.

Nursing, teaching, engineering and law are all on this list, and are also occupations where Australian graduates are struggling to enter the labour market.

This means the 457 visa can be used by employers who wish to access foreign labour for an ulterior motive.
Heck, an FOI request in November revealed that government officials had refused to cull the Skilled Occupation List because they didn't want Australians to think 457 visas were being used to manage any short-term shortage of workers, despite this being precisely their initial purpose.
In any event, rather than tinker with the skilled occupations list, perhaps it is time for a new approach to managing so-called 'skilled' temporary visas.
How about significantly raising the minimum salary earned by 457 visa workers from the current pitiful level of $53,900 to at least the average full-time male earnings (currently $82,789)? We are talking about 'skilled' workers after all, whose salary rates should be set well above the national average (which includes unskilled workers).
Raising the minimum salary threshold in this way would discourage firms from hiring cheap foreign labour over locals, as has occurred en masse in areas like IT. It would also eliminate the need for labour market testing, and would greatly simplify the whole temporary skilled visa system.