Kurzarbeit is a German term describing its particular labour market mechanism for dealing with periodic overcapacity:
Short-time working or short time is a situation or system in which civilian employees agree to or are forced to accept a reduction in working time and pay. The term can refer to short-term, recession-related programs operating in several European countries in which companies have entered into an agreement to avoid laying off any of their employees by instead reducing the working hours of all or most of their employees, with the government making up some of the employees' lost income. Employees who undergo training programs during their extra time off can often maintain their former incomes.
As you can see, it is a formal system operated through mechanisms that brings together government, trade unions and management. Sometimes it is criticised for being clunky and bureaucratic versus the pure capitalist system in the US where headcounts are ruthlessly chopped when needed and there is some truth to that over the short run. But in the long run it is a very useful way to preserve talent and keep training costs down for businesses as well, which is vital to an intellectual property driven economy such as Germany's. It also keeps the social fabric much better intact which efficiently prevents all kinds of costs from blowing out.
Now, take a look at the following few charts from yesterday's Australian jobs report. Headline jobs are growing albeit modestly: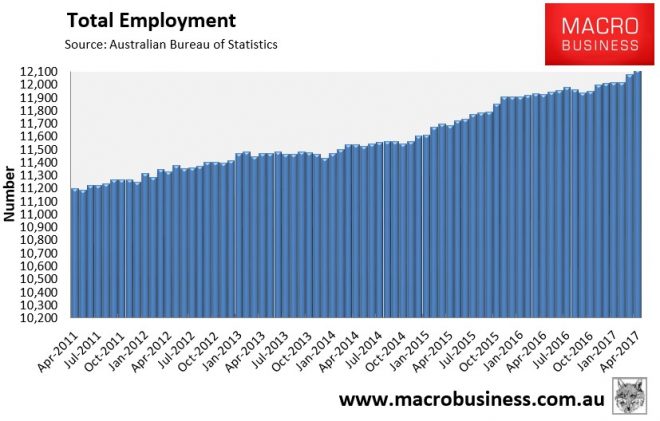 But hours worked are not growing at all: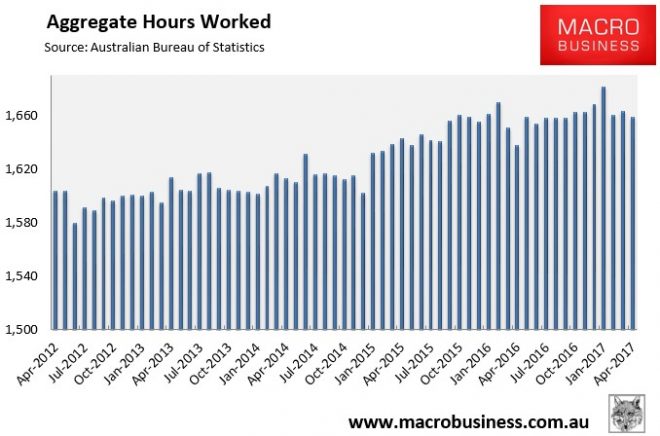 And average hours worked is shrinking fast: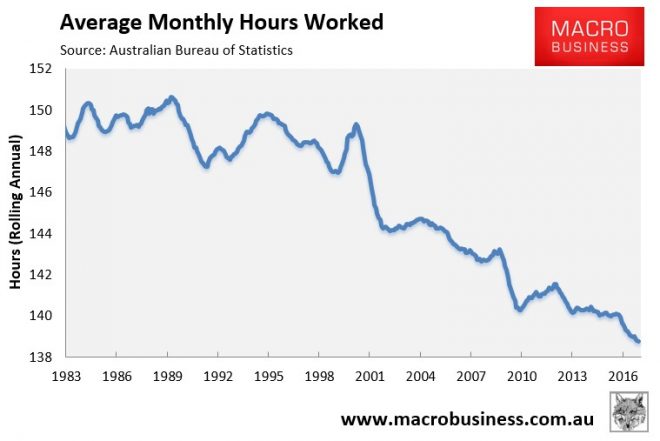 What we have here is the Australian labour market distributing less hours among more people and it's resulting in falling wages: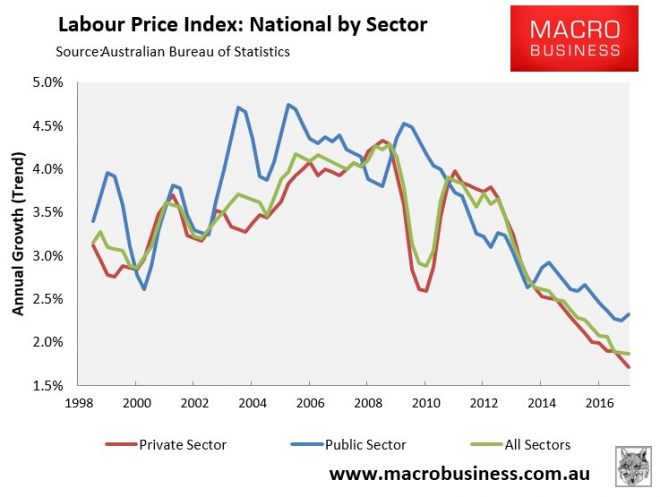 In short, the Australian labour market is responding to overcapacity by using the European method not US. This is Aussie kurzarbeit but arguably even better given it is being negotiated one on one, among millions of employers and employees right across the country, retaining talent, preserving headcount but deflating the labour market as well.
Yes, Australia has industrial relations rules and structures that shape the labour market but my experience of Aussie kurzarbeit is that it is quite voluntary. During the GFC I was consulting across half a dozen medium-sized firms and they all deployed something similar not because they had to but because they saw the sense in it and it fitted their values.
That's the rub. Economists don't like to mention such things because they can't input them into a spreadsheet, but Aussie kurzarbeit is a reflection of the Aussie identity. It is mateship and egalitarianism expressed at its most fundamental level, in the giving of the weekly pay packet. And right now, as it has before, it is preventing a rout in the labour market as the economy struggles with overcapacity.
Moreover, this mechanism is also contributing enormously to the fundamanetal repair that the post-mining boom Australian economy must undertake. After decades of credit and consumption excess – supported by massive income flows from the mining boom – Australia priced itself out of just about every non-mining tradable sector that there is. This is most clearly expressed in the trade-weighted index (the real exchange rate) which includes both the currency and inflation: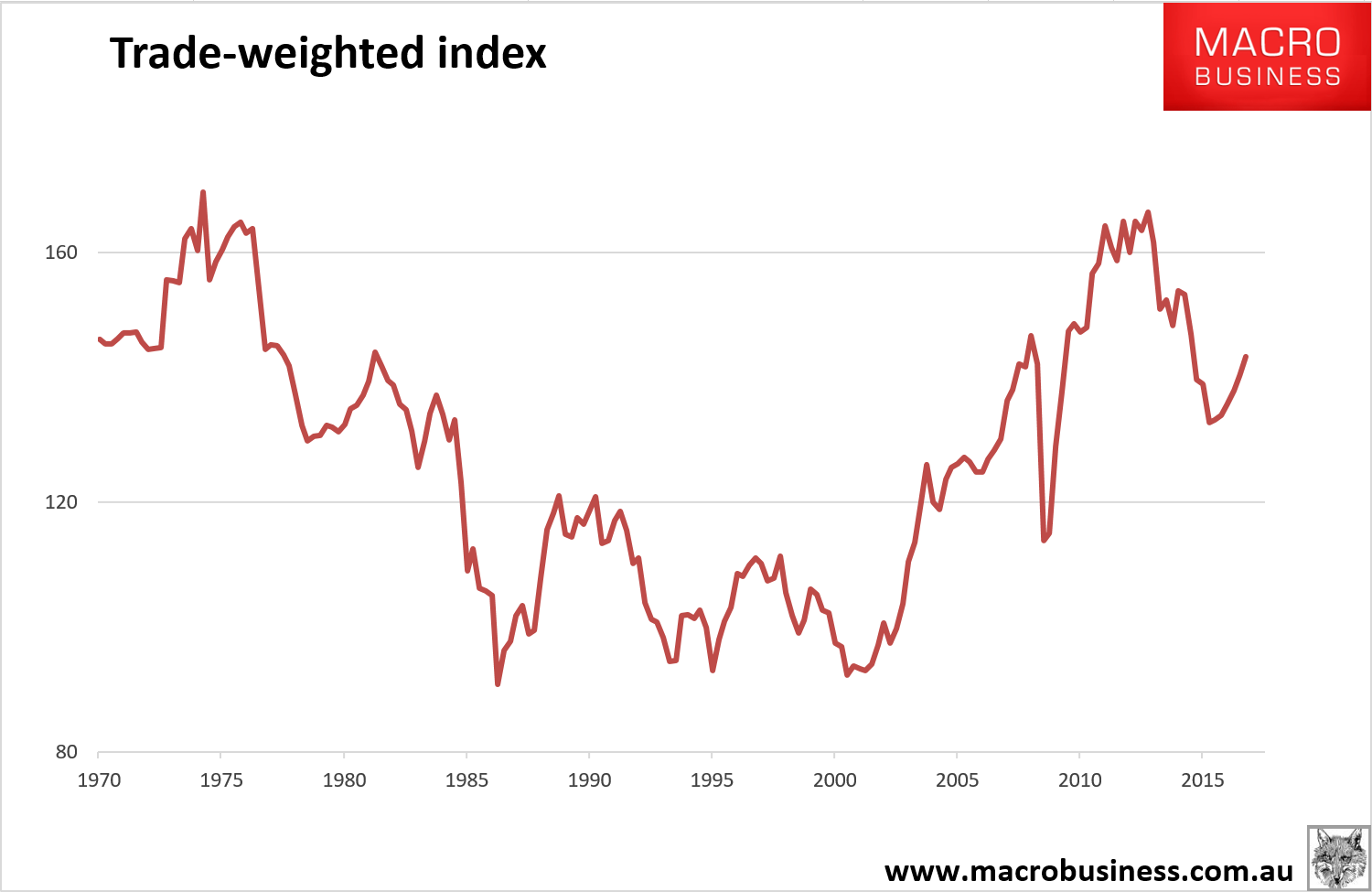 The big deflation we've witnessed since 2012 has been part currency and part wage restraint. Notice, alas, how much further it has to go.
Which brings me to the second point that I wish to make. Aussies generally have been making admirable sacrifices across the board to help their neighbour (and nation). How have they been rewarded for this? Has a government, servant of the people, acknowledged why this process is taking place? No. Has it joined in and done its best to ensure that the pain is spread as evenly as possible by making its own sacrifices? No. Has it set policy to manage the real exchange rate deflation as best and quickly as possible as it can be, most particularly by setting policy to deflate the currency so that wages can take less of the brunt of adjustment? No.
In fact, policy has been set by monetary and fiscal authorities to ensure that maximum pain is foisted onto the maximum number of Aussies so that certain political interests are protected ahead of the people. This is obvious in:
loose monetary policy aiming to inflate a housing bubble, directly inflating the currency as well;
zero structural reform in fiscal spending which ought to aim to boost productivity (the easiest deflation of all); deflate property prices via tax concession reform and spend more efficiently across limitless measures;
mass immigration pumped up to artificially boost headline growth for the property, banking and retail sectors while per capita growth falls;
no narrative has been forthcoming to ensure the burden of adjustment is shared by the wealthy as well as the worker.
In short, as Australian's work conscientiously towards a better nation, the political class has launched a rabid class war that is royally shafting the electorate for their own short term gain.
Aussies deserve so much better.