As reported in The Australian today, the Turnbull Government will impose stricter rules for foreigners seeking to become Australian citizens, as part of its package of changes to immigration and visa rules.
Amongst other things, people applying for citizenship will have to demonstrate adherence with "Australian values", while they will be subject to stricter criminal background checks and have better English-language skills than required at present. People will also not be eligible for citizenship unless they have resided in Australia for a minimum of four years:
The Turnbull government has embarked on a wholesale redrafting of Australia's citizenship laws that will force applicants to pass a ­higher-standard English language test, extend the residency requirement from one year to four, and demand evidence of integration including employment, tax payments and schooling for children.

The changes would abolish the current system that allows unlimited attempts to pass the citizenship test, imposing a two-year denial if an applicant failed three attempts and an automatic fail for those who tried to cheat the test.

The new citizenship model will also explicitly target religious extremism as being inconsistent with Australian values…

The requirement of English proficiency is based on an integration principle. and would elevate the current "basic" English requirement to "competent" including speaking, reading and writing skills…

The Australian can reveal that they will come into effect today and be backdated for all new applications made once amended legislation passes parliament later this year…
These are modest but sensible changes that align with recommendations from the Productivity Commission's (PC) recent Migrant Intake into Australia report.
In this report, the PC noted "the fundamental importance of strong English-language skills for an immigrant's integration and wellbeing in Australia" and explicitly recommended "significant reforms within the current system" that "'raising the bar' by shifting to a universal
points test while tightening entry requirements relating to age, skills and English-language proficiency".
It quite frankly beggars belief that strong English-language proficiency was never required in the first place to obtain permanent residency. I would have thought that being able to competently speak, read and write in English would have been a fundamental requirement, given it is our national language.
That said, while improving the quality of migrants residing in Australia is undoubtedly important, the Turnbull Government has yet to address the more fundamental issue of Australia's permanent migration level being far too high. It is this high intake that is causing widespread indigestion in the major capitals via crush-loading economic and social infrastructure (e.g. the road and public transport systems, schools and hospitals), making housing less affordable, not to mention damaging Australia's natural environment and diluting Australia's mineral wealth.
Australia's permanent intake is currently set at around 200,000 (including just under 15,000 via the humanitarian intake), and is well over double the level that existed at the turn of the century: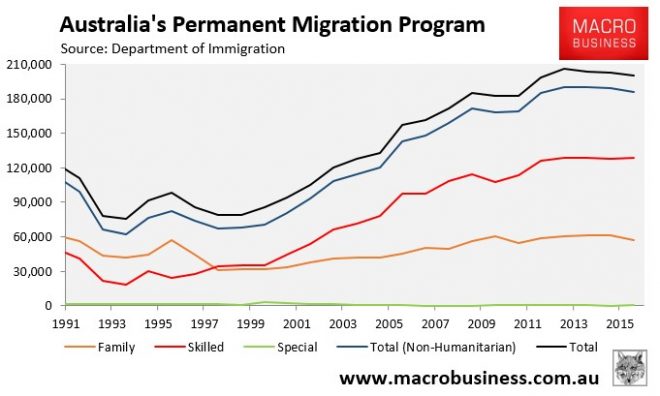 Unless this permanent migrant intake is halved, population pressures and resentment will continue to grow within the electorate, ultimately leading to a voter backlash against immigration. Nudging entry criteria around will not change the lived experience.