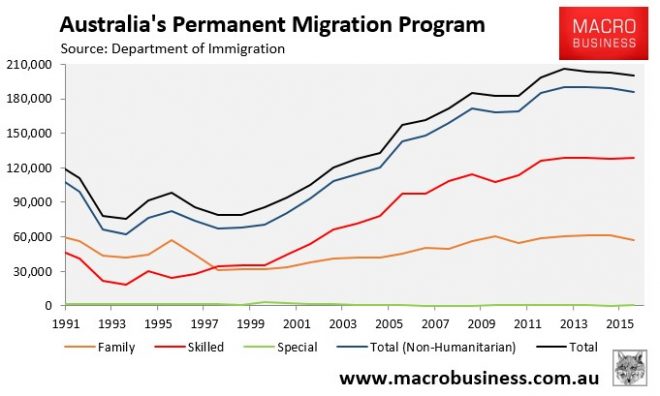 Curiously, the number of skilled permanent migrants, and indeed the overall number of permanent migrants, was higher in 2016 than it was during the height of the mining boom when skills shortages were common.
The Productivity Commission's (PC) recent Migrant Intake Australia report explicitly stated:
…within the skill stream, about half of the visas granted were for 'secondary applicants' — partners (who may or may not be skilled) and dependent children… Therefore, while the skill stream has increased relative to the family stream, family immigrants from the skill and family stream still make up about 70 per cent of the Migration Programme (figure 2.8)…

Primary applicants tend to have a better fiscal outcome than secondary applicants — the current system does not consider the age or skills of secondary applicants as part of the criteria for granting permanent skill visas…

There are strong grounds to give much greater weight to a primary applicant if the associated adult secondary applicant has skills or other desirable characteristics likely to improve their own labour market prospects. At the very least, for the sake of transparency and future policy development, Australian Government publications should report primary and secondary skill stream immigrants separately and provide more detailed information about the skills and other traits of adult secondary applicants.
The PC also showed that while primary skilled migrants have slightly better labour market outcomes than the Australian born population in terms of median incomes, labour force participation, and unemployment rates, secondary skilled visas, and indeed all other forms of migrants, have much worse outcomes: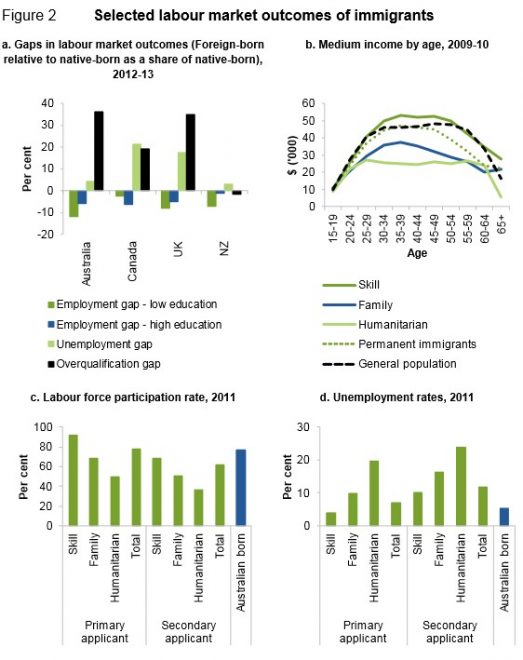 Thus, it would appear that William Bourke's claim that Australia's mass immigration program is diluting Australia's skills base is true.
Another point that needs to be recognised is that the most popular categories of skilled migrants – accountants, engineers and IT professionals: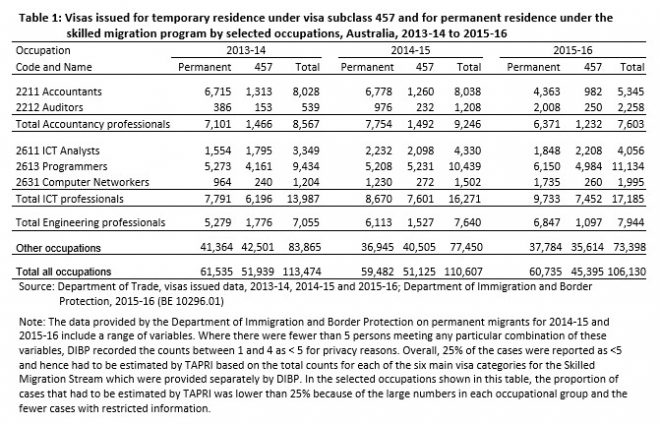 Are also the categories with the biggest surplus of workers: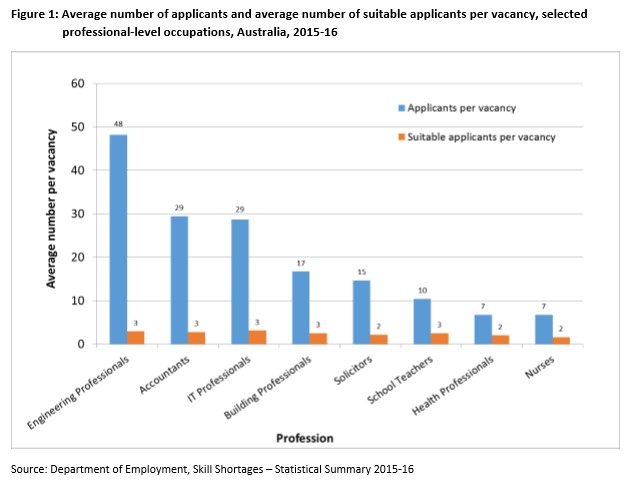 Thus, the skilled migration system is destroying career prospects for local graduates in these (and other) areas.
In short, it does appear that Australia's mass immigration system is diluting Australia's skills base, in addition to placing greater pressure on infrastructure, housing and the environment.
So why are we persisting with such a program? Why not lower the immigration intake back to the long-run norm of 70,000 people a year?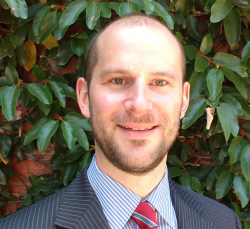 Latest posts by Unconventional Economist
(see all)